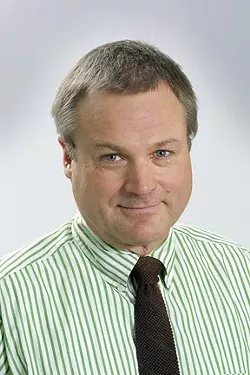 PHOTO COURTESY GORDON FUGLIE
GOING EXTINCT? : SLO Art Center Curator of Exhibitions and Collections Gordon Fuglie recently joked about being an endangered species. Now, his position has been "reformatted," meaning he'll work more as an independent contractor—a job description that could become permanent next year.
On Sept. 2 the Cuesta College Board of Trustees announced it had located the necessary funds to spare Tim Anderson, the curator of the college's gallery program, from being fired due to budget cuts.

It was an unexpected save. Prior to the meeting, Gordon Fuglie, curator of exhibitions and collections at the SLO Art Center, compared himself to the California condor. He felt like the last of his kind: the last curator in SLO.

In a reversal of fortunes, Fuglie was called into an Art Center board meeting the following week and informed that his own position was being reduced, effective Sept. 15. Over the next 3 1/2 months, he will be working as an adjunct curator, which essentially means that he's providing his services on an exhibit-by-exhibit basis as an independent contractor. For now, Fuglie has committed to work on four exhibitions through January. Between the exhibitions he's already planned and those comprised of work from local art groups, the Art Center has shows scheduled through the summer of 2010. After that, Karen Kile, executive director at the SLO Art Center, hopes Fuglie will continue to work with the center as an independent contractor. She's also made a point of welcoming other potential curators to submit proposals for exhibitions.

"It's just a change in working operations," Kile said. "It's not that we've eliminated that position. When you have a 26 percent drop in income, you have to plan for that in your bottom line. Hopefully, it will be seamless to people. There will just be certain things that we have to cut back on."

In March Kile had created a contingency budget eliminating 20 percent of the Art Center's costs, to be put into effect should the center's income level hit a certain low. It did, and in addition to across-the-board cuts, the new budget included what Kile called a "reformatting" of the curator's position at the Art Center.

In a letter written to the Art Center's board of directors, Fuglie refers to himself as "laid off." He also pointed to a number of other artistic and cultural treasures around the state—Riverside Art Museum and the National Steinbeck Center—which are also facing severe financial losses and potential closure.

"If you will allow my observation, the leaders needed to turn around cultural institutions in these times must not be timid, or see board service as mainly parliamentary, or fundraising as a single annual event," Fuglie continued in the letter. "To advance the San Luis Obispo Art Center to regional leadership in the visual arts will take ongoing, countywide strategic fundraising, enlisting the president, all directors, the executive director, and staff. This is a tall order, and a paradigm shift to be sure, but then, what are the alternatives?"

Fuglie began working at the Art Center in January 2008, after moving from Topeka, Kansas, to accept the position. Prior to that, Amy Grimm served as curator a mere six months in 2007. Her predecessor, Anderson, worked with the Art Center for seven years before resigning to assume responsibility of Cuesta's gallery program in January 2006.