Holidays equal getting fat and spending money. Oh, and trying to avoid talking to relatives you can't stand! But this time of year also inevitably means time with family you absolutely love, sharing moments with people you rarely see, and giving gifts that are better than everyone else's! I know that's not the point, but it sure is fun. And those jingling Christmas tunes have been playing since Turkey Day, begging you to buy. But you haven't yet, and the big morning keeps creeping closer. Not to worry, New Times has your back. Our staff put together a buying guide—think of these as gentle suggestions—for the personalities in your life, with potential gifts ranging from extremely affordable (yes, you're cheap!) to outright extravagant (yes, you're crazy!).
—Camillia Lanham, editor
The Star Wars fanatic
BY CHRIS MCGUINNESS
$10: Darth Vader. Sith Lord, serial choker, master of the dark side of the Force, and doting father? Yep. It's the subject of this book of postcards by Jeffrey Brown, $9.99, Papyrus, 895 Higuera St. in San Luis Obispo or papyrusonline.com.
$25: Some people are so in love with the Star Wars universe they don't want the franchise to end, just like a game of Monopoly, $24.99, Barnes and Noble, 894 Marsh St. in San Luis Obispo or barnesandnoble.com.
PHOTO BY CHRIS MCGUINNESS
$50: The iconic TIE fighter is the backbone of the Empire's space fighter fleet. Why not build one with this giant LEGO set? It's $44.99 at Tom's Toys, 682 Higuera St. in San Luis Obispo or tomstoystore.com.
$100: Chewbacca is Han Solo's very hairy and most trusted friend and protector. The Furby is a bizarre-looking toy that was last popular circa 2006. A new Star Wars and the flood of merchandising has brought them both together as "Furbacca," $99.99, Rocket Fizz Soda Pop and Candy Shop, 699 Higuera St. in San Luis Obispo or rocketfizz.com.
MAD MONEY: New Star Wars movies mean new Star Wars collectibles, including Funco's popular vinyl Pop! Figures. There are a total of 11 in the complete set, $12.99 each, Dr. Cain's Comics and Games, 778 Marsh St. in San Luis Obispo or drcainscomics.com.
The health nut
BY RYAH COOLEY
$10: It's stressful trying to be so healthy with all those GMOs, pricey organic produce, and local sourcing issues to think about. Give your friend nature's chill pill, locally made lavender essential oil from Lavender Smiths. A 2-ounce bottle will set you back just $6.95 at Turn to Nature, 786 Higuera St., San Luis Obispo.
$25: It's every foodie's dream to have time to peruse the farmers market each week in search of that perfect local (and, of course, organic) vine-ripened tomato. But that doesn't always happen. Send local produce straight to your favorite conscious consumer via Talley Farms fresh harvest box, talleyfarmsfreshharvest.com. Their junior sized box costs $19.50, contains a mix of five to seven fruits and veggies, and can be picked up at a convenient location. An extra $10 will get the fresh harvest box delivered straight to the front door.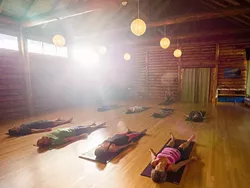 PHOTO COURTESY OF HARMONY HOUSE YOGA
$50: Often the best gifts aren't things, but experiences. Give the gift of inner peace and tranquility with a five-class card to Harmony House Yoga, $60, 991 Price St. in Pismo Beach or harmony-house-yoga.com.
$100: Chaparral Gardens Artisan Vinegars are so tasty and flavorful that you won't even want to put any olive oil on that arugula salad. Sign a loved one up for their vinegar club, $150, and they'll enjoy six months of shipments of locally made vinegar in delicious flavors like star anise and vanilla bean balsamic and pacific spice, chaparralgardens.com.
MAD MONEY: The Vitamix is the holy grail of blenders. Legend has it this guy can do anything from whipping up a green smoothie to kneading dough and beyond. Different Vitamix models run anywhere from $329.99 to $699 on amazon.com.
The pet partner
BY CAMILLIA LANHAM
$10: If your favorite treat was ice cream, would your dog say the same? Mine would. And hopefully it's bacon flavored. Doggie Discs are dog-friendly ("vet approved") frozen treats created on the Central Coast, and yes, they're bacon flavored; $2.50 each, Doc Burstein's Ice Cream Lab, 114 W. Branch St. in Arroyo Grande or 860 Higuera St. in San Luis Obispo.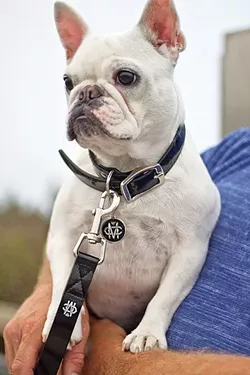 PHOTO COURTESY OF MUTT COUTURE
$25: This might be more for you than them, but a less smelly pooch can make snuggling a little more tolerable! You can get a Chapparal Puppy soap and spray gift set with dog treat, $21, from Heart's Desire Soap Co., 787 Higuera St. in San Luis Obispo or 231 Pomeroy Ave. in Pismo Beach; heartsdesiresoaps.com.
$50: Maybe your pup wants to strut his or her stuff in locally made fashionista style. Get a leather, flannel, faux ostrich skin, studded, and/or colored collar ($14.95 to $22.95); a denim, white snake, or just plain old leather leash ($25.95); and a diamond, butterfly, or brass knuckle-shaped dog tag ($9.95) from Mutt Couture at muttcoutureinc.com.
$100: A fancy bed—soft, fleece-lined, cozy, and big—is pretty much the perfect thing you could buy for your pet. The Snoozer Luxury Cozy Cave is like an all-inclusive resort for your best friend to nap in, $108, Tails Pet Boutique, 745 Higuera St, SLO.
MAD MONEY: Got a backyard that your little buddy stares at longingly every day, just waiting to be let out? It might be time to get a locally manufactured pet door. Endura Flap Pet Doors for dogs or cats can be installed in doors, windows, and walls; $199 to $399, petdoors.com.
The wino
BY JONO KINKADE
$10: Inevitably, that red wine is going to get on the J. Crew, and desperate times call for desperate measures. It also works for coffee, pen, and pet stains. You can get a 12 ounce spray bottle of Wine Away, the "amazing red wine stain remover," for $9.95 at the Crushed Grape, 319 Madonna Rd., SLO (in the Promenade).
$25: Can't drink like they used to? Help your friends keep their wine fresh with these wine stoppers and pump. Vacuvin Wine Saver, $18, Central Coast Wines, 712 Higuera St., SLO.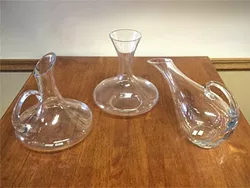 $50: Let it breathe, open up all the aromas, and look a little more fancy with a wine decanter, $37 to $49, Central Coast Wines, 712 Higuera St., San Luis Obispo.
$100: Wine blends are all the rage, so send them to a tasting event featuring some of Paso Robles' most delectable mixtures. Two tickets to the BlendFest afternoon wine tasting in Old San Simeon Village are $80 (early bird tickets are $40 each before Dec. 15, and then $45) from the Paso Robles Wine Country Alliance, pasowine.com/events/blend-fest-tickets.php.
MAD MONEY: They might think they already know it all, but do they really? Send them to a five-week California Wine Appreciation course through Cal Poly Extended Education, Wednesday evenings, Jan. 6 to Feb. 3, 2016, $210, extended.calpoly.edu/professional/oncampus.html.
The kid who has everything
BY RYAH COOLEY
$10: Let your kid go crazy like, well, a kid in a candy store with a bag of hand-selected candies like sour belts, gummy bears, and every flavor of jelly bean imaginable from Powell's Sweet Shoppe. Their sweet sticky smile and inevitable sugar crash will cost just $4 per quarter pound of candy, 1020 Court St. in San Luis Obispo or 840 11th St. in Paso Robles.
$25: It's time to go back to the basics and teach your offspring how rewarding it can be to make something real with their own two hands (once your pry the smartphone from them) with a set of Frontier Logs, $24.35, Tom's Toys, 682 Higuera St., San Luis Obispo.
$50: Every kid needs a not really real friend to confide in when playground drama gets to be too much. Fluffy stuffed animals of all varieties and sizes run the gamut of anywhere from $8 to $80 at Tom's Toys, so $50 should get you one of the more life-sized buddies, 682 Higuera St., San Luis Obispo.
$100: You wouldn't be a good parent if you didn't force the pop-culture of your time down your offspring's throats. Get their little imaginations swirling with a set of all seven of J.K. Rowling's best selling Harry Potter books in hardback, $135.60, Barnes and Noble, 894 Marsh St. in San Luis Obispo or barnesandnoble.com.
MAD MONEY: Sometimes you just want one more hour of sleep when the kiddos start shrieking and jumping on your bed at the ungodly hour of 6 a.m. on a Saturday. And if a few episodes of Dora the Explorer streamed via Netflix on a new Apple iPad mini can get you there for $399, then who are we to judge? Visit apple.com; the Apple Store, 899 Higuera St., SLO; or MacSuperstore, 11982 Los Osos Valley Rd., SLO.
The hipster
BY CAMILLIA LANHAM
$10: The soft growl of vinyl is so hot right now. Think that old mode of music playing is gone? Think again; digital sucks. Boo Boo Records has you covered, though. Buy a gift certificate of any amount, but $10 should get that gift-getter something used, unheard of, or new enough to suit their fancy, 978 Monterey St. in San Luis Obispo.
$25: Facial hair. It's everywhere, and it ain't that pretty. But just like hair hair, it needs a little loving product care. A Suavecito Switchblade Folding Comb, $9.26, should do it for the beard, and some sweet Stache Bomb Stache Wax, $13.77, ought to get that weird thing on their upper lip figured out; Clippers, 1351 Monterey St. in San Luis Obispo.
$50: A non-leaching, non-toxic water bottle that keeps liquids cold for 24 hours, liquids hot for 12 hours, and gives back to people in need. Hey, it's inspirational and fashionable. S'well Bottle (25 ounce), $45, General Store Paso Robles, 841 12th St. in Paso.
$100: Polaroids are definitely the best of a past life that the world's leaving behind for selfies. Selfies? So not cool. Fujifilm's Instax Mini 8 Instant Camera comes in pastel colors and spits out instant pics with the help of real film, $89.95, The Photo Shop, 1027 B Marsh St., San Luis Obispo. Get Fujifilm Instax Mini instant film there, too, $22.95.
MAD MONEY: What looks retro, plays vinyl, and gives you extra quirky hipster points? A Crosley Sterling Turntable with a built-in stand, $220, Urban Outfitters, 962 Monterey St. in San Luis Obispo or urbanoutfitters.com.
The starving artist
BY TREVER DIAS
$10: Help an aspiring ukuleleist practice their chords with The Ukulele Chord Deck, which includes more than 40 chords presented on life-size fretboard-shaped cards, $9.99, Lighting Joe's Guitar Heaven, 100 East Branch St. in Arroyo Grande or lightningjoes.com.
$25: A sketchbook is an essential for the modern, mobile artist, and this Moleskine sketchbook with an elastic closure and quality, acid-free paper will get the job done, $19.95, Art Central, 1329 Monterey St. in San Luis Obispo or artcentralartsupply.com.
$50: This classic Super Spirograph Design Set will allow anyone artistically inclined or otherwise to create unique, geometrical designs, and be entertained for long periods of time, $49.99, Beverly's Fabrics, 876 Higuera St. in SLO or beverlys.com.
$100: Give the artist in your life an opportunity to showcase their work with a gift certificate for custom framing, $100, Fastframe, 1115 Santa Rosa St. in SLO or fastframe.com.
MAD MONEY: Let's just say the aspiring potter in your life needs a little help getting to that higher level of artistry. Anam Cré Pottery in San Luis Obispo gives a 10 percent per class discount when you buy a membership card. Membership Pottery Card, 10 classes for $200, 570 Higuera St., Suite 140, in SLO or anamcre.com.
The wannabe chef
BY PETER JOHNSON
$10: Chefs have to handle hot things. How great will your wannabe chef friend look picking up pots and pans with this gorgeous Nepalese potholder? Ganesh Himal Potholder, $12, Human Kind Fair Trade, 982 Monterey St. in SLO or humankindslo.org.
$25: Every chef needs a cast iron skillet. Next? Lodge 10-inch Cast Iron Skillet, $25, Forden's, 857 Monterey St. in SLO or fordens.com.
PHOTO COURTESY OF SLO VEG
$50: What separates a good dish from a great dish? Spiral-shaped vegetables. This gem from Cambria's A Matter of Taste will do the trick. Spiralfix Spiral Cutter, $51.95, A Matter of Taste, 4120 Burton Drive in Cambria or amatteroftastecambria.com.
$100: Preparing a five-star dinner for your friends is so much easier (and more fun) with an awesome chef's knife. Zwilling's-Henckels 10-inch Chef's knife, $95.99, Forden's, 857 Monterey Street in SLO or fordens.com.
MAD MONEY: Ensure that your wannabe chef friend will be cooking year-round and sign him or her up for SLO Veg's bi-weekly totes. Totes filled with local fruits and vegetables delivered bi-weekly for six months, $320.46, sloveg.com.
The conspiracy theorist
BY PETER JOHNSON
$10: A true conspiracy theorist wants to examine documents. Very closely. Help out with the fine print by buying this handy magnifying glass. Three-inch round magnifying glass, $9.99, Beverly's Fabric & Crafts, 876 Higuera St. in SLO.
$25: A great gift for your conspiracy-obsessed friend is this 2006 book detailing all of the offensive inside job theories behind 9/11. Towers of Deception: The Media Cover-Up of 9/11, $24.95, Phoenix Books, 986 Monterey St. in SLO.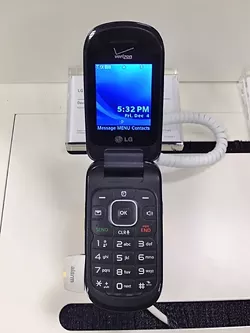 $50: This dumb-phone keeps the pesky Google and Facebook spies away. We all know iPhones leak all your data. Save your buddy from constant paranoia. LG Revere 3 Flip Phone, $49.99, Verizon Wireless Store, 994 Mill St. in SLO or verizonwireless.com.
$100: All conspiracy theorists need to know what's going on with law enforcement. This police scanner does the job. Maybe it will pick up alien waves, too. Radioshack Police Scanner, $119.99, Radioshack, 481 Madonna Road in SLO or radioshack.com.
MAD MONEY: Your friend will always know where law enforcement is on the road with this radar detector—K40 Radar Detector, $299, Lombard's Stereo, 356 Santa Rosa St. in SLO or lombardsstereo.com.
The technophobe
BY CHRIS MCGUINNESS
$10: Social media? Who needs it? Use this Punctuate Journal to ditch Twitter and Facebook and write down thoughts and opinions where friends, family, and the government can't see them, $7.95, Barnes and Noble, 894 Marsh St. in San Luis Obispo or barnesandnoble.com.
$25: Wireless, gearless, and elegant, grab this Turn to Nature hourglass and avoid looking at your iPhone every two minutes to check the time, $24.99, Turn to Nature, 786 Higuera St. in San Luis Obispo or turntonature.com.
PHOTO BY CHRIS MCGUINNESS
$50: There are such things as shoeshine machines, and yes, they are as unnecessary as they sound. Fight Big Shoe Shine with this do-it-yourself kit from Gentlemen's Hardware and brush from Izola. $29.99 for the kit and $24.00 for the brush. Available at The Ritual, 781 Higuera St., San Luis Obispo.
$100: No need to hit a gym full of complicated, confusing equipment and machines when all you really need is some comfy clothes and a mat to practice yoga; $130 for 10 classes; SLO Yoga Center, 672 Higuera St., San Luis Obispo, or sloyogacenter.com.
MAD MONEY: No cell phones, no computers, just nature. Get away from it all with a California Explorer annual day pass. The pass gets the holder into most parks throughout the state operated by California State Parks that charge a vehicle day-use fee, $195, California Department of Parks and Recreation, parks.ca.gov.
The doomsday prepper
BY JONO KINKADE
$10: It will be crucial to get enough vitamin C to hold back the plague (and zombies). Stormy T's marmalade, $7 to $10 a jar, available direct, or at Lincoln Market and Deli, 496 Broad St., SLO; Luis Wine Bar, 1021 Higuera St., SLO; and General Store Paso Robles, 841 12th St., Paso Robles. Gift baskets and other products are also available.
$25: Water is life—but it's gotta be good water. Sawyer Mini Water Filter, $24.99, SLO Camp 'N' Pack, 341 Higuera St., SLO.
PHOTO COURTESY OF STORMY T
$50: A classic non-perishable food item for the ages—jerky. A 16 ounce bag of Ray's Own Brand Beef Jerky, $33, 6255 Edna Rd., SLO.
$100: Shine a (solar-powered or hand-cranked) light in dark times; GoalZero Torch 250 USB Power Hub and Flashlight, $79.95, The Mountain Air, 667 Marsh St., SLO.
MAD MONEY: For when the food stockpile runs dry, and it's time to chase down your meat. Samick Sage Takedown Recurve bow, $159.95, Central Coast Archery, 12334 Los Osos Valley Rd., SLO, centralcoastarchery.com.