That's what I have as I look through photos from last year's New Times Music Awards. We admittedly overreached a tad in 2010, putting on shows at six locations over four days, but this year we're returning to the more compact, one-day-only show that served us well in the first year.
PHOTO BY GLEN STARKEY
SKINNY ROCKER : Callista brought its hipster chic sounds to SLO Brew during last year's New Times Music Awards.
PHOTO BY GLEN STARKEY
KICKIN' IT OLD SCHOOL : Klockwyze wowed the crowd at Frog and Peach during last year's NTMA.
On Thursday, Oct. 13, SLO Brew once again is host to the contest, but with a new twist. Instead of just a showcase of the winners, we're having the four First Place genre winners face off against one another in a "live judged" performance to name one the Best Live Performer winner.
Celebrity judges include AJ Braman, who played in several nationally touring acts before settling down five years ago at Ernie Ball; Billy Imperial, an instructor at The Modern Music Academy who spent 14 years as a professional touring bassist and guitarist in Asia; and Tomas von Engel, who was a member of several popular Northern California bands. These guys have more than 60 years of combined music industry experience!
OK, sure, we're going head to head against Incubus at Avila Beach Resort, but the Newties promises to be a real celebration of local music. Not only will you hear rock-alternative winner Briertone, blues-R&B winner Dr. Danger, country-folk-Americana winner Jade Jackson, and hip-hop winner Public Defendaz all facing off to see who puts on the best live performance, but all the second- and third-place winners will be there to find out what place they won and pick up their awards.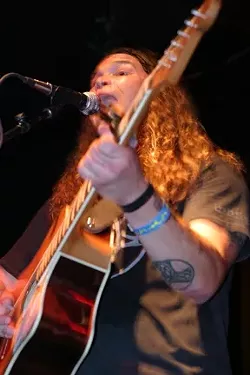 PHOTO BY GLEN STARKEY
GRUNGY GOODNESS: Criticnue delivered blistering rock at SLO Brew last year.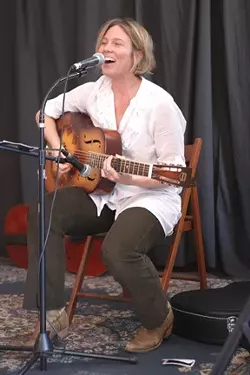 PHOTO BY GLEN STARKEY
THE BIG WINNER : Inga Swearingen took home top honors last year at the Steynberg Gallery.
That means folks from Saint Anne's Place, Nada Rasta, Loren Radis, D&A, The Viper Six, and The Beat Police will be on hand to get their awards and mingle with fans.
We'll also reveal who among Candle, Red Skunk Jipzee Swing, and Jody Mulgrew won Album of the Year; and who among Mulgrew, Mark Adams, and Launnie Ginn won Best Song. Your Readers' Choice winner will also be revealed.
We've got a sweet Ernie Ball guitar we're raffling off, and Crush DJ Pepper Daniels will act as emcee. It's going to be a who's who of the local music scene! Come see for yourself why the Central Coast is flat out awesome when it comes to music!

LOCALS RULE!: This year, the New Times Music Awards takes place on Thursday, Oct. 13, at SLO Brew (6:30 p.m.; all ages; $7 presale or $8 at the door). Come support your favorite band, pick up a copy of this year's winners' CD, buy a commemorative concert T-shirt, and enter the raffle to win a sweet Ernie Ball guitar.
Glen Starkey takes a beating and keeps on bleating. Keep up with him via twitter at twitter.com/glenstarkey, friend him at Myspace.com/glenstarkey, or contact him at gstarkey@newtimesslo.com.