SLO County's law enforcement community is trying to warn voters against supporting a ballot measure that would shorten prison sentences for less-violent offenders.
SLO County District Attorney Dan Dow led a press conference Oct. 12 with representatives from multiple SLO County law enforcement agencies and police officers associations to oppose the passage of Proposition 57, which they claim could put dangerous criminals back on the streets and endanger public safety.
"All of us are here today united in opposition to Proposition 57," Dow said.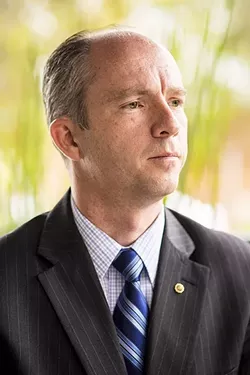 FILE PHOTO BY HENRY BRUINGTON
PROPOSITION OPPOSITION: Dan Dow is one of several California District Attorneys to speak out against Proposition 57.
As written, Proposition 57 would increase the number of inmates in state prisons who are eligible for parole after serving the full prison term for their primary crimes—but before they serve additional time tacked on from other crimes and sentencing enhancements. That eligibility would apply to prisoners convicted of "non-violent" crimes. It would also allow the California Department of Corrections and Rehabilitation to award sentencing credits to inmates for good behavior and working toward their rehabilitation while in prison. The measure is part of a larger effort to ease overcrowding in California prisons. Supporters of the ballot measure, which include Gov. Jerry Brown, believe that the measure will ease overcrowding, encourage rehabilitation, and save California tens of millions of dollars.
"Prop. 57 focuses law enforcement on serious violent crime, stops wasting costly prison space on non-violent people who can be rehabilitated, and directs savings to programs with a proven track record of stopping the cycle of crime," Brown said in a written statement on the Yes on 57 website.
But several of the state's district attorneys, including Dow, are strongly opposed to the measure. While the proposition states it that it would only apply to "non-violent offenders," Dow and others opposed to it argue that California's legal definition of violent crimes is too narrow and that if Proposition 57 passes, it would allow individuals convicted of crimes like assault, human trafficking, child molestation, and rape of an unconscious or intoxicated person to get earlier parole.
"Does the name Brock Turner come to mind?" Dow asked, referencing the Stanford University student recently convicted for sexually assaulting an unconscious woman. "Does that conduct sound non-violent to you?"
The measure's opponents characterized Proposition 57 as the latest in an attempted to roll back "tough on crime" law enacted in the 1980s and 1990s to curb crime in California. Those measures were credited for leading to a drop in crime in the state, a drop Dow and others said is at risk of reversing in the wake of prison realignment laws passed in 2011 and 2014's voter-approved Proposition 47, which reduces a some of nonviolent crimes from felonies to misdemeanors.
"There are virtually zero non-violent offenders in state prison today," he said. "They are either in county jail or on our streets."
But those same tough-on-crime laws enacted in California's past have been coming under more scrutiny in recent years as part of a state and national discussion about criminal justice reform. Proponents of the measure argue that those laws spawned an explosion in the state's prison population, filling California prisons with non-violent offenders, many of them minorities, and causing taxpayers' costs to skyrocket.
"Over the last several decades, California's prison population exploded by 500 percent and prison spending ballooned to more than $10 billion every year," reads an official statement in support of the measure submitted to the California Secretary of State. "Meanwhile, too few inmates were rehabilitated and most
re-offended after release."
Joining Dow in opposition to the ballot measure were police chiefs from San Luis Obispo, Atascadero, Arroyo Grande, Grover Beach, Cuesta College, and representatives from police officers associations from Paso Robles, Pismo Beach, and the SLO County Deputy Sheriff's Organization.