It's happened again.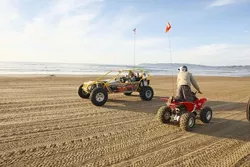 PHOTO BY STEVE E. MILLER
EARLY WARNING SYSTEM : Rob Hunter (left), a State Parks volunteer, patrols the dunes, warning people to be cautious. If they're doing something that might attract the attention of rangers, he lets them know.
# On Jan. 11, a 24-year-old Santa Maria woman named Renee Delynn Sherer was killed when she was hit by a pickup truck in the Oceano Dunes State Vehicular Recreation Area.
According to a California Department of Parks and Recreation press release, witnesses said the driver of the truck, a 24-year-old Orcutt man, was driving recklessly when he struck and killed the woman.
Although exact details of the accident aren't known, the latest death on the dunes serves to highlight the dangerous downside of a rare place, which visitors prize for the freedom it promises but that critics contend too often descends into lawlessness.
On holidays such as the recent New Year's weekend, an estimated 50,000 vacationers and off-road enthusiasts visit the southern San Luis Obispo County-based recreation area, making it the most populated part of the county when it's full.
And just who polices the dunes on those busy weekends? Officially, the answer is fewer than a dozen rangers. But unofficially, several groups--with clashing philosophies and ways of operating--work to try to impose their own ideas of order on the masses.
These are their stories.
Friends of Oceano Dunes
"Sand duning is like a roller coaster you can drive," Jim Suty says just before he whips his V6 dune buggy into a 20-foot sand bowl and becomes nearly parallel with the horizon.
"Are you scared?" he asks me when he settles his orange-colored buggy back on flat ground.
PHOTO BY STEVE E. MILLER
KEEP 'EM OUT : Nell Langford, an off-highway-vehicle opponent and member of Safe Beach Now, believes the Oceano Dunes would be safer if cleared of all motorized vehicles. She's pictured here preparing to speak about a different dunes issue--proposed bathrooms--before the SLO County Board of Supervisors meeting on Jan. 15.
# "Not at all," I reply.
That's all Suty needs to hear. He accelerates up a 50-foot sand embankment, catches some air, lands the buggy on the back two wheels, and rides a wheelie for 15 yards. His friend is atop the peak to ensure a clear--and hopefully safe--take off and landing.
Without warning, Suty then plummets down a steep hill. I spend the next hour spitting out chunks of sand and picking it from my ear and nose.
Suty is the president of Friends of Oceano Dunes, a California not-for-profit group with more than 27,000 members whose stated objective is to promote responsible recreation. The group has been around for more than 25 years. Its motto: "Access for All."
When it comes to their beloved sand playground, Friends of Oceano Dunes' Suty says members police themselves.
"My mom and dad raced buggies out here in the '60s," he says. "When I was young they would use the dunes as a motivational tool--when I was good I got to go riding. But when I was bad I lost my motorcycle privileges. I now do the same with my kids."
He drives back to his campsite. His two young boys are jumping on a trampoline they got for Christmas, while his wife reads a book, and his dog, Molly, lays next to their RV.
"The dunes are about spending time together as a family," he says, motioning to his family with a smile. "My family has been recreating at this beach for over 40 years."
But as much as Suty enjoys his recreational method of choice at the dunes, some absolutely despise it--and he knows it.
"The environmentalists are trying to close the beach down," he says. "But this land was set aside for recreation, and we should help support that."
Suty reasons that, without the Oceano Dunes, people would simply ride in less regulated areas.
"It's like a skatepark," he says of the dunes. "Give [people] an established place to ride or they will find somewhere else to do it. We are preventing illegal off-roading and helping protect land that has been set aside."
Safe Beach Now
In February of 1993, while working on a book in her Oceano beachfront home, Nell Langford noticed a bulldozer scooping up sand, clearing a way for so-called off-highway vehicles.
The activist decided it was time to step in and take action. She asked to see a permit and told the driver to stop, but he didn't, so she went back to her house on the Strand and called the Coastal Commission, the sheriff, and others. When no one helped, she said, she returned to the bulldozer operator the next day and ordered him to stop. Her plan didn't work out as she hoped--she was arrested for interfering with a lawful activity.
"It was very embarrassing," she said.
Though the charges were later dropped, she said the pain remained.
PHOTO BY STEVE E. MILLER
FAMILY TRADITION : Jim Suty, president of Friends of Oceano Dunes, said that his family has been recreating at the dunes for more than 40 years. He explained that most visitors keep the dunes safe by policing themselves.
# Now Langford--a very anti-off-highway-vehicle activist--and a group of about 25 others have created their own faction, Safe Beach Now, in an attempt to rid the Oceano Dunes of all motorized vehicles.
Safe Beach Now, according to the group's website, is a grassroots organization dedicated to freeing the Oceano Dunes from the dangers caused by the excessive assault by gasoline-powered vehicles.
"You take your life into your own hands if you enter that beach," Langford said of the Oceano Dunes. "It's a highway out there. The traffic is too dangerous for normal beach activities."
According to her, it's difficult for people to understand just how destructive it is to have motorized vehicles on the beach.
"When you have motor vehicles, there is going to be oil and gasoline discharge," she said. "It's not safe for marine animals--nothing can survive in that environment."
Langford referred to the dunes as a "death trap," saying that she believes more injuries and deaths occur than are reported.
Such beliefs prompted the formation of a watchdog organization. Armed with digital cameras and video recorders, members of the group have filmed alleged wrongdoings ranging from improper waste dumping to kids riding without required helmets. The group has taken the findings to reporters, rangers, and the SLO County Board of Supervisors, but hasn't been satisfied with the response.
In one case, according to group member Annie Steel, rangers told group members that if they were so concerned with one man's dumping of gray water from his RV, they were welcome to make a citizen's arrest.
Langford said that although the Oceano Dunes situation has been very stressful for her, she will continue to fight for her beliefs.
"When I started, I didn't have a gray hair on my head," Langford said. "Now they're all gray. I keep saying I have to get back to my real life, but I'm not much of a quitter."
California State Parks volunteers
It's a sunny day and the surf is small at the Oceano Dunes. Two young girls are collecting seashells near the water's edge while a man and two small children fly a kite from the sandy beach. But family day is interrupted as a group of young men on colorful quads race along the shoreline--clearly exceeding the 15 mph speed limit signs.
Not for long.
At the wheel of perhaps the most beastly buggy on the beach is Rob Hunter, a State Parks volunteer. He waves down the young-looking bunch.
"You need to slow down," he tells the boys from the seat of his bright yellow buggy, powered by a V8 Corvette engine. "If the ranger sees you going this fast, he is going to take away your riding privileges."
Hunter, a custom home contractor from Fresno, is one of 18 State Parks volunteers who assist the Oceano Dunes rangers in accident calls, informing the public on safety requirements, and, in this case, telling speedsters to slow down.
Hunter's job is tough--no one likes the party police, especially when they don't even carry a badge.
"The biggest challenge is making sure we approach the public in a proper way when we find someone doing something wrong," he says. "We work hard to make sure the public knows we're not against them, we're for them. Our main goal is to make sure everyone has a good, safe time."
Hunter, who says that the Oceano Dunes have been a part of his life since he could remember, started to volunteer in 2003 after he was approached by a couple of pro-dunes-recreation activists.
In his near five-year tenure as a State Parks volunteer, Hunter says he's seen a decrease in accidents at the Oceano Dunes and attributes the change to the volunteer program.
"[The volunteer patrol] has really turned into something a lot more than we ever thought it would, and the public has really started to appreciate us," he says.
But not everyone appreciates Hunter and his volunteer program--and he knows it. In the face of so much opposition to restrict access to the area, Hunter says he just wanted to help any way he could to keep it open.
"My daughter was proposed to at the dunes. We consider the whole Five Cities area our home," he says
Park Rangers
"We've never been fully staffed," said Antonio Villarreal, a recently retired supervising ranger of the Oceano Dunes. "But our presence is always there."
Villarreal spoke with New Times a day before his retirement. He worked for the California Department of Parks and Recreation for more than 30 years, 20 of which were spent at the Oceano Dunes.
According to Villarreal, more than 2 million people visit the dunes each year. On the busy weekends--when the number of visitors can exceed 50,000--they bring in additional staff to help deal with the chaos. A state park website notes that the Sheriff's Search and Rescue team and the Equestrian Mounted Assistance Patrol lend a hand when the area is most crowded.
"We can't be everywhere," Villarreal admitted. "But what we try to do is provide a controlled area for off-road vehicles."
Roy Stearns, deputy director and spokesman for California State Parks, said he welcomes the help from volunteers.
"Peer pressure is as important as badge pressure," he said. "You want a volunteer group to police themselves."
Stearns said that California State Parks are "blessed" with 15,000 volunteers across the state to help inform visitors about the respective rules.
"Volunteers are an important part of regulating those who visit our parks," he said. "I often hear people say if we didn't have our volunteers, we couldn't operate the system as well as we could."
Stearns added that having the dunes open to off-highway vehicles strongly helps alleviate the pressure from riders trespassing on private land.
"If we choose certain places where people can engage in this sport in a safe, regulated manner, we are taking the pressure off people from tearing up the countryside," he said. "[Off-highway vehicle] sales are up dramatically. If someone wants to eliminate them from California, that is no longer an option."
Another high-ranking dunes official voiced a similar opinion.
"The parks facility is a state vehicular recreation area, and we're mandated by law to operate it as such," said Andrew Zilke, chief ranger at Oceano Dunes State Vehicular Recreation Area. "It's something the public demands, and they have said it loud and clear to their officials."
Zilke said that any arguments between different factions at the dunes have little bearing on what State Parks is required by law to do.
"Controversies between and about how the parks should be operated is a nonissue for us," he said. "It's not a matter of opinion, it's not a matter of anything but the strict interpretation of the law. Vehicles in this area are authorized by statute to operate there. They are and they will continue to be."
According to Dena Bellman, an Oceano Dunes analyst, the ranger department is currently staffed with 12 rangers for 16 positions.
In addition to Villarreal's now-vacant position, there's another supervising ranger position and three ranger positions unfilled. In the meantime, the department is actively recruiting.
"We have the capacity to pull rangers in from other parks, and we have a really good team and everyone pitches in," Bellman said. But she added: "We're always concerned when we're short staffed."
SIDEBAR
What does the latest death on the dunes say about the way they're policed?
Nell Langford (Safe Beach Now): "Deaths in the Oceano Dunes are too common. It's a tragedy. The county, the state, and all of the entities that are allowing this mayhem are blind. There is no law enforcement, no speed limit, and no rules out there. It's the Wild West. These are not nice little families out there--these are high-testosterone, adrenaline-junkie, thrill seekers. We want this to be a safe beach."
Jim Suty (Friends of Oceano Dunes): "Our organization promotes responsible recreating. I don't think more laws need to be implemented. Right now there are numerous laws. Does that mean we need more rules? No! That means what we need is people to follow the rules. With over 2 million visitors each year, you do the math--the statistics are very good. We are asking everybody to obey the laws. We send our condolences to the family."
Rob Hunter (California State Parks volunteer): "One side is trying to close it, one side is trying to keep it open. That's the first thing the other side is going to jump all over--but you need the facts. You always have people that are going to get hurt, but 100 times more people die in swimming pool accidents each year than at the dunes. There's only so much you can do. But accidents have gone down since we started the volunteer program."
---
Staff Writer Kai Beech can be reached at kbeech@newtimesslo.