"Their signs are too big." "Our signs are getting stolen." "Our signs are also getting stolen." "Their signs violate city code." "Our signs are protected by free speech."
In the bitter fight for San Luis Obispo mayor between candidates Heidi Harmon and T. Keith Gurnee, banter like this is taking place over social media, city office phone lines, and newspaper staffers' inboxes, as the Nov. 6 Election Day approaches.
A quick trip through SLO's neighborhoods will reveal the passion with which residents are expressing their political preferences in this election season. Gurnee and Harmon lawn signs, among others, are scattered across town, their competing yellow and red hues clashing from block to block.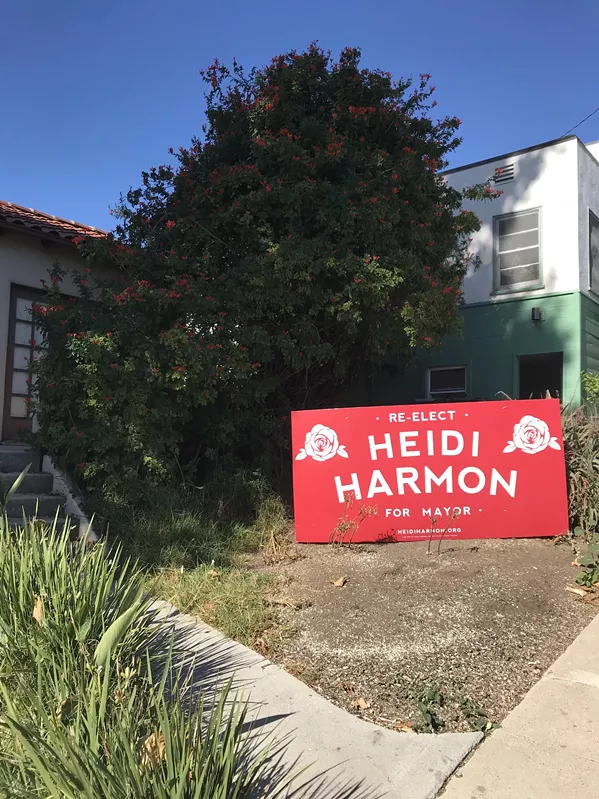 PHOTO BY PETER JOHNSON
SIGN FIGHT Supporters of SLO mayoral candidate T. Keith Gurnee have alleged that Mayor Heidi Harmon's campaign signs, like this one on Johnson Avenue, are larger than city code allows. But SLO officials say a recent U.S. Supreme Court case has rendered its sign rules unconstitutional.
But some Gurnee supporters are expressing outrage at Harmon's signs—particularly a handful of the mayor's signs that look to be as large as 7-feet wide by 4-feet tall. Their gripe is that SLO's municipal code explicitly restricts the size of campaigns signs to 3 square-feet in residential zones and 10 square-feet in nonresidential zones.
"This, of course, is just more indication of this arrogant woman's disdain for anything she doesn't find convenient. Rules? They're for other people," said resident Richard Schmidt, a frequent Harmon critic, in an email to New Times.
While the signs may exceed what's written in SLO's code, city officials say that a recent U.S. Supreme Court case has essentially rendered its, and many other municipalities', sign ordinances unconstitutional.
In 2015, the Supreme Court ruled in Reed v. Town of Gilbert—which pitted an Arizona church against its town's sign laws—that governments cannot regulate private signs based on their content. In other words, SLO can't have one set of rules for campaign yard signs and another set of rules for real estate yard signs, or other types of signs.
"We are actively in the process of updating our sign code," said Jon Ansolabehere, SLO's assistant city attorney. "In terms of the size of the sign, right now those would be content-based, and therefore would be unenforceable. ... It's a problem that many cities are struggling with up and down the state."
Harmon campaign manager Quinn Brady told New Times the campaign had ordered signs of varying sizes, and supporters could choose which to put on their lawns. Brady said people wanting the largest available Harmon sign were briefed on the conflict between the city's code and case law.
"People chose what they wanted to put up," she said. "We said, 'This is the city's rules and here's what happened with the court case.'"
The debate over sign size points to the hostility brewing between the Harmon and Gurnee camps. Supporters of both candidates claim that they've had their yard signs stolen or vandalized. Brady said that in at least one case, a Harmon supporter ordered a larger sign after her smaller signs were stolen on three occasions.
"We've had dozens of signs reported stolen," she said.
On the social media website Nextdoor, Gurnee supporters alleged similar treatment to their signs.
"Harmon supporters have been systematically removing Gurnee signs," wrote resident Allan Cooper. "I and a neighbor of mine have had our Gurnee signs stolen three times."