Talk about pressure—what could make you more apprehensive than being reviewed by a panel of your peers? It happens frequently on the Central Coast, where our local winemakers judge competitions for the Paso Robles Rhone Rangers and World of Pinot Noir events. Frankly, unlike wine critics, they're not out to blast a single winery in particular. When these winemakers gather to judge a blind tasting, they're looking for the best varieties and blends in the tasting. For the upcoming Paso Robles Rhone Ranger Experience, they'll choose one Viognier, Mourvedre, a Rhone white, and a red blend—among other varieties—that best expresses the characteristics of the vineyards in which they were grown in Paso Robles. And you certainly won't want to miss this opportunity to taste the winners from winemakers who have earned fame for their exceptional Rhone wines.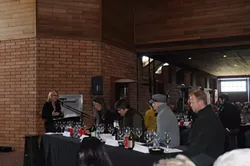 PHOTO BY DAN HARDESTY
PASO'S RHONE RANGERS RIDE AGAIN : Sunset Wine Editor Sara Schneider moderated the winemakers' forum during the 2012 Rhone Essentials Seminar in Paso Robles.
If you love the 22 unique Rhone varieties and their always interesting blends like I do, you won't want to miss the excellent Paso Robles Rhone Rangers Experience on Sunday, Feb. 17. It will feature an array of amazing syrahs, petite sirahs, rosés, and grenache blancs, as well as obscure varieties you may never have heard of until you try them here. Most of these wines are made by maverick winemakers who don't give a damn about mainstream varieties like chardonnay, cabernet sauvignon, or merlot. Now, you and I know there's no reason to deride those classic, tasty wines. But the Rhone wine advocates and zealots will be pouring singular, complex wines you won't find on any grocery store shelf. Because of that fact, most of the wines poured at these events are rare and limited, and only available for tasting at a festival like this one. That's an attraction no wine aficionado can resist.
There are several reasons I promote those I consider the best festivals happening year-round: They must be educational and unique, include many wineries, benefit a charity or a scholarship fund, and provide consumers an educational and entertaining experience. Still, if you can't get to the festival, it's good to know which wineries earned the respect of their peers. Most of them—although not all—have tasting rooms that you can visit to taste this year's winning wines, which included 2011 Grenache Blanc Chrome by Ranchero Cellars, 2011 Viognier by Mitchella, 2011 White Rhone Blend Cotes de Paso Blanc by Halter Ranch, 2011 Rose Summertime by Vines on the Marycrest, 2010 Grenache by Cypher, 2010 Mourvedre by Cass, 2009 Syrah Syrée by Vina Robles, 2010 Petite Sirah by J. Lohr, and 2010 Red Rhone Blend Cohort by Caliza.

THE 2013 PASO ROBLES RHONE RANGERS EXPERIENCE : This excellent tasting, set for Sunday, Feb. 17, features 49 Rhone wine producers in Paso Robles who are making outstanding Rhone varieties and blends. Guests can choose from more than 150 wines being poured by the 49 members of the Paso Robles Rhone Rangers. An annual event, this year the venue is Broken Earth Winery (formerly EOS/Arciero) on Hwy. 46 East, west of Robert Hall and Vina Robles. Although the Rhone Essentials seminar and lunch has sold out, there's still time to buy tickets for the grand tasting and silent auction from 1:30 until 4 p.m. The silent auction features rare, collectible wines, and auction proceeds will provide scholarships to California universities with a viticulture and enology program, including Cal Poly. Tickets are value-priced at only $25 per person. They're free to qualified trade and media, but advance registration is required. For more information, go to rhonerangers.org or check it out on Facebook at Paso Robles Rhone Rangers Experience.
Steve Lohr, executive vice president and COO of vineyards for J. Lohr Vineyards & Wines, will present his 2010 petite sirah during the seminar. He explained that the winemakers or principals representing each of the winning wines will discuss the particulars of grape growing, the quality characteristics of Paso Robles vineyards, and how their winning variety or blend expresses those characteristics. Since each of the seminar participants will be pouring those wines during the grand tasting, those are good questions to ask while you taste their wines.
"We don't make a lot of petite sirah, but it's a very important part of our wine program [at J. Lohr]. We started blending it with other varieties back in 2000," Lohr explained. "This variety does especially well in Paso Robles. What's wonderful is how important it is in blends for adding depth and color. It adds a blueberry, blackberry pie character to Bordeaux blends, which we primarily do. We love blending, but over the past few years Petite Sirah has become a standalone variety for us."
To learn more in advance of the grand tasting, visit rhonerangers.org where you can read about all 22 Rhone grape varieties. Under red grapes, you'll discover that petite sirah, a.k.a. Durif, is a cross between two grapes, syrah and peloursin: "Developed in France by Dr. Francois Durif, though not grown anywhere in France today, it's grown in California and Australia. Petite hardly describes its character. The grape produces a wine dark in color (blue-red hues) with great extraction and big tannins that will reward those with the patience to cellar."
Lohr concluded: "We want the Paso Robles Rhone Rangers Experience to be inclusive for everyone, which will encourage more people to come join us at the grand tasting. You don't often get the chance to taste so many wines at a festival for a ticket price of only $25 per person. We give you more bang for the buck!"

Contact Cuisine columnist Kathy Marcks Hardesty at khardesty@newtimesslo.com.