Appointment only, the glass door of Left Field gallery on Monterey Street in San Luis Obispo said.
The limited hours alone are eyebrow raising, but what's more is that Left Field, which until recently also boasted a large retail space, is now down to a less than 400-square-foot room filled with regularly changing exhibits.
Photo By Jayson Mellom
SMALL SPACE, BIG ART After closing the Left Field retail shop in May, owner Nick Wilkinson decided to keep the small gallery next door going.
Nick Wilkinson, the gallery owner, made the decision to close his shop after about two years of business when the lease ended in May, but he convinced his landlord to let him keep the small, adjacent gallery space open to showcase art monthly during Art After Dark and by appointment.
"Monetarily it works; it's not a huge commitment," Wilkinson said of the gallery. "It's a collaboration between us and the artists."
When things really started to boom for one of Wilkinson's other businesses, his landscape company Botanica Nova, he made the tough decision to close the retail aspect of Left Field, but realized he could still make the gallery work. But how do you sell art when your space is only open to the public a few hours a month?
While Wilkinson wants to keep showing art in SLO, most of the money Left Field gallery has made over the years hasn't come from locals. His focus has always been on showing the work of out-of-town artists, most of whom come with a plethora of Instagram followers, so Wilkinson and the artists work together to get pieces sold online and ship that art across the country, even around the globe. Pieces by artist Cody Hudson, who showed at the gallery in August, sold to buyers in the Midwest, France, and just one art patron in SLO, thanks in part to his 23,000-plus Instagram followers.
"Those online tools have evolved in such a way that basically that's what carries this thing," Wilkinson said. "The more I've done this, the more I'm conscious of whose work I can sell and whose work I can't."
Photo By Jayson Mellom
FAR FROM SLO Brooklyn-based artist Ricardo Gonzalez's piece, Step it up and Go, is hanging at Left Field through Oct. 1 as part of the group show Eyes, Nose, Lips, Etc.
Since the retail space closed, Wilkinson said Art After Dark (now the gallery's main open hours) attendance has dipped a bit, going from 200 people to 100, but he also attributes that to the summer season, which is notoriously mellow in SLO with the lack of Cal Poly students.
"It's been a lot less," Wilkinson said. "I was really surprised. I'm not sure what more I need to do to get people excited about art, but I'm open to suggestions."
While Wilkinson said he wishes he had the time to have the gallery open more hours, a handful of people have called him up to schedule viewings outside of Art After Dark, and since the doors and walls facing the street are glass, passersby can still glimpse a good amount of art from the outside.
In the meantime, while this tiny art gallery experiment shakes out, Wilkinson plans to keep on doing what he loves: booking great artists to share their work in SLO. Artists on tap include Atascadero local and sculptor John Zane Zappas, who now lives in Los Angeles. His work will show starting in early October and will include a temporary sand sculpture at Montaña de Oro. In April, expect to see another LA artist, painter Allison Miller, show her work. Miller's contemporary paintings have been featured at prestigious exhibits like Made in LA at the Hammer Museum in 2012.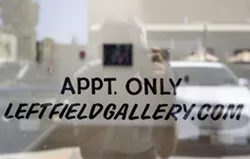 Photo By Jayson Mellom
LIMITED VIEWINGS Left Field is now open the first Friday of the month during Art After Dark from 6 to 9 p.m. or, as the sign says, by appointment.
"We'll see how it evolves," Wilkinson said. "I didn't even think there would be this when I first opened up the shop, and now, that's gone and this is what survives. My biggest hope is that people in the community that want to see something different would take the time to come when we're open and support it in a way, whatever that means to them." Δ
Pencil in more time for art at rcooley@newtimesslo.com.