While the world reeled from the combined tragedies of losing mother-daughter duo and Hollywood royalty Debbie Reynolds and Carrie Fisher just days apart in December, it especially hit home for one Creston resident.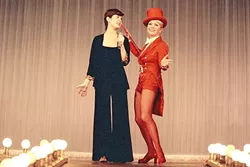 PHOTO COURTESY OF TODD FISHER
SHOW TIME: Carrie Fisher performs with mom Debbie Reynolds, who always wished her daughter had pursued a singing career.
While Todd Fisher knew his days with his 80-something-year-old mom were numbered, losing his sister just days before was an unexpected blow.
"Carrie was a bit more shocking," Todd said. "My mother had lived a very full life. There were no unspoken words or things that needed to be fixed. Losing Carrie at 60? I'm sorry, but I feel shortchanged. I think we all do."
Serendipitously, the documentary Bright Lights that Todd produced about his sister and mom debuted on HBO soon after their deaths in early January, bringing an extra layer of depth and gravitas to the project. Back in the fall, SLO Film Fest director Wendy Eidson reached out to Todd—whose production facility, Hollywood Motion Picture Experience, is headquartered at his ranch near Creston—about the whole family coming to a screening of Bright Lights at the festival in March.
PHOTO COURTESY OF TODD FISHER
FAMILY: Through divorces and struggles with drugs and depression, Todd Fisher, Debbie Reynolds, and Carrie Fisher remained a tight-knit family.
"I was in total shock," Eidson said. "We wanted to honor them already, so doing it posthumously seemed like the obvious thing to do."
Now the festival will include a screening of Bright Lights on March 15 followed by a Q-and-A with Todd at the Fremont Theater, and on March 16, Reynolds' famous film The Unsinkable Molly Brown will show at the Octagon Barn.
Todd said that Bright Lights started out as a documentary about his mom's legacy, but the focus shifted to the family dynamic and particularly Reynolds's love for her children.
"My mom isn't the kind of person who likes to strut around," said Todd, who collected Reynolds' posters and costumes from her hit films like Singin' in the Rain, even though his mom couldn't understand why.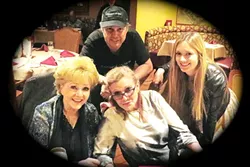 PHOTO COURTESY OF TODD FISHER
BEHIND THE SCENES: Todd Fisher is pictured here with mom Debbie Reynolds, sister Carrie Fisher, and niece Billie Lourd. Todd's documentary about his famous family, 'Bright Lights,' debuted on HBO in January.
Oh sure, Bright Lights has the glitz and glam of things like Reynolds' impressive collection of Hollywood paraphernalia (which boasts Dorothy's actual ruby red slippers), the messy divorce from Eddie Fisher when he left Reynolds for Elizabeth Taylor, Carrie's struggle with her post Star Wars level of fame, and dealing with her bipolar disorder. But more than that, Bright Lights is an intimate look at a family that happens to be very famous. We see Carrie bringing food to her mom and helping her pack for a show, while her therapy French bulldog, Gary, meanders in the background. Carrie looks at the camera point-blank in anther scene and says in a matter-of-fact tone that she's having a manic episode. It's very raw and real. While Todd makes appearances on screen in Bright Lights, even he admits that his mother and sister's relationship is the crux of the film.
"Carrie is a very intricate, large personality and so full of facets," said Todd, who made the decision along with her daughter, Billie Lourd, to put his sister's ashes in a pill container as a nod to her sense of humor about her mental health. "Carrie became all that she was despite having that tremendous handicap. The princess thing isn't that far from reality."

A NIGHT ON THE TOWN: Bright Lights will show at the Fremont Theater on March 15 at 7 p.m. as part of the SLO Film Fest. Tickets are $10 for students and Film Society Members and $12 for general admission. A Q-and-A with Todd Fisher will follow the film. The Unsinkable Molly Brown starring Debbie Reynolds will show at the Octagon Barn on March 16 at 6:30 p.m. Live music by Molly's Revenge along with wine, beer, and appetizers will follow. Tickets are $60 for students and Film Society Members and $75 for general admission. Visit slofilmfest.org for more information.
In the film as in Reynolds' final days, it's clear that her children mattered more to her than anything else. In a calm, introspective manner Todd talked about how his mom asked if it was OK if she went to be with Carrie a mere 12 hours before her death.
"My mom chose to leave this planet to be with Carrie," Todd said. "The big takeaway is how much Debbie loves her children. This is truly a story about love more than anything else."
Ryah Cooley is off in a galaxy far, far away at rcooley@newtimesslo.com.