Maybe a decade or so ago, I saw CPR, a group fronted by David Crosby that also featured his son Jeff Pevar. It was singularly amazing, with incredible vocal harmonies. Four years ago, I sadly missed Crosby, Stills, and Nash when they played Avila Beach, but word on the beach is they were amazing. Now, David Crosby and Graham Nash will team up to play an acoustic and electric show at 7:30 p.m. on Monday, April 4, in SLO's Performing Arts Center on Cal Poly's campus.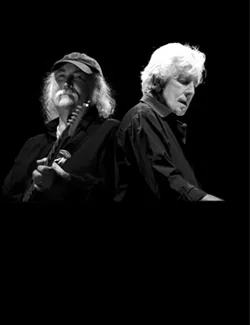 PHOTO COURTESY OF CROSBY & NASH
HARMONY CENTRAL : Expect stunning harmonies when David Crosby and Graham Nash play April 4 at the PAC.
These two performers have such a long and storied history, so much material to draw from, and so much experience playing together, you just know it's going to be an amazing night. "Marrakesh Express," "Woodstock," "Teach Your Children," "Our House," "Just a Song Before I Go"—the hits just keep on coming!
They're currently touring California and Colorado to promote the release of their 1971 live set Another Stoney Evening, released in March on the duo's new label, Blue Castle Records. They'll be accompanied on the road by an ace backing band featuring James Raymond (keyboards), Dean Parks (guitar), Kevin McCormick (bass), and Steve DiStanislao (drums), though the real stars of the show are the duo's sparkling harmony vocals.
"Touring with a full band gives us the opportunity to do selections from our catalog that Graham and I haven't performed live together before," Crosby said in press materials. "We will also be introducing some brand new songs we've written that have never been heard onstage or on record."
Don't miss your chance to see these Rock and Roll Hall of Famers live. It'll be a concert you won't soon forget. Tickets range from $38 to $68 (call 756-2787).
Surf's up!
PHOTO BY JULIE LOGUE
QUINTESSENTIAL CALIFORNIA : Los Osos troubadour David Lynch releases I Can See Sound at Boo Boo Records on April 1.
Fans of jangly, breezy, Cali-pop folk have something to celebrate on Friday, April 1, when Los Osos-based singer-songwriter David Lynch releases I Can See Sound, a collection of 11 acoustic-guitar-driven tunes that chronicle the Central Coast lifestyle on songs like album opener "200 Light Years," where he sings, "I will always put that wetsuit on, jump in the cold, cold water, get gone." No matter "how decrepit," he sings, he'll always surf.
The record takes a more contemplative turn on "Feel the Rush," a lament on our warring world, which directs listeners to tune out the angry noise and look within: "But it doesn't matter what clothes you wear. It doesn't matter if your teeth are brushed. You are the secret of the universe. Let go all of those filters and feel the rush."
Percussive, intelligent, and highly infectious, this is an engaging collection of songs from a songwriter who's comfortable in his own skin. See him perform a brief in-store set at Boo Boo Records from 5:30 to 6 p.m.
Mose better blues
Ray Davies of The Kinks said, "When I discovered Mose Allison, I felt I had discovered the missing link between jazz and blues."
The songwriter and pianist melds jazz and blues into his singular style, delivering boogie-woogie and bebop-laden piano, and he's also a laconic and funny entertainer whose freewheeling audience patter will keep you in stitches between tunes.
He's recorded with a diverse collection of music icons: The Who, The Clash, Leon Russell, Elvis Costello, and Diana Krall. Musicians like Tom Waits, John Mayall, and the Rolling Stones count themselves fans, and Van Morrison recorded a tribute album, Tell Me Something: The Songs of Mose Allison.
Back in the spotlight after a 12-year recording hiatus, he presents his newest, The Way of the World, which has been garnering critical acclaim. He's also a Grammy nominee; Patti Jones wrote his biography, One Man's Blues: The Life and Music of Mose Allison; and director Paul Barnays created a documentary on Allison called Mose Allison: Ever Since I Stole the Blues.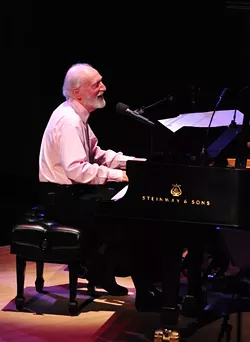 PHOTO COURTESY OF CAL POLY ARTS
JAZZ/BLUES MASH-UP : Seminal jazz and blues pianist Mose Allison plays Cal Poly's Spanos Theatre on April 2.
See Mose Allison in Cal Poly's Spanos Theatre on Saturday, April 2, at 8 p.m. Student and adult tickets cost $29 and $36, respectively (call 756-2787).
Prodigal son
Do you know Wolfgang Gartner? He's a Grammy-nominated electronic music producer and DJ who's about to drop his first studio album this spring on Ultra Records. He's also formerly know as Joey Youngman, who was born and raised in Los Osos and went to Morro Bay High School.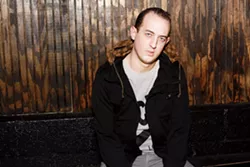 PHOTO BY RONY ALWIN
LOSO OSOS BOY MADE GOOD : Electronica producer and DJ Wolfgang Gartner (aka—Joey Youngman) hits The Grad on April 5.
Now, decades later, Wolfgang lives in Austin and is revered as one of the world's top electronic dance music producers who's embarked on a 33-city, six-week mega bus tour that will stop at The Graduate on Tuesday, April 5.
"We've already sold over 600 tickets for the show and the buzz about Joey's return home is electric!" said promoter Johnny Kenny. "This event is brought to you by Collective Effort Events, my new venture with Taylor Stevens and Tyrone Galgano."
In 2010, Wolfgang debuted at No. 70 on DJ Mag's prominent annual "Top 100 DJs" list, the world's leading DJ poll and a who's who collection of today's biggest names in the electronic/dance genre. The list attracts more than 350,000 votes, with more than 10 million people viewing the results each year.
This is his first return to the Central Coast since his rise
to greatness! Visit
bit.ly/dYv1Db to buy tickets ($35 to $45).
Songwriters at Play
Cowboy rocker Chris Laterzo plays Steve Key's Songwriters at Play showcase at The Porch on Thursday, March 31 (6:30 p.m.; all ages; pass the hat). Though I haven't seen Laterzo, Performing Songwriter magazine said, "Many have hailed this L.A.-based singer-songwriter as a worthy figure in the lineage that includes Neil Young and Gram Parsons." The showcase will also feature the man known as Lost Hills, as well as other performers playing
four-song sets.
More singer-songwriter action awaits when philosophical folk chanteuse Amanda West plays Sculpterra Winery on Sunday, April 3 (1 p.m.; all ages; pass the hat). If you like Sarah McLachlan or Loreena McKennitt, West is right up your alley, playing what she calls "intimate songs of beauty for mind, heart, and soul." She plays acoustic guitar, but switched to banjo, piano, and tribal West-African djembe. Pete Solomon joins her on percussion, keyboards, and saxophone. You can also see her the night before, on Saturday, April 2, at Linnaea's Café (8 p.m.; all ages; pass the hat).
On Tuesday, April 5, local favorite Jill Knight will headline the showcase (6:30 p.m.; all ages; $5). During her long career, Knight has shared stages with Shawn Colvin, Richard Thompson, David Wilcox, Los Lobos, Toni Childs, Phoebe Snow, Laura Nyro, and many more. She's a terrific songwriter with a rich, textured voice you won't soon forget.
More music …
It's time to rock when Deathbear plays an album release party for Hide and Seek at SLO Brew on Thursday, March 31 (7:30 p.m.; all ages; $10 presale or $12 at the door). The local act features Grizzly Momma and bassist Shea Kelly, who recently gave birth to her first child and will kill you if you make any sudden moves towards the little cub! "We worked really hard on [the album], and personally, I think I've written possibly some of my best songs ever," Shea said. Meth Leopard, Skykillers, and Heart to Heart will join Deathbear at SLO Brew, and you can get a teaser by heading to Boo Boo's at 5:30 p.m. for a free Deathbear in-store set.
"Conjunction junction, what's your function?" Find out when The Kids of Bellevue-Santa Fe Charter School rock as they present the Broadway production of Schoolhouse Rock Live! Junior on Friday, April 1, at 7 p.m.; Saturday, April 2, at 2 p.m. and 7 p.m.; and Sunday, April 3, at 2 p.m. at the Cuesta College Cultural Performing Arts Center. The musical extravaganza is taken straight from the animated School House Rock episodes of the 1970s. Tickets cost $12 for adults and $8 for children. All seats cost $8 for the special Saturday matinee at 2 p.m. on April 2. For advance tickets or more info, call 595-7169.
Hillbilly lovers, ready your tapping toes for the Yo Pitzy Jug Band when they bring their old timey music to the Red Barn Community Music Series on Saturday, April 2, at 7 p.m. (6 p.m. potluck; all ages; $10 at the door). The group, which features guitar, banjo, fiddle, mandolin, bass fiddle, harmonica, jugs, washboard, kazoo, and anything else they can get their hands on, is touring in support of their newest album, Hardiman Eat a Frog, a collection of songs about "family, adventure, and freight trains with an emphasis on simple, early string band style."
PHOTO COURTESY OF MARK PIETRI
NYC PIANO MAN : Recent Central Coast transplant, former NYC jazz pianist Mark Pietri, brings his jazz stylings to Sustenance Cooking Studio on April 3 for music and food.
Oops! If you tried to see NYC pianist Mark Pietri two Sundays ago at Sustenance Cooking Studio for his brunch jazz show, you know it was cancelled. But if you still want to see him, I have it on good authority he'll be there on Sunday, April 3, with accompanying players Ken Hustad (bass) and Mike Raynor (drums). Pietri studied and performed with such jazz luminaries as Jackie McLean and Jaki Byard and is an integral part of the NYC jazz scene. He's also a talented screenwriter, having written material for Rodney Dangerfield and Frank Gorshin, inspiring Mr. Gorshin's Tony award-winning one man show "Say Goodnight Gracie," a tribute to George Burns (1 to 4 p.m.; all ages; $25 includes food and music; BYOB).
On Sunday, April 3, more jazz awaits at the Hamlet in Cambria when the Famous Jazz Artist Series hosts Latin jazz trumpet star and Grammy winner Bobby Rodriguez. Internationally known as one of America's leading exponents of Latin and Afro-Cuban jazz, Rodriguez will be joined by Luther Hughes (bass), Paul Kreibich (drums) and series co-producers Charlie and Sandi Shoemake (piano/vibraphone and vocals.) There's a 4 p.m. show for $15, a 7:15 p.m. show for $12, or see both sets for $20. Call 927-0567 for reservations.
Hip-hop artist Murs hits SLO Brew on Wednesday, April 6 (9 p.m.; all ages; $15 presale or $16 at the door), with Whole Wheat Bread opening. I've never heard him, but Murs isn't short on confidence. Listen to his press materials: "He is the only rapper with his own music festival. Each album he releases sells more than its predecessor. He toured the world without having a major record deal. So, there's a reason why independent rap stalwart Murs decided to name his major label debut album Murs for President (Love and Rockets). Murs wants to be rap's leader and spokesperson, the artist who helps give rap a credible face to fans, the media, and critics. After all, the Los Angeles rapper is articulate and well read. He doesn't use drugs and his platform consists of peace, love, unity, and having fun."
Salt Lake indie-rock act Michael Gross and the Statuettes and their label mates The Pocket Rockets play the Frog and Peach on Wednesday, April 6, as part of their West Coast tour. Ringing guitars and head-bobbing anthems! Quiet ballads! Emo shoegazing! You can have it all, people. ∆
Keep up with Glen Starkey via twitter at twitter.com/glenstarkey, friend him at Myspace.com/glenstarkey, or contact him at gstarkey@newtimesslo.com.