View a slideshow from Lena Rushing's current exhibition, Methods of Madness.
Visual artist Lena Rushing looks like Snow White, but edgier and surrounded by zero dwarves but lots of admirers who are literally gushing over her new collection of paintings and shadow box constructions. And why not? The work is maddeningly good, dripping with weirdness, sly sexuality, and psychodrama.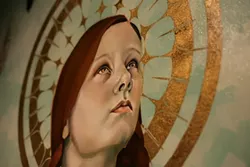 PHOTO BY GLEN STARKEY
GLORY! : Rushing's works, like this detail of Provocateur, wowed the crowd, which was in a buying mood.
As soon as I walk in The Steynberg Gallery on Friday, April 3, I see everybody even tangentially connected to the local art scene. There's political painter Mark Bryan and New Times political cartoonist Russell Hodin gathered around a row of Rushing's smaller shadow boxes.
We're gazing inside the boxes at the pushpins holding a bunch of swimming sharks in place, and though I suggest they open the box and rearrange the piece, my challenge falls on deaf ears, probably because hovering nearby is Rushing herself, bursting with fierce intelligence and a wicked left hook.
She's talking to Hodin's paramour Elizabeth Johnson, another artist with martial skills and a wicked sense of justice. The place is simply abuzz with other artists like Sara LeGrady, illustrator for Trader Joe's; Peg Grady, a visual artist who's been experimenting with needlepoint; and David Settino Scott, who after doing a portrait series of his male friends has now embarked on a series of female friends.
PHOTO BY GLEN STARKEY
PORTRAIT OF THE ARTIST: Lena Rushing soaked up the glow of admiration on April 3, the opening of her new exhibition, Methods of Madness, hanging at The Steynberg Gallery through the end of the month.
There're also plenty of art lovers, like Charles Myers of Big Sky Café, who over the years has presented dozens of artists in his popular restaurant, which he recently sold to one of his employees. There's Trib arts writer Sarah Linn and her artist/filmmaker/photographer husband Chris Daly—both looking smashing as usual.
With all this sensory overload, I decided to pull up a seat at the bar with raconteur and musician Don Lampson and enjoy a bottle of 805 as we soak in the sights and sounds of the opening, where people mill about, noshing at the buffet table, sharing stories with the various attendees, and trying to get a few minutes of face time with the lady of the hour, Lena Rushing.
"Lena Rushing is a California Central Coast narrative artist committed to connecting with the public through art," she explains in her artist's statement. "Rushing supports a variety of local nonprofit organizations by offering art to auction for fundraising events and volunteers her time, sharing lessons in art with children at her neighborhood school."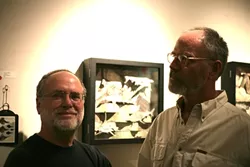 PHOTO BY GLEN STARKEY
GLITTERATI: Local artist Mark Bryan and New Times political cartoonist Russell Hodin were a couple of the many notable art lovers in attendance.
Rushing is a real local success story. She hit the ground running in 2010, showing her work at Linnaea's Café, Tigerlily salon, and Steynberg. She's been a constant presence in the SLO County art world ever since, showing throughout the county.
"Lena's cathartic narratives portray strong, striking women shrouded in unnerving subtext," reads her statement. "The protagonist in each piece is often in the company of animals and other symbols of her predicament. Whether meticulously constructing shadowboxes or wielding a paintbrush, Lena Rushing's provocative imagery is testimony to her boundless imagination and artistic perseverance."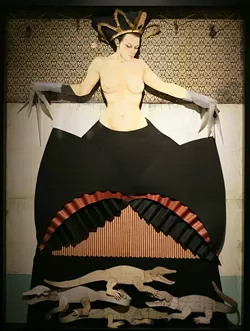 PHOTO BY GLEN STARKEY
SHADOW BOX! : Many of Rushing's works are 3-D shadow box constructions, like 'Offspring.'
With that in mind, here's what I see in Offspring: A topless woman pulling up her voluminous skirts with mechanical hands to reveal a nest of four alligators at her feet depicts the challenges of motherhood. Her children are like vicious animals (perhaps they bit off the hands that fed them?). She's festooned in a crown with an incorporated golden octopus, with its many tentacles represented the mother's need for more hands to juggle the madness. She's topless to remind viewers of her maternally nurturing nature, and the ruffled red and black fabric as well as the red and white stripes revealed under her black skirt are a reminder of her womanhood and birthing capabilities. How's that?
Yeah, I'm probably way off base, but that's what makes Rushing's paintings so fun! Her imagination allows for the viewer's imagination to get as weird as it wants, and in my book, that's great art.
SEE IT LIVE AND IN PERSON: Lena Rushing's current exhibition, Methods of Madness, hangs through April in The Steynberg Gallery of San Luis Obispo. You can learn more about Rushing and her art at lenarushing.com.
Glen Starkey takes a beating and keeps on bleating. Keep up with him via twitter at twitter.com/glenstarkey, friend him at facebook.com/glenstarkey, or contact him at gstarkey@newtimesslo.com.
Lena Rushing's April 3 opening at Steynberg Gallery brought a healthy crowd in the mood to buy art. Her work was selling like hot cakes!
PHOTOS BY GLEN STARKEY