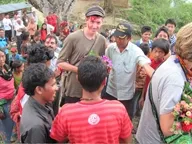 PHOTO COURTESY OF JAN SPRAGUE CHAFFIN
BACK TO SCHOOL : Hands In Nepal has built one school in a remote mountain village and is in the process of constructing a second—a third is already on the way, too. Pictured is Danny Chaffin (the tall white guy), coordinating the second project with villagers.
Danny Chaffin is studying for his bachelor's in peace. No, really.
Chaffin, a 23-year-old with a head of tousled brown hair beneath a knit cap, all topping a tall lanky frame, is in phase two of a project to bring peace to Nepal by building schools.
It all began after a year of school at Cuesta College.
"I didn't really find anything I was grabbed by," Chaffin said.
Then he learned of Neropa, a Buddhist-inspired college in Border, Colo., founded by Allen Ginsberg and Jack Kerouac. From Neropa, Chaffin took a four-month break to work with a volunteer group in Nepal, where he volunteered at the Buddhist Child House in Kathmandu.
"I ended up going there and really fell in love with the culture," he said.
During his time there, Chaffin lived with a family while volunteering at a local orphanage, eventually branching out from the dense urban streets of Kathmandu into the deep forests, only accessible by a bus ride followed by grueling two-day hikes into mountains shrouded in mist.
He found a small village of about 200 people, Darkha, where plumbing and electricity are non-existent and education is a luxury children could only really dream of. The impoverished country of about 30 million has been plagued in recent years by regime changes. There was a monarchy, then a democratic monarchy. In 2008, the king was overthrown. Maoist oppression lingers.
"Danny has been there for all the major overthrows," said his mom, Jan Sprague Chaffin.
"There's no real substantial government in place," Chaffin added.
CHIP IN: To get hands on with Hands in Nepal, or to send a donation, visit handsinnepal.blogspot.com, or send donations to P.O. Box 738, Santa Margarita 93453. A $20 donation, for example, provides a set of books for a classroom.
In March 2010, Chaffin began planning to build the village's first school. In a location so remote it's only accessible by foot, building the school involved trucking supplies until the road ends and then hauling them by donkey and hand into the mountains. Chaffin describes it as a completely deforested country, and buildings in such remote areas of Nepal are built entirely out of fitted stones and mud plaster.
For about $6,000, Chaffin, villagers, and members of the Non-Governmental Organization (NGO) Hands In Nepal were able to build a four-room school for 88 students by June. All the money was generated through donations and fundraisers, including a few out-there contributions from people across the United States who stumbled across his blog, handsinnepal.blogspot.com.
In a way, building that first school acted as a drug for Chaffin—now a junior—and his family. Since then, they've made more trips into the mountains, pressing deeper in search of other villages.
They were eagerly welcomed in a "low-caste Hindu" village where residents had heard of the work they were doing. People living in the village adorned them with wreaths and presented a bottle of Sprite—a big deal in Nepal, Chaffin and his mom said.
Now the groundwork is set for the second school. Construction is scheduled to begin in March, after a few months' hiatus to wait out the monsoon season.
Hands In Nepal is funded entirely through donations and staffed almost exclusively by volunteers, aside from villagers who typically make about $2 per day to help build schools. At the last fundraiser, the group raised about $5,600.
Perhaps most difficult is navigating the turbulent country, avoiding being kidnapped, and finding people who are willing to help without just taking a cut for themselves and vanishing.
"It's been an interesting process of creating a trustworthy network," Sprague Chaffin said.
With the help of their man on the scene, Rajan, their network seems to be functioning. And it's time to bring others in. Chaffin and crew are recruiting new volunteers to take with them as they venture farther into nearly forgotten parts of Nepal. Sprague Chaffin said she has one volunteer she'll be taking in June, and others have expressed an interest. She's also going back to start another NGO that will provide shelter to girls on the streets of Kathmandu who, because of the dire poverty, are easily sold into child trafficking and prostitution rings that operate across the porous border between Nepal and India.
One thing to take into account before volunteering, Sprague Chaffin warned: Aside from a lack of electricity and running water, anyone thinking of donating their time needs to be prepared to poop in a hole and wipe with their left hand. But you eat with your right hand, so it's all good. ∆
News Editor Colin Rigley wonders if he'd forget which hand to eat with. Drop him a line at crigley@newtimesslo.com.