Where does 3rd District County Supervisor Jerry Lenthall live?
Based on public records at least, the answer isn't quite as simple as the question.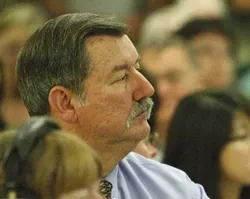 PHOTO BY STEVE E. MILLER
OOPS : Third District County Supervisor Jerry Lenthall said he corrected his county property tax forms after a call from New Times.
# In a declaration Lenthall filed when he began a race for the seat in November 2003, Lenthall affirmed that he then lived on San Luis Obispo's Bluebell Way, within the boundaries of his district.
He's since updated his voter registration to reflect that he lives in a house he owns on SLO's Lawton Avenue, also within his district.
But for the past four years--until he was asked about the situation by New Times this week--he's also been declaring to another branch of the county that he lives in a home on SLO's Montrose Drive, by taking a homeowners' exemption on his taxes. That would put him outside of the district.
Lenthall, in an interview, stressed that he lives legally within his district in the house on Lawton and that he made a mistake on the tax form.
"Basically what we're talking about is a clerical error on the part of my accountant," he said.
The Montrose Drive house is his former home, which he still owns, he said. He said he changed his homeowners' exemption for that house after receiving a call about the discrepancy from New Times.
According to information on County Assessor Tom Bordonaro's website, a person is eligible for the homeowners' exemption only if they own and occupy the house in question as their principal residence. The exemption generally allows a person to take $7,000 off of their home's assessed value, which amounts to a tax break of about $75 per year.
By "principal residence," the website says, the county means the place where "you return at the end of the day."
Under state law, a person is required to notify their county assessor when they are no longer eligible to take an exemption at a specific address. The law says someone who improperly files for a homeowners' exemption could face paying back the exemption with interest and penalties.
But in an interview, Bordonaro said he doesn't expect his office to demand repayment or penalize Lenthall for the mistake.
"This occurs quite often, especially when an owner retains title to their old home," said Bordonaro, who's also the chairman of the SLO County Republican Party.
He said that the county demands repayment and penalties primarily in cases where someone is found to be taking two exemptions--in homes in two different counties, for example.
Lenthall stressed that, even if the tax filings had been done correctly, he simply would have been taking the same assessment at his newer address: "The taxpayers never got cheated out of any money."
The county tax form isn't the only place that Lenthall has continued to use his former Montrose Drive address. It's also listed:
On recent political donations, including those made to SLO Mayor Dave Romero's 2006 campaign.
On his contractor's license, at least according to the state's website.
In his membership with the League of Women Voters. The Montrose Drive house was the one listed on a recent newsletter that welcomed Lenthall as a new member.
In information listed with the SLO County Chamber of Commerce, which presents on its website the Montrose Drive house as the location of his contractor's business.
Lenthall said he believes the errors regarding the political contributions and the League of Women Voters occurred because he's continued to use a checkbook for his political donations that lists his old address. He said that his mother lives at the Montrose house, and he still takes some mail there.
Adam Hill, a Cal Poly teacher who announced plans to challenge Lenthall for the district seat next year, questioned the supervisor's explanation for the discrepancy.
"I think it gets to integrity," Hill said. "Four years seems an awfully long time to continue with a clerical error."
Managing Editor Patrick Howe can be reached at phowe@newtimesslo.com.