If your childhood was anything like mine, your mom probably made you watch a multitude of old movies over and over and over again. Everything from The Quiet Man—which I've seen enough to last three lifetimes—to Jane Eyre to The Secret Garden. I hated The Quiet Man, and I was pretty terrified of Orson Welles, but—and I would never admit this to my mother—I actually didn't mind The Secret Garden.
OK, so maybe you didn't spend your formative years watching black-and-white dramas from the '40s and '50s, but that's just your loss.
PHOTO COURTESY OF JAMIE FOSTER PHOTOGRAPHY
COME TWEET ABOUT ME: Mary Lennox (Campbell Ellery) meets a friendly robin while roaming about the misty moors of Yorkshire.
Based on the novel by Frances Hodgson Burnett, The Secret Garden deals with all things garden-related and magical. So if you're kicking yourself for not watching the movie when you were a kid, worry not, because the San Luis Obispo Little Theatre is performing the play throughout this month.
The story—directed by Shelagh Garren—begins in British India, and follows the adventures of Mistress Mary, who, in case you didn't know, is quite contrary.
Ignored by her parents and disliked by a number of servants who attend to her every whim and fancy, she is, for lack of a better word, a giant brat. When her small little world is turned upside down by the death of her parents, she is sent to the wutherin' moors of Yorkshire to live with her estranged uncle in his depressing manor. But with the help of a few Yorkshire servants, various animals, and the discovery of the titular secret garden, Mary begins to change for the better.
There were many things in this play that stood out: the costumes, the sets, and the puppets (yes, puppets). But what made this performance truly magical was the cast of young actors and actresses. The Secret Garden is not like most children's stories because it focuses a lot on death. Because of this, it could potentially be difficult for younger actors to perform the play and perform it well, but that wasn't the case here.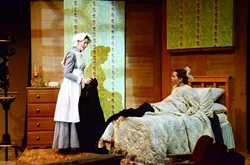 PHOTO COURTESY OF JAMIE FOSTER PHOTOGRAPHY
RISE AND SHINE: Martha Sowerby (Penny DellaPelle) waits on Mistress Mary (Campbell Ellery).
While the entire cast was great, Linnea Marks, who played the spoiled and perpetually ill heir to Misselthwaite Manor, Colin Craven, pretty much stole every scene she was in. The standout scene was when Colin throws a gigantic hissy fit because Mary wants to go outside instead of keeping him company. Not used to being denied anything, Colin immediately throws himself into the depths of despair and begins insisting that he feels a lump on his back and that death and doom will inevitably follow. While he expects Mary to kowtow to his wishes, he gets a big surprise when she starts screaming right back at him, and Marks' shocked expressions and whiny pleadings make it a very entertaining scene to watch.
In addition to Marks' brilliance was Connor Allen's performance as the grumpy gardener, Ben Weatherstaff. Allen, who played the Evil Stepmother in the Little Theatre's earlier production of Cinderella, grumbles and stoops his way around the stage with his gardening tools, being just as contrary as Mary herself. When Allen peaks his head over the garden wall, discovering Mary, Colin, and Dickon (Trevyn Wong) playing in the garden, he immediately begins to chastise Mary in his little old man voice before getting taken down a peg by Master Colin. From then on, he is let in on their secret, shedding his crabby exterior and even cracking a smile here and there.
Last but not least is the main character Mary Lennox, played, during this performance (the actors switch for certain shows), by Campbell Ellery. Mary is a difficult character to play. She starts off the play as a terrible little kid who doesn't seem to know how to smile. Ellery does a good job at scowling and screaming and stamping her little foot when Mary's feeling contrary, but she does an even better job at playing Mary when the garden begins to work its magic. She demonstrates considerable growth and becomes more self-aware and humbled because of it.
THROW IN THE TROWEL: You can see The Secret Garden through Jan. 25, at the SLO Little Theatre. For more information about tickets or about the Academy of Creative Theatre, go to slolittletheatre.org or call 781-3889.
While the story itself lacks ample action or plot, the characters, brought to life by the Little Theatre's Academy of Creative Theatre (ACT), are what really speak to the audience. In fact, on opening night, one little girl in the front row was so enthralled by the performance that she could barely stop herself from jumping up to peer in at the flowerbeds or point excitedly at the robin puppet flapping around the stage. So if you're looking for a little more magic in your life, The Secret Garden is the play for you.
Intern Adriana Catanzarite is going to live forever and ever, because magic. Send her kudos via Arts Editor Jessica Peña at jpena@newtimesslo.com.