It was a fresh, green day in Ireland, the perfect day for a canoe trip on the River Shannon. Two young ladies pushed off into the calm gray waters, each looking forward to a relaxing outing.
What they stumbled upon instead was miraculous—a sight that would garner more than 6.5 million views on YouTube. Thousands of swirling birds blackened the sky.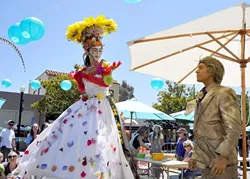 PHOTO COURTESY OF STUDIOS ON THE PARK
THEY'VE LANDED: Teetering stilt walkers will return to Paso Robles' Downtown City Park for Paso ARTFEST's main event, held this Saturday, May 23.
English figurative painter Dr. Michael Pearce loves the way the word "murmeration of starlings" rolls off his tongue.
"Isn't murmeration such an incredible word? It moves in this wonderful, curving, beautiful, organic way," Pearce said. "If you look at the individual starling, you would never predict the movement of the flock."
Pearce believes art and culture come together in much the same mysterious way—as an immense, ever-morphing cloud, or a school of fish much grander than the sum of its parts. When the two elements meet, something unexplainable happens in our brains and in our souls.
Pearce calls it an example of "art in the age of emergence," which will serve as the theme of Paso Robles ARSTFEST's Artmaker dinner held May 22 at the Park Ballroom (think winemaker dinner, only with wine and artists at every table).
The California Lutheran University professor is one of about 20 invited artists traveling from as far as New Zealand to participate in the annual Paso ARTSFEST, which explodes with its marquee event in Paso Robles' Downtown City Park Saturday, May 23, and culminates in a Hearst Castle Sunset Reception Art Tour on Sunday, May 24.
The main event festival—which runs from 10 a.m. to 4 p.m. on Saturday—is emergence personified.
A whirlwind of stilt walkers, printmakers, plein air painters, youth performers, musicians, and unforgettable shared art experiences will assemble under a twisting canopy of ancient oaks.
About 100 local and visiting artists will display and sell their diverse works, spanning oil, acrylic, pastel, watercolor, glass, clay, photography, wood, and jewelry.
What will happen when these artistic and cultural forces collide?
Well, it depends greatly on you, dear reader. Studios on the Park Programs Director and Paso ARTSFEST organizer Sasha Irving wants to stress this fact: You are what truly sparks the magic.
PHOTO COURTESY OF STUDIOS ON THE PARK
CLAIM YOUR CANVAS : About 100 renowned artists from across the county and the world will converge in Downtown City Park for Paso ARTSFEST's main event.
"It's spectacular. Every year we continue to outdo ourselves with a better event, more fabulous artists, and more exciting additions," Irving said. "We always aim to do it bigger in a new, fresh way. This isn't something you've seen before."
Indeed, this year's incarnation of the event will bring new whimsy to the park. Watch as live painters from the Lightening in a Bottle Festival create masterpieces before your eyes; jump into an adult interactive painting pyramid; or check out the CREATEspace, brimming with hands-on activities designed to coax out your inner artiste.
Whatever you do, come with an open heart and a generous slathering of sunscreen. My only qualm with Paso ARTSFEST? You can't explain it all in one breath—or one New Times article, even. There is no "elevator pitch" or snappy slogan that can do it justice.
It's the kind of affair best experienced first-hand, from the festival's public "Before I die" chalkboard to the towering Sand Master's sandcastle, it's an epic sight to behold.
And, of course, there will be wine—poured ARTSFEST style.
Shabby chic furnishings and eclectic embellishments (think parasols and wind-swept ribbons hanging from leafy branches) come together to create an outdoor lounge fit for sipping local wines and beer.
Nearby, local bands Mother Corn Shuckers and Green to White will weave melodies into the mix. Mingle with artists in the park or grab a bite and watch the kids play in the cool grass.

PLAYTIME IN THE PARK!: Indulge in a rainbow of artistic pleasures under the oaks at Paso ARTSFEST's main event in Downtown City Park this Saturday, May 23, from 10 a.m. to 4 p.m. The fest—which includes interactive play areas for all ages, live music by Mother Corn Shuckers, stilt walkers, food, and wine—is free to the public. Ticketed events include a special Artmaker Dinner on May 22, a Hearst Castle sunset reception and art tour on May 24, and workshops. Funds go to Studios on the Park, a nonprofit that provides free art classes and experiences to local youth. For more information, visit pasoartsfest.com.
A wet painting sale and live auction—featuring works painted on-location throughout SLO County the three days prior to the fest—will offer up a chance to take home dynamic images of golden hills, craggy coastlines, and cow-studded ranch land. Nine SLO County artists will race against the changing light as they produce unique renderings of downtown iconography for a Local Stars Quick Draw.
According to another ARTSFEST organizers, Barbara Partridge, if you mention "Paso Robles" to artists across the state, they know exactly what you're talking about.
"We have become a very respected festival and are well on our way to having national acclaim," Irving added. "That's largely because of the beauty of the area, the enthusiasm of our locals, and the caliber of our local and invited artists."
Speaking of those phenomenal artists, much of their art is viewable online at pasoartsfest.com. You can even reserve paintings with a swift click of the mouse.
However, don't hang out in front of your computer screen too long. After all, ARTSFEST is about actually immersing yourself in the exquisite, very real "Now," not the nagging, totally fake urgency of your Facebook feed.
Like that unpredictable flock of little birds, we must come together to see just what will happen. Who will you be before, during, and after ARTSFEST?
"Emergence depends on cooperation and community coming together. ARTSFEST is this kind of positive event, offering us a new way of looking at the world that favors goodness," Pearce said. "We all love beauty in our lives. It's a refreshing way to see the world."
Hayley Thomas is riding a pink unicorn into a sunset-streaked sky at hthomas@newtimesslo.com.