So Janis Joplin, Dick Dale, and Keith Richards walk into a tap room.
There is no punchline. This is simply the reality of Avila Beach's newest hangout, brought to you by the friendly, funky folks at Libertine Brewing Company.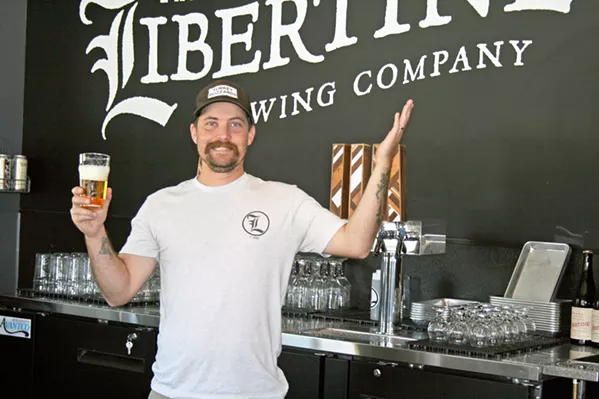 Photo By Hayley Thomas Cain
BEACH BREWER Libertine Brewing Company Founder Tyler Clark, above, can be found spinning yarns and records in between pouring beers at the new Avila Beach location, located at 90 San Miguel St.
Enter this sunny space and you'll likely find Libertine Founder Tyler Clark pouring beers and slinging stories (ask about the vintage 1960s short board on the wall, or the collage featuring the stars of Home Alone, Elton John, and Snoop Dogg).
Photo By Hayley Thomas Cain
WILD TIDE You will not find seashells or quaint "this way to the beach" ephemera at Libertine's third taproom location. The bold Avila Beach hangout features a dozen taps, video game corner, breezy patio, and quirky vinyl selections.
With two successful locations in Morro Bay and San Luis Obispo—plus a Santa Maria packing and aging facility crammed to the gills—Clark hasn't had too much time to brew these days.
Still, he's got time to get back to perhaps his second-favorite job: spinning fat stacks of vinyl while his customers sip.
"It's not too shabby," Clark says of Avila Beach, with its calm waters, iconic pier, and ridiculously perfect weather.
With a dozen taps featuring Libertine's dynamic small-batch wild ales, a shelf full of beautiful bottles wrapped in rebellious labels, and two screens simultaneously playing surf videos and disc golf YouTube clips, this taproom is all about getting back to basics.
"It's small, one person behind the bar," Clark says of the new digs. "You can taste through our beers; it's just very simple. We're not looking to brew more beer right now; we just want to take the beer we make and share it, person to person."
You can also grab a 16-ounce crowler to go, kick back with a round of Mario Kart, or chill on the patio and people watch.
Photo By Hayley Thomas Cain
Listening to records on a Thursday afternoon provided a welcome respite from deadline drudgery: I discovered and fell in love with the tart, refreshing Bikiwi Bottom wild ale as well as the Avila Beach Blonde, a new clean collaboration between Libertine and SLO Brew (yeah, they know it's not sour).
What you won't find here is food, coffee, or Sunday brunch, three things that are famously available at the SLO Broad Street location. New to the adjoining Libertine coffee shop, you'll also find breakfast burritos hot and ready at 7 a.m. Plus, you may not have known—at least I didn't—that there's a meeting space around back, where larger parties can hang, play pingpong, and celebrate events.
Sound like a lot? Well, it is. That's why a simple beach taproom feels like a nice reset button.
Although Clark and his team have found success with mega multitasking—the flagship Morro Bay spot is stacked with barrels and features live music, food, and 37 taps; downtown SLO, open since last February, features 76 taps, plus a cool ship room, and packed dining space—its good to just slow down and check the tide.
"We have our main ideals, but we are a fluid business, and we tend to allow the market to dictate what we do and where we go," Clark says, adding that he'll continue to offer beer yoga and beach cleanup events at the new space.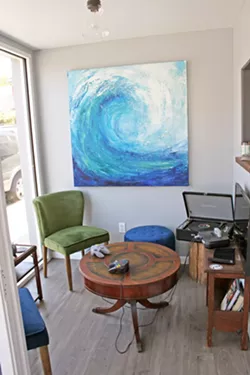 Photo By Hayley Thomas Cain
MESSAGE IN A BOTTLE Sip wild and non-sour beer, watch some surf videos or play a rousing game of Mario Kart at the new Avila Beach Libertine taproom.
Crazy, but just six years ago, the brewery began with Clark's mantra to craft terroir-driven wild ales that buck the status quo. Now, Libertine is producing around 2,000* barrels a year, with distribution in 20 states, plus a presence in Italy, England, Sweden, and the Netherlands. Plans to open a fourth taproom location, this time in Santa Barbara, are in the works.
Per usual, the brewery continues to push the envelope and venture past the break: You'll still find plenty of playful fruit, bold barrel aging, and a huge dose of appreciation for the region's distinct epicurean offerings up on the chalk board.
Recent local collabs include a non-sour IPA made in partnership with Figueroa Mountain, plus a slew of wine-centric offerings.
"We were one of the first in the area to really push the wine and beer collaboration thing, and it's still pretty new," Clark says. "We are always about celebrating what makes this area unique; it's about lifting up and showcasing the entire region."
Clark recommends the Pacific Ocean Blue Gose collaboration, "fun and tasty for the summer months." The tart, pink hued, wild ale hybrid showcases grenache grapes procured from local Sans Liege Wines and is brewed with Morro Bay water and wild yeast.
Also keep an eye out for collabs with Halter Ranch Winery and Claiborne and Churchill, among other partners in crime.
"At first, we would go to the wineries and some were a little confused by what we were doing. Now, wineries are coming to us," Clark says.
That's not all that's coming to Libertine.
There are new customers and new friends, too. They are travelers and locals, some of whom are discovering these unique brews for the very first time. Throughout the interview, people continually walk by the large windows, peeking in, curious. The sound of surf guitar and laughter is hard to resist.
This is what happens when you find a flash of something brilliant on the beach. Not quite a sand dollar or a starfish—but a warped yet lovely piece of sea glass. A message in a bottle.
"Anywhere we go, we aim to add our own flair," Clark says. "We love what our neighbors are doing and we love Avila, but we aren't trying to assimilate. We're trying to work our way in by being exactly who we are. We're here to tell our story, and the story of our beer." Δ
Hayley Thomas Cain is still looking for a message in a bottle of beer. She can be reached at hthomas@newtimesslo.com.
* Editor's note: Story has been modified to correct this number.