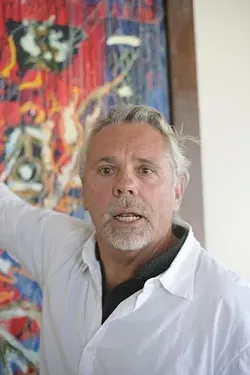 PHOTO BY GLEN STARKEY
THE PASSION : Michael Ackerman's life journey is reflected in his expressionist canvases, on display at Sustenance Cooking Studio on Nov. 5.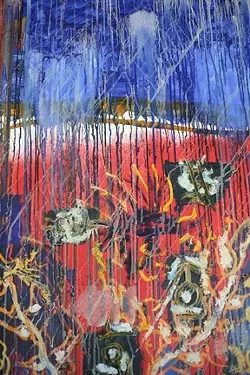 About halfway through our conversation about his upcoming art show at Sustenance Cooking Studio, Michael Ackerman looks me straight in the eye and says, "So about now you're probably thinking, 'This guy is half full of shit.'"
"Half?" I think. No, Michael Ackerman doesn't do anything in halves. He's an all or nothing guy. Let's backtrack. It's Friday, Oct. 29, and Michael and I are at Sustenance to have lunch, enjoy a couple drinks, and discuss his art show, "Bare Naked Anima," but first I want some history, so I ask him for the "Michael Ackerman story," and it doesn't disappoint.
"I was living the American dream," he starts in this weird, sarcastic, fake voice. "Seriously, I had acquired material accomplishments, designed and built my own home a couple times, had a family, successful businesses."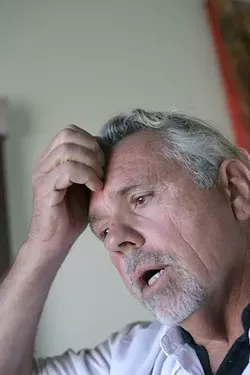 Then he threw it all away.
On his 43rd birthday in 1994, he went out and committed adultery, he said; then he came home and told his wife what he'd done, effectively dissolving their marriage while simultaneously getting himself kicked out of his Jehovah's Witness faith.
"There were three ways out of my marriage: I could die. I could kill my wife. Or I could commit adultery," he says, sipping a glass of red wine.
Hmm. Well, I guess of the three choices, his was the best option.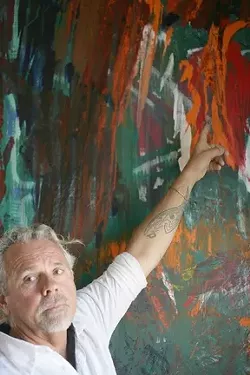 "That caused the collapse of 26 years of my marriage, the demise of multiple businesses that were tied to that [Jehovah Witness] community. That was also the catapult into my current life where I could completely start over. At 43, it was like being 18 again, so in a developmental way, I feel like I'm in my mid-30s."
Michael had crafted surfboards as a kid, learned welding, and become a Class A and B contractor, so he was good with his hands. He'd also written poetry in his early 20s that was published by the California Poetry Association. Yet he'd never painted. After he left his wife, he began journaling, seeing a therapist, trying to figure out who he was supposed to be now.
"I started writing with both my right and left hand—I'm right-handed—but writing with my left hand helped me to access the right side of my brain. Then my third eye started to vibrate, and I went to a doctor who told me my left-handed journaling was causing me to rewire my brain."
Half full of shit? Ha! But then Michael continued.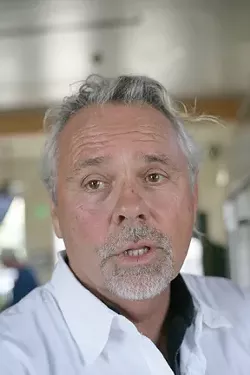 "I'd left the lie we are trained to live, and doing that allowed me to experience something new. All of a sudden, I had to paint, and it just started pouring out. It was the anima, the subconscious boiling around us, trying to help us out through dreams, through thoughts. It was as if a portal opened."
Michael's work runs from the wildly expressive to the naive and cliché, but every single painting is honest and real. There are also a lot of vaginas in them. What can he say? The man likes him some yoni! Oh, and if you vaguely remember his name, that's because Michael Ackerman is the guy who tangled with the city over the metal façade of his Garden Street art gallery a few years back.
"I already had a small rep, and it gave me a much bigger one," he said. "[The fight with the city] made me step up and do what I needed to do to feel good about my actions. Family members turned on me; I lost a girlfriend over it. I had to destroy a world to get to a new world."
Half? Nope, readers, Michael Ackerman doesn't do "half." He goes all the way or
not at all.
Glen Starkey takes a beating and keeps on bleating. Keep up with him via twitter at twitter.com/glenstarkey, friend him at Myspace.com/glenstarkey, or contact him at gstarkey@newtimesslo.com.