It's a well-known fact that history repeats itself. The idea of eating only locally-made products is quite the rage, but just 150 years ago in this county and worldwide, it would have been the primary option.
PHOTOS BY STEVE E MILLER
1:: Currently Antonio has over a dozen piglets and a full grown female named Victoria set up in an old horse training pen that's shaded throughout most of the day on his ranch in Creston.
2: : The young pigs on the ranch are a mix of Berkshire/Hampshire and Duroc; the combination of breeds produces the best meat, because the pigs are massive and fast growing but the quality of the meat is high.
Antonio Varia, owner of Buona Tavola in San Luis Obispo and Paso Robles, has never thought of making his own food, like salamis and sausages, as anything more than a normal occurrence for him and his family. Each January, in Armeno, Italy, from the time he was a child, the whole family would get together to butcher a pig or two and then begin the lengthy process of making salamis to be eaten for the rest of the year. Antonio's father was a chef from a long line of family restaurateurs and when the San Luis Obispo location of Buona Tavola opened in October of 1992, he would make small batches of salamis to be used in his restaurant from wild boar he hunted in Northern San Luis Obispo County.
3: : Antonio separates the ribs from the rest of the meat to begin processing parts for the salami and sausage production and for regular cuts for his restaurant. The Creston Valley Meat slaughterhouse uses a rifle with a copper bullet to slaughter the pigs that are brought directly from Antonio's ranch. The fat around the ribs is used to make soup and the meat becomes handmade sausages. Almost no part goes to waste.
4: : The tray on the left is pancetta for the Buona Tavola restaurants and the tray on the right is shoulder and leg meat that will be used in the salami production.
It wasn't until his mother passed away in January of 2010 that Antonio decided to dedicate a salami and sausage-making business in his mother's name. With help from his nephew, Alex Pellini, who moved over from Italy via England to help with the restaurants, the company started successfully and is growing enormously with a multitude of restaurants like the Range (Santa Margarita), Artisan (Paso Robles), Trattoria Uliveto (Orcutt), and Il Grappolo Trattoria (Santa Ynez) throughout California using his fresh products on a regular basis. The products are also distributed to traditional grocery stores like New Frontiers in San Luis Obispo and Solvang, plus wine bars like Vintage 1255 (SLO), Bella Vino (Morro Bay), and Haven Wine Bistro (Atascadero), and can even be found in the Williams-Sonoma catalog, too.
Allesina Maria Pia is now immortalized on thousands of salami and sausage packages put together in a small shop in Atascadero in a fashion that's not much different from the time when Antonio would help his mother and father with the same process in Italy. The recipes have been handed down from his parents and they'll continue to live on through his work.
5: : All of the employees of Allepia work together seamlessly and quickly to produce a product they're proud of. (L-R) Tesero, Antonio, Alex, and Dabian.
6: : Using a grinder from 1967 that Antonio refurbished, Tesero adds a specific mixture of 20% pork belly and 80% shoulder and leg meat to begin the process of making the salamis.
The amount of product made by Antonio, Alex, and their staff requires that the Alle-Pia company use pigs raised here and elsewhere, but Antonio has more than a dozen young pigs that will be ready for harvest within a year. The goal for Alle-Pia is to eventually use only meat raised on Antonio's ranch off of Highway 58, where the pigs eat a mixture of fresh vegetables and acorns throughout the year. Localvores celebrate! ∆
Staff photographer Steve E. Miller enjoys all food made from pigs. Questions or comments can be sent to semiller@newtimesslo.com.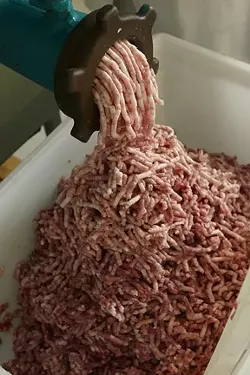 7: : Ground meat and pork belly comes out of the grinder.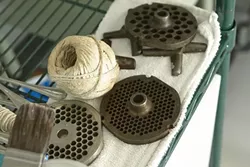 8: : Several different sizes of grinding implements.
9: : Salami is a cured meat, not cooked, and a natural culture is used to ferment the salami.
10: : Specific spices are added to the different types of salamis to create different flavors.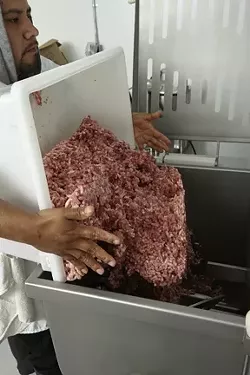 11: : After grinding, Tesero pours the meat into a mixing machine brought in from Spain.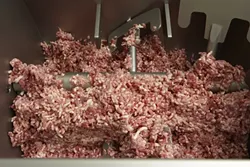 12 AND 13: : The meat mixture is blended together to smooth it out before the spices are added.
14: : Precise amounts of spice are added according to the different Varia family recipes.
15: : This batch is for Cacciatorino salami which includes a mixture of Chianti wine, juniper berries, cloves, and other spices.
16: : After mixing for a set amount of time, the batch of salami meat will be transferred to the stuffing machine that feeds the meat into its casing.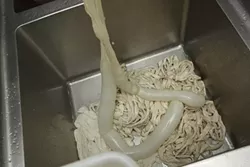 17: : The natural casing made from beef intestine comes frozen.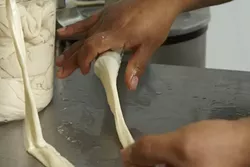 18: : After the casing is defrosted, it's washed thoroughly inside and out.
19 AND 20: : The casing is put over the tube of the stuffer and the meat is pumped rather forcefully and quickly into the casing.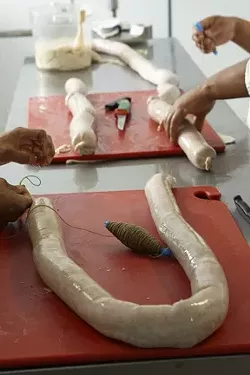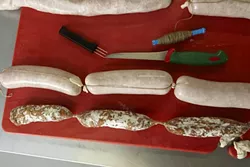 21 AND 22: : La Legatura is the term for tying the salami; Allepia uses twine called Spago from Novara, Italy.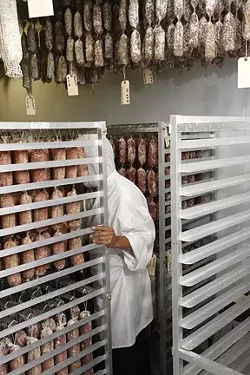 24: : After two days of drying, the pH of the salamis is checked to make sure they're fermenting correctly.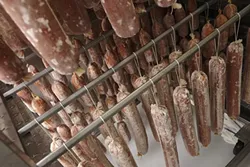 25: : Inside the drying room, the freshly made salamis are on the racks in the bottom, while the ready to sell versions are hanging above.
26:: A tray of Salsiccia Calbrese, which specifically is made with paprika from Calabrese. These salamis will be peeled from their casing and are commonly kept in a jar with oil.