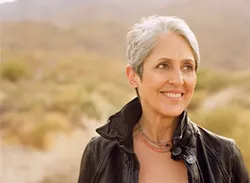 PHOTO COURTESY OF JOAN BAEZ
THE MANY FACES OF JOAN : Joan Baez will celebrate her 50-year career on July 7 with a very special, intimate evening at the Clark Center Theater.
Sometimes I wonder what it's like to live a life as storied and tumultuous as Joan Baez. Her bio is as fantastic as it is painful. In many ways, she was one of the first tabloid darlings, whose life was peered into the same as Britney Spears' or Paris Hilton's is today.

Born to a Mexican-American physicist father and Scottish drama- teacher mother, she attended Boston University, was a Quaker (just like Nixon!), became a folk-music superstar, recording her first album at age 19, suffered through a very public relationship and break-up with Bob Dylan in the early '60s, marched with Marin Luther King, withheld 60 percent of her income tax to protest the Vietnam War, married student protest leader David Harris—who was jailed for draft evasion a year after their marriage—divorced him in 1974 with a five-year-old child in tow, put out her most important record, 1975's Diamonds and Rust, reconciled with Dylan, saw her music career become eclipsed by her political activism, took to the fields with Cesar Chavez, all but disappeared from the music scene only to see a reemergence during the female folk revival of the '90s with such acts as Indigo Girls, Mary Chapin Carpenter, and others, befriended Nelson Mandela, and those are just a few highlights! That's a rocky and exciting road.

I'm sure along the way she had fun, many fulfilling moments, political triumphs, as well as personal tragedies. The amazing thing is she's still singing, still amazing, still politically active, and still recording. Last year she released Day After Tomorrow, her first new studio album in five years, which she said, "speaks to the essence of who I am in the same way as the songs that have been the enduring backbone of my repertoire for the past 50 years."

This Tuesday, July 7, Joan Baez will celebrate her 50-year career with a very special, intimate evening at the Clark Center Theater in Arroyo Grande. Doors open at 7:30 with a concert at 8 p.m. Call 489-9444 for ticket availability.


PHOTO COURTESY OF MERRELL FANKHAUSER
THE MAN, THE MYTH, THE LEGEND : On July 3, Merrell Fankhauser & the Tiki Room Dancers will appear live at SLO's Grange Hall.
Surf's up!
Merrell Fankhauser will always be best known for the song "Wipe Out," the ripping surf-guitar anthem that the Surfaris claim as their own. I don't want to get into the controversy surrounding the song's provenance, but according to Fankhauser, it appeared on a recording by his band The Impacts, which Del-Fi Records released without the band's permission. Then the Surfaris purportedly ripped it off and said it was theirs.
That's neither here nor there, but what is certain is that Fankhauser went on to play with the Exiles, Fapardokly, HMS Bounty, Fankhauser-Cassidy Band, and MU—increasingly spacey, psychedelic, and spiritual ensembles that were perfect vehicles for Fankhauser's expressive guitar.
Mostly foreign record labels have continued to mine his back catalog—he's obsessive about recording and his vaults run deep—but currently he has two new recordings out,
Merrell Fankhauser
and Friends: Live on Maui and California
and his most recent, the newly recorded
Move to Higher Ground
, whose title track is a environmental call-to-arms and received worldwide radio play.
Higher Ground
will certainly appeal to those whose spiritual growth was fueled in the '60s by marijuana and psychotropic drugs, or those who enjoy wallowing in local nostalgia. In "Ballad of Fapardokly," Fankauser sings, "1967 we were playin' at the Cove in Pismo Beach, Me, Bill, Johnny, and Dickie Lee. We wanted to record our music that came so naturally. We couldn't find a name so we called our band Fapardokly." The lyrics are a little cheesy, but in that sweet Jimmy Buffet way. And the song becomes poignant considering he's back with former Fapardokly members Dick Lee (drums) and Bill Dodd (bass). The next track, "Maui Wowie," is an instrumental that will remind listeners of the guitarist's early surf-rock days. He's also got a very credible country rock song in "Time to Move Around," though things get a little too Dungeons & Dragons fantasy cliché for me on "Angel Wings and Fairy Tales." Plenty of people are digging it, though.
Higher Ground
is selling well nationwide in all Target stores.
There's absolutely no denying Fankhauser's still got some serious guitar licks in him, and he's 100 percent earnest about his music. He's continued to do his TV show
Tiki Lounge
, available on-line at beyondthebeatgeneration.com. This
Friday, July 3
,
Merrell Fankhauser & the Tiki Room Dancers
will appear live at SLO's Grange Hall at 8 p.m. Tickets are $8 at the door. He's hoping it will be the first of many "Tropical Night" concerts.
PHOTO COURTESY OF KENTUCKY PICK-UP LINE
IF I TOLD YOU YOUR BODY IS BEAUTIFUL, WOULD YOU HOLD IT AGAINST ME? : Kentucky Pick-Up Line plays its CD release party on July 2 in Downtown Brew.
More music…

I'm unclear where their name comes from since frontman Christopher Everett originally hails from South Carolina and the three other members are from Paso and Los Osos, but they're stilled called Kentucky Pick-Up Line, and they're playing a CD release party with Adam Pasion, The Ragged Jubilee, and Oh My Land on Thursday, July 2 at 7 p.m. in Downtown Brew ($6 presale; $8 at the door). Just what is a Kentucky pick-up line? "Does this rag smell like chloroform to you?" "Did you fart? Because you just blew me away!" "If you were the new burger at McDonald's, you'd be the Mcgorgeous!" To fans of Van Morrison, Creedence Clearwater Revival, Ryan Adams, and Tom Petty, this is your band.

Jack Luna Moth is kind of a funny name. He writes funny, too: "Fluid Drive will present its in-augural or augur-in episode on Thursday, July 2, at 7 p.m. at Cafe Vio in Paso Robles on Riverside Drive near Fourteenth Street in the Granary Complex near Cool Hand Luke's," he wrote. "The theme will be individual independence. Fluid Drive is produced by Lilybea Anto'nie and Jack Luna Moth and is a vibrant blend of poetry, music, comedy, and dance." Okay! Admission is $5. "Performers, of course, do not require an admission fee. Fluid Drive is a community-minded enterprise. Where else would you find a break dancing rapper, an explanation of sculpture, high caliber poetry, an Elvis impersonator, and your own song created, performed, and recorded on the spot?" An excellent question to which you now have the answer.

Local musician Ryan Herr will play a free acoustic set at the Club House this Thursday, July 2, starting at 7:30 p.m. Featuring classical and steel-string guitars, mandolin, and singer-songwriter Matt Suarez who is new to the area from San Diego, Herr and Suarez will perform until 10 p.m.

Alexa Woodward recently released Speck (named after Peewee Herman's dog? Hmm?), and now she's touring to support the new album, appearing Thursday, July 2, at Linnaea's Café at 8 p.m. Woodward abandoned her law career for the banjo and will spend three months touring the US in a 1984 VW bus. Raised in the south by a documentary filmmaker father and mother of many spiritual persuasions, Woodward's music is shaped by her "Bible Belt upbringing, her seedy journeys in the northeast, and her life in community living in New York City." She's been compared to Iron and Wine, Rufus Wainright, and Gillian Welch.

Acoustic indie folk artists The Pioneers of Prime Time TV, touring from New Mexico, will be appearing at Frog and Peach on Thursday, July 2, at 8 p.m. This is a quintet of incredibly sensitive artists, quivering with emotion, bursting with creativity, emoting huge amounts of inner turmoil. (Okay, I don't know what the hell I'm talking about. Their songs sound nice on myspace, though.)


PHOTO COURTESY OF MARK ADAMS
A NEW SHERIFF IN TOWN : Rancho Deluxe singer-songwriter Mark Adams starts a "residency" every Thursday night, including July 2 and 9, at Paso Robles' Kaleidoscope Lounge.
Rancho Deluxe singer-songwriter
Mark Adams
is plenty awesome with his band, but there's something real, real nice about an intimate solo performance too, which is what you'll get when he starts a "residency" every Thursday night, including
Thursday, July 2
and 9, from 8 to 10 p.m. at Kaleidoscope Lounge at 1032 Pine Street in Paso Robles. With material spanning from rockabilly to bluegrass, folk, country, pop and blues, Adams is a human jukebox, playing both originals and requests from the audience. Won't cost you no quarter, neither.
Majestik Sound and Z-Club present rising reggae artist
Mister Kali
on his first ever California tour this Thursday, July 2, at 9 p.m.
DJ Katchafiya
and
Chookie
of Morning Rise will also provide sounds during this incredibly cheap event ($5 at the door! WTF?). Mister Kali hails from Sante Fe, New Mexico and is here to promote his upcoming album
Step Fast
, a mix of conscious reggae, dancehall, and Rastafari culture. Kali got his start when he joined reggae legend Pato Banton on stage in Cambridge, MA., during a rendition of the classic tune "Don't Sniff Coke." Since then, Kali's joined Pato twice more on stage in Albuquerque and Santa Fe, New Mexico. If he's good enough for Pato, he's … well, you know.
PHOTO BY STEVE E. MILLER
LIKE A COCK FIGHT BUT WITH FOUR COCKS : You'll get more country that you bargained for, pard, when you saddle up and ride to Downtown Brew to see Cash'd Out and Red Eye Junction (pictured) deliver an evening of rockabilly, country, honky-tonk and cow punk on July 3 at Downtown Brew.
You'll get more country that you bargained for, pard, when you saddle up and ride to Downtown Brew to see
Cash'd Out
and
Red Eye Junction
deliver an evening of rockabilly, country, honky-tonk and cow punk this
Friday, July 3
at 8 p.m. (21-and-older, $10). Cash'd Out pays homage to the Man in Black, and Red Eye is a testament that hard-livin' is great songwriting fodder.
I went to see
Resination
last week at Concerts in the Plaza, and the event clearly needs no help from me to promote it. It was a clusterfuck of people, a beer line longer than my rap sheet, and a perfectly awesome people-watching crowdgasm. This
Friday, July 3
is the event's second annual doubleheader with
Gruvething
from 4:30 to 6 and
Tres Gatos
from 6:30 to 8 p.m. in the SLO Mission Plaza. Tres Gatos also plays the Grover Beach Farmers Market's 2009 Sizzlin' Summer Concert Series from 3 to 6 p.m. on
Sunday, July 5
.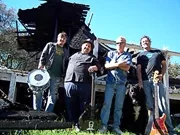 PHOTO COURTESY OF DR. DANGER
YOUR EMPTY EARS ARE THE DISEASE; THEY'RE THE CURE : Dr. Danger, along with a slew of other performers, plays Biddle Park on July 4 as part of the 2nd Annual Firecracker Boogie for the Woods Humane Society.
It's always nice to hear from Brad Kyle of Dr. Danger, who wrote, "Well, this past Friday night brought us back to our home base at the wonderful SLO Down Pub in Arroyo Grande, and we really had a great time playing for friends new and old. The lovely Linda Lucille joined us for several songs and was a big hit all the way around. She's got a soulful sound that gets in your blood the first time you hear her. This
Saturday, July 4
, is the
2nd Annual Firecracker Boogie
for the Woods Humane Society, featuring
Bob and Barry
,
Skye Ferguson
,
Dr. Danger
with guest artist
Linda Lucille
and the
Jim Townsend Blues Band
." The show starts at noon at Biddle Park (on the way to Lopez Lake near Arroyo Grande) and will end just in time for you to catch the fireworks, folks.
Retirees need music too, which is why Christian, R&B, and country performer
Sonya Diane Jones
returns to town for a concert at The Manse on Marsh Senior Living Community this
Saturday, July 4
at 3:30
p.m. She's better than a fireworks display and won't explode in your eye.
What's more American than a good old-fashioned Fourth of July outdoor concert? It's not preemptive war or torture, I can tell you that! And even better than a single concert is a July Fourth weekend doubleheader, which is what the Arroyo Grande Village Summer Concert Series has planned. The Village Band plays on Saturday, July 4, and the Air National Guard Band of the Southwest plays on Sunday, July 5. Both free concerts take place at the Rotary Bandstand in Heritage Square Park in the Historic Village of Arroyo Grande, starting at 12:30 p.m. on Saturday and 1 p.m. on Sunday. The South County Historical Society will the mood with traditional red, white and blue decorations, period costumes, and a BBQ. God bless America, people!

With more variety than you could shake a tambourine at, Central Coast Music Showcase will give you more bang for your eight bucks when it presents an all acoustic singer-songwriter benefit for Sojourn Inc., which provides assistance to disabled children throughout the county. Held at the Red Barn in Los Osos Community Park on Saturday, July 5, the event will include performances by John Sainz, Morgan Enos, Chelsea Deboer, Dan Miller, Jarod Zacarias, Brian Bosen, Tara Henderson, Chad Land, Amy Estrada, Shawn Ellis, Sebatstian Luna, and Jody Mulgrew from noon to 8 p.m. Beer and wines will be available as well as catering by La Maison Bleue and coffee and pastries by Copa De Oro.


PHOTO COURTESY OF THE ITS
THE "IT" BAND : The Its, a cover band that plays only songs with the word "it" in the title, hits Downtown Brew on July 5.
It's
The Its
! That's the cover band that plays only songs with the word "it" in the title! I know what you're thinking: That's the stupidest thing I've ever heard! But it's not! You've definitely heard stupider things. Think for a couple minutes and one of them will come to you! Hear "Beat It," "Whip It," "Shake It Up," and other songs that sound like an advertisement for the Chop-O-Matic™! The band's motto is "Making mediocre songs mediocrerer." It (pun totally intended!) happens on
Sunday, July 5
(21-and-older; 7 p.m.; $5) at Downtown Brew. DJs
Eric
and
Malik Miko
will spin between live music, and the fantastically awesome local heavy psychedelic garage act
Spirit Bird
will open the show.
Portland-based acoustic indie alternative act
Caught In Motion
plays
Tuesday, July 7
, at Linnaea's Café as part of the band's summer West Coast tour. They've been receiving overwhelmingly positive online reviews for their debut album
On The Edge of a Dream
. Said the band, "Constantly in search of the more honest, more personal pop song, [we'll] deliver with haunting atmospherics, poignant melodies, and explosive emotional outpouring." The show starts at 8 p.m.
PHOTO COURTESY OF BRANDON TYLER
ROCK STARRING : See rock-star-in-the-making Brandon Tyler on July 7 at Frog and Peach.
Brandon Tyler
is the kind of musician who gets it, "it" being how to hit the scene like a pro. Earlier this year, the Sacramento musician released
Turbulence
and
Bedroom Songs
, the first, a rockin' EP, the second a collection of intimate acoustic performances. His website has plenty of rock star-ready photos, and his CDs are tight, well-produced affairs. He's also got a local connection. "I'm excited to come back to San Luis Obispo! I went to Cuesta for a brief period of time, and I loved living in Central California. It's definitely one of my favorite places." See him on
Tuesday, July 7
at Frog and Peach.
Help!
Cal Poly's Music Department has launched a campaign to raise $31,000 needed to send its 60-member Wind Ensemble to participate in the 2010 Los Angeles International Music Festival next summer. Cal Poly's ensemble has been chosen to serve as the festival's Showcase Ensemble and is scheduled to perform as part of the closing ceremonies in the Disney Concert Hall the evening of June 22, 2010. The cost per student is $521, so the Music Department needs to raise a total of $31,260 for the group. To find more details or make a donation, log on to windorchestra.calpoly.edu.

Glen Starkey wants to know if you're from Tennessee? Cause you're the only TEN he sees! Slip him your number at gstarkey@newtimesslo.com.



Staff Benda Bilili—Tres Tres Fort
It may be difficult to pull the music out of the captivating story: A group of Congolese paraplegic polio victims and abandoned children gathered together to eke out a living as street musicians. Whether handcrafting their ramshackle instruments from abandoned tin cans or drumming or stealing electricity from neighboring refreshment bars in order to power the producer's MacBook for recording, Staff Benda Bilili have hurdled a mountain of obstacles to stay afloat. So what's stunningly impressive is how charming and compelling Tres Tres Fort sounds. Continuing the tradition of Africanized rumbas that marked Congolese jazz in the '60s, Staff Benda Bilili also branch into the international funk of James Brown to undercut their music with a surge of energy, weaving a rhythmic backdrop for their 17-year-old prodigy to solo over with his one-string electric lute over addictive, expressive runs. A middle point between the blowout trance of Konono No. 1 and the hip-shaking melodies of the Buena Vista Social Club.
Ocote Soul Sounds & Adrian Quesada—Coconut Rock
Usually Martin Perna is surrounded by his 15-piece Antibalas Afrobeat Orchestra, crafting intertwining, meticulous horn arrangements that take a certain degree of precision and patience. Likewise, Adrian Quesada assembled his eleven-piece Latin-funk band Grupo Fantasma from the fertile musician scene in Austin, Texas, running up enough local accolades to get shoulder tapped by Prince as a backing band. Rekindling a musical affair that started a few years back on Perna's biodiesel road trip, Ocote Soul Sounds is a more immediate output for these two democratic band leaders, allowing an experimental psychedelic fluidity to arrive naturally by way of collaboration. Old-school funk, Brazilian easiness, cumbia, and Cuban descarga rhythms float throughout this brew of summery, cross-cultural soul. Whether they're banging out the Afro-beat funk of "Return Of The Freak" or the electrified cumbia bounce on "Tu Fin, Mi Gomienzo," the mood is loose and energetic, a perfect companion to the other work that arrives on the Thievery Corporation's ESL label.
—Malik Miko Thorne, of Boo Boo Records and mikovision.blogspot.com, where you'll find archived reviews and soundclips.