A wiry and wild-eyed acrylic painting of Iggy Pop overlooks the fermentation room nestled in the corner of Libertine Brewing Company's newly expanded Broad Street location. The combination tasting room-restaurant-taproom-coffee shop is cavernous—coming in at a little less than 10,000-square-feet—but this is really "where the magic happens."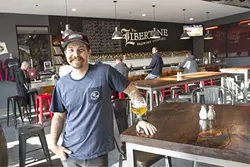 PHOTO BY JAYSON MELLOM
THIS GUY: People can keep taking his picture, but Libertine Brewing Company Head of Brewing Operations Tyler Clark aims to keep the spotlight on his wild ales—and even wilder vinyl collection—in play now at the brewery's new Broad St. location.
Through the large glass window, you can usually see a large, shallow coolship vat of wort—the liquid extracted from the mashing process during brewing—as it glows under bright red lights. These bulbs serve a scientific purpose but also make the whole operation look magical. Inside this vat, a new batch of rare Libertine wild ale is destined to bubble to life. Here, a family of native Central Coast yeasts will fizz and ferment. They'll eat, mingle and give off heat, as if caught up at a raging party. If this were a music video instead of an article, I'd cue the loud, distorted opening riffs of Iggy Pop's "Search and Destroy" right about now.
Ah, but this isn't VH1 Classic, so you'll just have to imagine Tyler Clark's eclectic vinyl collection wailing in the background (or head down to the taproom and see if you can catch him). Everyone should chat with the Libertine founder/head of brewing over a flight of deliciously weird, sour beers and learn how each got its wonderfully weird name.
Right now, Clark is stoked on the newly released "Get Pitted," featuring tart peach juice. Surfers will know that the brew is named after the experience of being completely enveloped by a wave. Pointing to one of the restaurant's many flat screens, Clark says: "When I started the brewery, I thought I'd have more time to surf, but now, at least I still get to watch surf videos!"
Mind-melding
"Gary," a wine/beer hybrid aged in French Oak chardonnay barrels is a shout out to Clark's chardonnay-loving dad. The label features a drawing from Clark's 5-year-old daughter, Aubree; bottles inspired by his youngest daughter, Mattie, as well as his wife and bottle manager, Shannon Clark, are forthcoming.
"It really comes down to them, that's who all this is really for," Clark says, adding that Libertine's continued success is all thanks to a motley crew that includes tasting manager Catelyn Williig, general manager Sean Zubriggen, marketing and sales director Jason Hudson, and partners Eric and Rodessa Newton, among many fresh faces who have joined the team.
Friends of the brewery—including local artist Morgan Condict—create each label with care, and each stands alone, like an album cover. With beers like Soccer Mom, Sandal Tan, and Build that Wall, it's an artist's dream gig. Plus, free beer!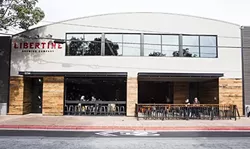 PHOTO BY JAYSON MELLOM
1-2-3-4!: Libertine Brewing Company's second location at 1234 Broad St. is offering up to 76 taps of awesome brews, fine wine, kombucha, cold brew coffee, apps, lunch entrees, and dinner options. A third Buellton location is slated to open next year.
"We've done beers that have actually been inspired by Morgan's artwork. 'Heaven is Expensive' came from a photo of a drawing he had done on Instagram of a creepy priest," Clark says. "I immediately texted him and said, 'I need to use this art.' The next day, I went in, did a blend of these two rye saison barrels. I had to make something."
This statement rings true. These beers aren't just different, they're seriously crafted, lovingly aged, and blended with passion. Looking around at all that Clark and his friends have made—the intimate tasting room with a cooler for grab-and-go bottles (you can also find customized Ultimate Frisbee discs here); the vast 72-tap bar fitted with crafty wooden taps made by local woodworker Janine Stone, the chairs welded by a pal … it's evident that this isn't so much a brewery and restaurant as it is a melding of minds.
Maybe this is why Libertine has ignited such a loyal local following in SLO County, despite how unlikely this success story sounds. Ever warm and approachable, the business has struck a balance between showcasing popular craft beers of the day alongside Clark's more singular sour offerings. The new taproom features a beer menu divided by "lighter beers," "Belgians," "hoppy," "big, dark, and boozy," and "wild, funky, and sour." Of course, there's also the house made cold brew barrel-aged coffee. Oh, and there's kombucha on tap, too.
Right.
Clark is the first to admit that no one really expected this whole thing to pan out the way it did. Looking back to Libertine's founding year, 2012, the brewery's growth has been pretty astounding.
Wild and funky
When Libertine Pub opened up shop on the Embarcadero in sleepy Morro Bay a few years ago with a mix of rotating craft offerings and unexpected wild ales, no one knew what the future would hold.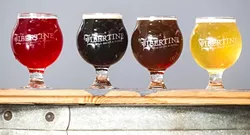 PHOTO BY JAYSON MELLOM
SWEET TO BE SOUR: At Libertine Brewing Company, you can kick back with a range of flagship brews—including Libertine Pacific Ocean Blue Gose, Wild IPA, Central Coast Saison, Edna Table Saison, 1234 Broad St., and Aubree Rye Saison—or go for a more familiar craft beer favorite, a glass of local wine, cold brew coffee, or kombucha.
Although its star was poised to explode across the nation, sour beer wasn't an easy sell in SLO County—not to mention "wild ales" fermented with fruit and aged in wine or whiskey barrels. Let's just say, a lot of confused old beer guys sat at the bar scratching their heads, while others rejoiced at the sight of something fresh and funky brewing on the coast.
"No one was really doing what we were doing at the time, especially in Morro Bay," Clark says. "And we were doing what we liked; what we wanted to drink. That's still where we're coming from and our main goal."
With Morro Rock in the distance and a defiant battle cry emblazoned above the bar, "Ya, we know it's sour," Libertine Brewing Co. set out to live up to its renegade name, brewing batch after small batch of freeform beer. Remember when they started brewing with actual seawater from the bay?
But before the brewery ever experimented with a Turkey Buzzards beer-and-vinyl co-release, before they collaborated with other craft brewers or garnered major press, the guys were just trying to make something they could be proud of. They were like the best kind of garage band.
When Libertine opened its second location on Broad Street in 2015—then just a cozy tasting room and a large beer production space filled with rows and rows of precious barrels—the team had faith that people were ready for more of something different. Construction began on the next phase.
"That funky feeling in Morro Bay—we just wanted to bring it to SLO," Clark says of the vision.
You could say that this newly minted clubhouse represents Libertine's biggest "breakout hit." This garage band has cracked Top 40 radio in SLO but refuses to change its artistic principles to fit any preconditioned mold. If you want your favorite Pizza Port amber or a local BarrelHouse IPA, you can get it here. But you can also get an imported Belgian that you can hardly pronounce poured from a cradle-like "beer basket," just like they do in Europe.
Of course, local love still flavors the entire experience. Libertine Chef Bernard Livingston has been incorporating Libertine wild ales into all kinds of unexpected fresh, local ingredients (the gose-battered fish and chips served with housemade barrel-aged malt vinegar; the raspberry coulis infused with Libertine Framboise drizzled over panko fried goat cheese balls). P.S: The rotating cheese plate features Stepladder Creamery's Rioly Run cheese washed in Libertine Saison.
I would be remiss if I forgot to mention the brewery's attached coffee shop, located on the corner of Broad and Pacific Streets, open now and ready to serve up a range of beans in partnership with Slake Roastery in Cambria. The collabs don't stop there. Heck, you can even get a SLO Donut Co. "Libertine Donut," made special for the quirky brewhouse.
BEERS OF UNCOMMON ORIGIN: Libertine Brewing Company is located at 1234 Broad St. in downtown San Luis Obispo. Hours are Sunday through Wednesday from 11 a.m. to 10 p.m. and Thursday through Saturday from 11 a.m. to 11 p.m. The coffee bar, on the corner of Broad and Pacific streets, is open from 6 a.m. to 6 p.m. daily. For more information, go to libertinebrewing.com.
Like all artists, Clark and friends aim to grow and evolve, never repeating what's come before. Boga, or beer and yoga classes are in full swing and release parties are scheduled throughout the year (a recent event saw swarms of people lined up around the block).
Stacked high with local meats, cheeses, records, and munchies, these gatherings feel a lot like a shindig at your friend's house, except with a way better fridge (and beer collection) to raid.
Although Clark (not surprisingly, a self-described packrat) is a little sad to say that most of his personal reserve Libertine keg collection has been swallowed up by these eager fans, he admits that it's really the best thing that could have ever happened.
Now he's got ample room for more.
"We thought, 'If we build it, they will come,'" he said.
Hayley Thomas Cain is enjoying life, love, and Libertine. She can be reached at hthomas@newtimesslo.com.