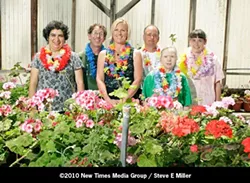 PHOTO BY STEVE E. MILLER
READY FOR FUN : From left to right, Tammy Ewalf, Scott Hall, Kristine Cleary, Rusty Davis, Janice Strickner, and Sandy Butler take a break from gardening to plan a tropical themed camping trip.
United Cerebral Palsy of San Luis Obispo seeks volunteers to help run Camp Kelley Creek, a weeklong getaway in the Village of Arroyo Grande for adults who have cerebral palsy and other developmental disorders. "We urgently need at least six more volunteers, as well as a registered nurse," Kristine Cleary, the camp organizer, said. The nurse who had signed up for the camp unexpectedly had to cancel her commitment very recently.
There will be 15 full-time counselors to guide the 80 campers who've signed up, but that's not enough help for all the activities planned. The campers will take day trips to Pismo Beach, make grass skirts by hand, enjoy luaus with music and dancing, in addition to many other treats scheduled from June 27 through July 27. The theme for this year's camp is Summer Fun in the Sun. "The experience is really rewarding," said Cleary. "It just gives your heart this great feeling."
The campground covers 29 hilly acres tucked behind old downtown Arroyo Grande, and it sports several cabins, a large swimming pool, a picnic area, and a sand pit for volleyball. The site is owned and operated by United Methodists and is reserved exclusively for use by nonprofit groups.
According to the Centers for Disease Control and Prevention, roughly two people in every 1,000 are afflicted with cerebral palsy, a group of disorders that affects movement, balance, and posture. It occurs when areas of the brain that govern coordination don't develop properly in the womb or are damaged in childbirth and early age. Over the course of a normal lifetime, the disease costs an average of $921,000, mostly in wages lost to an inability to work.
Enter Achievement House, a not-for-profit corporation that provides employment and residential opportunities to the developmentally disabled. New Times met with several clients while they trimmed and watered plants in the extensive nursery the organization operates behind Cuesta College. Some were shy, others friendly and talkative, but none seemed discouraged by their handicap.
Tammy Ewalf and Sandy Butler talked about their anticipated camping trip. "I just like to shop and swim," Ewalf said. "I love it. I just can't wait." Ewalf attended the camp for the past two summers and said she works for Achievement House so she can shop and have fun. She's also looking forward to the Special Olympics, where she will compete in bocce ball, a sort of lawn bowling. "I'm close friends with Tammy," Butler beamed, hugging her friend.
Though there's no cure for cerebral palsy, treatments and therapies can ease the symptoms. Braces and speech therapy can improve muscle coordination, and such vacations as Camp Kelley Creek provide enduring enrichment. Camp Kelley Creek costs $450 per person, but 20 scholarships are available through United Cerebral Palsy, which relies on donations. Cleary said the camp enrollment is fully subscribed. To make a donation, or sign up as a volunteer, call her at 543-2039.
Fast Facts
Spencer Caserio was diagnosed with a rare form of leukemia at the age of two and received intensive and unusual treatments that have had such an effect, he no longer needs medication, and has been in remission for six years. An earnest budding photographer, he won first place in the junior division of the New Times photo contest last year. The Make-A-Wish Foundation presented a gift to Caserio on June 10 …
On Thursday, June 24, Downtown Brew, in partnership with the Terra Foundation, Coalition, and Maule Wear, will host the Chile Earthquake Benefit and Raffle, a night of music and prizes. The Chilean city of Curanipe was devastated by an earthquake and tsunami in February. Proceeds from the raffle will go to Curanipe in the form of grants for rebuilding homes. Raffle tickets are available at several surf shops and health food stores throughout the county; prizes include a new bass guitar, surfboards, art, wine, and clothing. Visit maulewear.com for more information …
There's plenty of time to catch the last three Sustainable Landscapes Workshops at the SLO Botanical Garden. Attendees will learn how to maximize outdoor water efficiency and help the environment. The workshops are free and take place on July 12, July 26, and August 9 from 7 p.m. to 8:30 p.m. Space is limited. Contact dsetterlund@slobg.org to make a reservation.
Intern Nick Powell compiled Strokes&Plugs this week. Send your business and nonprofit news to strokes@newtimesslo.com.