These days, music festivals seem to be all about the green. Some are motivated by the green hue of paper made from 75 percent cotton and 25 percent linen, produced by the U.S. Bureau of Engraving and Printing. For others, it's more about the green of tickets printed on post-consumer waste fibers like straw and hemp in soy ink. Then there's the lush green of 40 acres of oak trees at the Live Oak campground.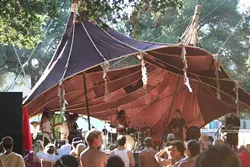 HUH? : Lightning in a Bottles main stage, Woogooloogie has a funny name and an unusual structure everything a good stage should have.
# For at least one group, creating a music festival is about harmoniously blending all three into a creative stew where artists and oddballs are equally welcome.
May 11 through 13, for the second year, the innovative minds of The Do Lab are bringing the Central Coast a socially conscious music and art festival called Lightning in a Bottle, a miniature Burning Man fresh off the idea wagon and ready to flourish. They've booked stilt-walkers, underground musicians like Bassnectar, a Renegade Drive-In Movie Theatre, even Lucent Dossier Vaudeville Cirque an indefinable performance group that stretches the boundaries of the imagination. Their goal: Leave a positive impression on the California art scene without leaving a negative impact on the environment.
From the roots up
Meet the guys and girl who turned partying into a business. In 2004, twins Jesse and Josh Flemming and their friend Dream Rockwell founded The Do Lab, an event-creations company based in Los Angeles. The Flemming brothers moved to California from Pennsylvania where their parents own a screen-printing business hoping, like so many before them, to establish careers in the movie industry. They instead discovered a business that would allow their natural shindig-coordinating talents to flourish.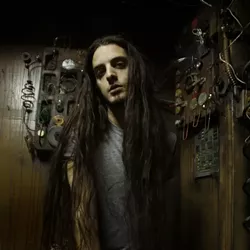 FRUIT OF THE FESTIVAL : Bassnectar, a musician billed as a creator of underground electronic music and freak show experimentation, is one of Lightning in a Bottles biggest headliners for 2007.
# "We started out just throwing parties and then we really started to focus on lighting and de cor and details like that," explained Jesse. "We tried to make each event more special, with more pieces of art, instead of just a party. And then a few years ago we kind of decided that's the direction we wanted our lives to go in. We turned it into a business and now that's pretty much all that we do. We mainly focus on creating our own events, but we do have clients that bring us in for lighting and to decorate."
Their client list includes the likes of Red Bull, E! Entertainment, the Coachella Music and Arts Festival, the Burning Man Festival, and the Egyptian Theater. The trio, later joined by a third Flemming brother, Dede, is usually responsible for lighting design, but their list of accomplishments includes everything from the construction of an 80-foot flower that changes color to complete event coordination and design.
"Lightning in a Bottle is our own event," Jesse said. "It's something that we created about eight years ago, and it started out as a small birthday party for us and a few of our friends. It was just 300 people and we've done it every year since, except one. It's grown exponentially every year, and two or three years ago we decided that we wanted to take it from party status to festival status and really just run with it, and see what we could do with it. And that's what we're doing."
The Flemming brothers drove across California in search of the ideal venue a centrally located Shangri-La where burners and artists could meet and create. What they found was the 40-acre Live Oak campground on Highway 154, a beautiful space that would allow the event to grow. Lightning in a Bottle's adolescent party years took place in July to correspond with the twins' birthday, but this year's festival has been moved to May because a lush, green campground and temperate climate are better suited for a "magical forest adventure" as the festival is billed.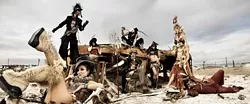 VISUAL STIMULATION : Lucent Dossier Vaudeville Cirque is an interactive spectacle of a performance group that regularly dazzles the underground Los Angeles art scene.
# Organizing a festival that drew between 1,500 and 1,800 people its first year (and is expected to more than double for its second) requires about six months of nonstop work, more than $100,000, and all the years of festival experience The Do Labbers can muster. They've lit the stages of Burning Man, the dance floors of Yuri's Night, and the Mass Music Dome designed stages for Earthdance and Los Angeles Decompression and co-created gigantic art installations for various music festivals, including Burning Man, which funded their most recent installation at the Black Rock Desert happening. Each client requires a different set of skills, but shouldering sole responsibility for a growing festival like Lightning in a Bottle requires every skill.

Six months before the festival, the Do Lab team is brainstorming, thinking about which artists they'd like to book and what new ideas they'd like to incorporate. Four to five months out, they're contacting and scheduling their headliners a time frame that Jesse would like to push back as many of the more popular groups already have engagements at that point. Four months out, the group is developing a publicity strategy. Three months out, they're up to their elbows in technical details pertaining to staging, lighting, sound, and power. Two and a half months before the festival, they're booking the last of the artists and coordinating special features like the parade and art galleries. And as busy as the other five months have been, it all takes off during the final month before the festival.
"We build like crazy because, unlike most events, we create, design, and build all of our structures ourselves, as opposed to hiring other companies to come in and set up standard structures," Jesse said. "From here out it's a madhouse, and we're working nonstop around the clock."
SAN FRANCISCO TREAT : An avante-cabaret community from San Francisco, the Vau de Vire Society is yet another genre-crossing performance group.
# Most large music and art festivals are sponsored by wealthy investors or businesses that receive a loan from the bank. Unlike these events, Lightning in a Bottle doesn't have any outside backing. And, despite the fact that The Do Lab is a business and income source for its young organizers, the festival didn't financially pay off in its inaugural year.
"There was no profit from last year's event," Jesse admitted. "In fact, we lost quite a bit of money. We're not trying to get rich. We're just trying to make a modest living, like most artists. It definitely takes time to build an event of this size and turn a profit, but we are working hard to ensure our event does better this year. Last year, our event was relatively unknown, but this year we've already sold tickets in over 20 states, and the word seems to be spreading pretty far, so we're feeling good about it."
Festival passes can be purchased at various tiers, with the Lightning in a Bottle web site requesting that anyone who can afford to purchase a more expensive tier (currently $120) do so, leaving the inexpensive tickets ($95) for those with tighter financial resources. Compared to the cost of attending the Coachella music festival, where a one-day pass goes for $85 and a three-day pass costs $249, Lightning in a Bottle is downright affordable. But that doesn't make it the poor man's Coachella.

The green's the thing
The Do Lab is using Lightning in a Bottle to pioneer methods for making the modern music and art festival environmentally sustainable. In 2006, 50 percent of all waste produced by the festival was recycled, and this year the organizers are aiming to improve upon that by an additional 30 percent. In order to reach that goal, they're bringing in the big (green) guns. Shena Turlington is working as director of sustainability, overseeing the festival's various green initiatives and making sure each one maximizes positive environmental impacts. This starts with something as simple as the carbon calculator on the Lightning in a Bottle web site, provided by 3 Phases Energy. Attendees can use the carbon footprint calculator to determine the quantity of carbon dioxide their journey to the event produces, and it gives them the opportunity to offset that footprint by purchasing wind power. For example, a Hyundai traveling from San Luis Obispo to the Live Oak campground and back would pay about $2.62 to offset the emission of 182 pounds of carbon dioxide.
"It's really important for us to help others explore sustainable lifestyles," Turlington said. "In this way we concentrate not just on 'minimizing our impact,' as people often think of it, but actually maximizing our positive impact on the environment. We focus on education through the green workshops we offer at the festival."
CARDBOARD JUNGLE : When Josh Flemming visited Milan, he stumbled across an art installation made from cardboard. The installation sparked his creativity because he instantly began drawing in a sketchbook, and when he returned home his idea became a 20-foot cardboard tree that The Do Lab brought to Coachella, and is reviving for Lightning in a Bottle.
# The festival features more than 30 workshops all free on environmental how-to topics including Greening the Home, Sustainable Community, Permaculture, Solar Energy, Art From Trash, Bio Fuels, and Wind Power. Much of the information obtained at the festival can then be brought home and applied to everyday life.
Though Turlington has witnessed a growing trend toward making more music festivals environmentally sustainable, until green products become the norm, The Do Lab is putting its money where its mouth is. Jesse estimates that The Do Lab's dedication to sustainable practices and products ends up costing an additional 15 to 20 percent. For a festival that's already losing money, committing more financial resources is a risky move, but The Do Labbers believe it's a move they can't afford not to make. Lightning in a Bottle will primarily be powered by solar energy, and The Do Lab will purchase wind energy certificates to offset any non-sustainable energy sources. Campers will be provided with a biodiesel shuttle, staff will rely on electric golf carts for transportation, and The Do Lab team constructed and decorated their stages with recycled materials.
On top of all of this, food and drink vendors will be offering raw, organic, and vegetarian wares created with local and eco-friendly products not too surprising given that the three Flemming siblings are vegetarians themselves.

Marketing alternative
Intentions aside, there's always a question of whether it's truly possible to host a large-scale, commercially successful event that promotes alternative lifestyles and primarily underground entertainment groups. As the festival grows larger and individual attendees have less of an opportunity to influence its direction, will it cease to represent the values and lifestyle it was founded upon? Is Burning Man as eclectic as it was when it first began? And are music and art festivals, however well-intentioned, essentially selling alternative culture?
According to Jesse, most people who attend Lightning in a Bottle are heavily involved in Burning Man. Many began their artistic careers there but even those who aren't necessarily a part of Burning Man culture can make artistic contributions to the festival.
"Even after Burning Man took off, a lot of the artists are still true to their art and their original beliefs and what they're trying to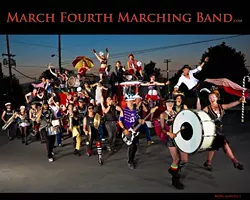 THEY WENT TO BAND CAMP : Named for the day of their first performance, the March Fourth Marching Band is comprised of 25 musicians and 10 dancers, an unusual compilation of flag twirlers, clowns, and acrobats.
# do," he said. "We all had day jobs for years and were kind of doing this on the side and then one day we just decided 'all right, well, we really want to do our art,' and we wanted to do just that. I don't think art is compromised when you expand beyond your community. It gets it out there to a wider audience and it shows more people, people that wouldn't be exposed to it otherwise, that this sort of life exists, that this sort of art exists, and that you can make a living creating every day and doing what you really want to do, if that's what you really want to do."
As far as what kind of art festival-goers can expect, SLO County resident Grant Leonard attended Lightning in a Bottle last year and was most excited by a resonator with strings that he estimates were 50 feet long. A circus of trapeze artists flying out of trees also captured his attention, as did a theme camp constructed entirely from glow sticks. For Leonard, who makes a point of attending as many music festivals as he can including hosting his own local music festivals featuring his band Lightning in a Bottle is an unexpected breath of fresh air in an art scene that wasn't catering to this type of lifestyle, art, or attitude.
"Last year, I heard it was promoted heavily in L.A., but didn't hear much about it here," Leonard lamented. "My roommate at the time got involved for promotions for it and that's how I found out about it. I wish it would take off. I hope it does."
This year, Leonard plans to round up a large group of friends, pack some shade sails for his camp, and hit the road.
As creative festivalgoers set up their own theme camps and art installations, there's going to be a lot going on at Lightning in a Bottle's three entertainment stages. The Woogooloogie stage will mostly be a live music site. The Treehouse, a cardboard tree inside a 60-foot dome, will host DJs and live electronic music, and the Woogie stage will also be a venue for electronic music. Entertainment groups include the Lucent Dossier Vaudeville Cirque an underground performance art troupe from Los Angeles that does a little bit of everything, creating a visual spectacle that makes traditional circus shenanigans look like child's play. Freq Nasty, Bassnectar, Heavyweight Dub Champion, the Mutaytor, and dozens of other performance groups including a stilt circus and an eclectic marching band are scheduled to entertain the eager masses. In addition to an extensive line-up of entertainers and groups, the Live Oak campground will play host to late-night jam sessions, a Renegade Drive-In Movie Theatre from Los Angeles, Ice Cream Man (a grassroots organization dedicated to changing the world through free ice cream giveaways), and even The Oddballs' Procession, an interactive parade everyone is welcome to join.
If green is Lightning in a Bottle's official color, at the festival's heart lie several complex themes rooted in creativity and to-hell-with-limitations inspiration, branching toward the limitless blue expanse of the California sky.
"This is an event unlike larger festivals where you go and you're a spectator and you just kind of come to see what they can buy for you, or do," Jesse said. "This is the kind of event where we strongly encourage everybody artists, non-artists, everybody alike to get creative, to wear costumes, to bring your art. If you have paintings, sculptures, whatever you've got, bring it out, hang it from a tree or set it up in the middle of a field. People can definitely have an impact on Lightning in a Bottle. As long as they participate, it will keep shaping the way people want it to change."
Info box: Don't forget your camping gear
Lightning in a Bottle 2007 will take place May 11 through 13 at the Live Oak campground near Santa Barbara. Passes can be purchased for $95 or $120, or $130 at the door. For a complete schedule of events or to purchase tickets, visit www.lightninginabottle.org.
Arts Editor Ashley Schwellenbach has captured lightning in the palm of her hand but never a bottle. Send ointment to aschwellenbach@newtimesslo.com.