"Where's the knife? Because I only found the handcuffs," says Sarah Linn, assistant director on the new Red Eye Junction music video for the song "Wolves."
"Did you check the center consol?" asks director Chris Daly.
PHOTOS BY GLEN STARKEY
THE DIRECTOR! : Chris Daly tries desperately to round up some more extras during a recent music video shoot.
It's Saturday, Sept. 15, and when I arrive about 25 minutes late for the 9:30 a.m. shoot at the old Los Osos school house, I'm only the fourth one there behind Daly, his wife Linn, and extra Brian Bear.
Daly put out the word for the shoot on Facebook, hoping to get between 30 and 40 extras, and even though about 15 people said yes to the invite, it's now about 10:30 a.m. and only seven actors are here and they've yet to film a single shot.
In addition to Bear—a friend of Daly's—so far on hand are Dan Keller of the band Cuesta Ridge and his 8-year-old daughter Olivia, former Pennyjar drummer Chad Nichol and his gal Jessica Gilder, star of the video Lakin Hamilton and her real-life boyfriend Adam Jacino (who plays her slain husband in the video), and Linn—all dressed in "period garb," though it's pretty hard to pin down the period.
"The invite said to dress between the 1880s and the 1950s," said Nichol. "That's quite a span!"
At this point, they just want more bodies. There's talk of finding some homeless people hanging around the park or going to the grocery store and just begging people to come over and join in the shoot.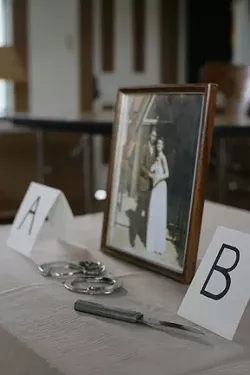 PHOTOS BY GLEN STARKEY
EXHIBIT A : Evidence of a wife's murder of her drunken husband is an integral part of the courthouse scene.
For now, just like a real film, it seems to be hurry up and wait time.
"On the way down here, Olivia asked what this film was about and I told her it was a Red Eye Junction video," Keller says. "She asked if they were famous, and I said, yes, about as famous as Cuesta Ridge, and she said, 'Well, you guys don't have a video.'"
Ouch! Take that, daddy!
The schoolhouse is set up like an old courthouse, and Daly's got some clever ideas about how to film this story about a young wife whose new husband becomes increasingly drunken and abusive, leading her to kill him and hence stand before a judge for his verdict.
Speaking of judges, local artist Neal Breton is supposed to play the judge, but he's a no show.
"The Beard's not answering my texts," Hamilton pouts, referring to Breton's massive black beard, perfect for meting out justice between the 1880s and the 1950s.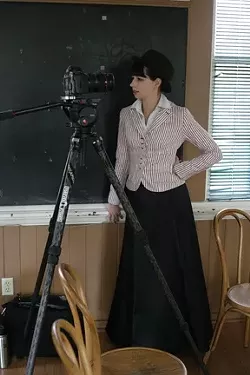 PHOTOS BY GLEN STARKEY
ASSISTANT DIRECTOR : Sarah Linn, wife of director Chris Daly, is also dressed to be an extra.
One of Daly's ideas is to open the court scene with a shot of the happy couple, slowly pulling back to show it's a photograph on the evidence stand with a set of handcuffs marked exhibit A and a knife marked exhibit B. Later he wants to pan down on a cross in the graveyard and segue that into a cross on top of the church where the couple gets married.
"They're just ways to bring you from one scene to another," Daly says about his clever match-on-action sequences. "In another, we'll see her swinging the knife, which will become the judge bringing the gavel down."
Daly is a new filmmaker. He's got a few film clips he put on Vimeo, and he and Linn used to have a cable access show called Film Forum, in which they'd discuss current films on Channel 2, but Daly's otherwise self-taught.
"If you watch and study so many movies, you just start to 'get it,'" he says.
We're still waiting for enough people to show up to start the scene, so I ask Hamilton about her acting experience.
"I played Tituba, Reverend Parris's black slave, in The Crucible in high school," she says.
EXTRAS! : Brian Bear (left) and Dan Keller are all dressed up with nowhere to go, as they await extra extras to fill out the scene.
"Oh, so you were typecast," deadpans Linn, looking at Hamilton's porcelain skin.
Second cameraman Jim Weise arrives. He got halfway here and realized he forgot his batteries at home, but there still aren't enough extras to start shooting.
"Do you know anyone else who's free today?" Daly asks. "I'm just trying to get some bodies."
Nope, nobody. I eat a donut. Thank you, craft services. Then Daly shows Weise how he made his own steadycam.
"Where did you get the wood part, babe, and when are you going to make me some nunchucks?" asks Linn.
"When do you think you'll have this thing finished?" I ask Daly.
"It will take me a couple days to edit, so probably this Friday … well, don't quote me on that. It's our wedding anniversary this weekend."
"And I might murder him," Linn chirps.
"Wouldn't that be a funny case of life imitating art?" I say, though nobody seems to think it's that funny, and since it's after 11 a.m. and the head count is holding steady at seven, I sort of slink off and leave these budding auteurs to their own devices.
If they ever finish this thing, I'll be sure to let you know.

Glen Starkey takes a beating and keeps on bleating. Keep up with him via twitter at twitter.com/glenstarkey, friend him at facebook.com/glenstarkey or myspace.com/glenstarkey, or contact him at gstarkey@newtimesslo.com.