PHOTO BY TED LEE EMRICK
PORTRAIT OF THE POET: Coffman's "lesser gods" range from the comma to the ass—a very satisfying range, indeed.
The patriarchal saint of Surrealism, André Breton, wrote that "poetry is made in a bed like love"—but what he meant was that the best poetry is made that way. In Lisa Coffman's Less Obvious Gods, this is exactly how the poems are made.
Coffman, who teaches at Cal Poly, originally hails from east Tennessee. The poems in her new collection begin with an impression, a momentary muse, but they are realized in an intensely physical and immediate way. After years of singing the praises of the concrete to her students in poetry workshops, Coffman discovered she could no longer follow her own advice with the ease required for inspiration. "I had codified it," she says, after which "I found myself really hungering to write about abstract things."
And so the exploration of the divinities between the lines began. Coffman describes the book as "a series of odes to 'lesser gods," those who "don't have temples—they don't require tithes." "Comma," "Kiss," "Pain," "Time," and "Ass" are all among them, along with many other inspirations that all seem to have come more or less as a surprise, and often a delight, to the poet.
While Coffman's gods may be abstract, the praise she offers them is precise and concrete. The body weighs very heavily upon this book, appearing again and again in its daily uses as well as in sensual expression. "I've always loved the body," Coffman says. "It's just the visible part of the soul. I feel great gratitude for it."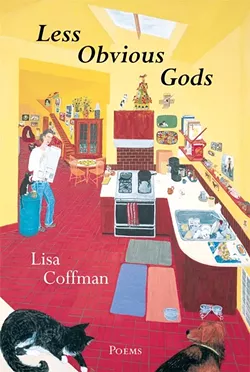 IMAGE COURTESY OF LISA COFFMAN
SMALL PAINTINGS WITHIN: The rich spread of absorbing details in Sarah McEneaney's painting 'Morning 2003' visually anticipates Coffman's poetic technique.
Her gratitude is evident everywhere, from the silicone bodies in "Volleyball Players at Laguna Beach" to the very real bodies of lovers in "Kiss" that explore "The lines you blur but won't erase./ Tan line, lip line, language of a contract." Few poets have such an easy relationship with the life of the body and so little difficulty linking it to the life of the mind. Even Breton was largely a pretender who praised physicality more than he truly experienced it—but Coffman is the real thing.
Perhaps this facility flows from the intimate connection Coffman shares with her poems, where she is not afraid to draw from her own experience. "They tend to start with something very close to me personally," she says, and this implied trust of the reader results in an intense and deeply affecting reading experience.
In the poem "Bass," Coffman illustrates a moment of revelation during a "great time of bleakness and grief." Coffman found herself listening to music when, suddenly, "I woke up to the bass notes." This sudden revelation, despite coming at a great emotional cost, is nonetheless an exaltation—another place where Coffman cannot help but find beauty.
There is winter in this book to offset the warmth of the body—not just the chill of grief but real winters, with snow, the kind we don't get here on the Central Coast. "It took me a while to connect to the California landscape, to write out of that," Coffman says, and there are evidences throughout the book of other landscapes converging on SLO County's endless summer. This topographical variety adds to the book's abstract, composite quality, increasing its universality rather than dispersing it.
In "Lisa Coffman," the poet explores what she explains as "the strangeness of having a name," this identifying possession that is "completely random and has nothing to do with you," but that is nonetheless used to differentiate you from all others.
My two names
show up for a while around people I don't know.
Out on the periphery, they stay trained on me
like binoculars or a loyal dog.
For the book's cover image Coffman uses a painting by Sarah McEneaney—friend of the author and fellow priestess at the temple of small gods. "I met her when I lived near Philadelphia," Coffman recalls, when she and McEneaney were both recipients of fellowships from the Pew Charitable Trust. Morning 2003's simple hospitality, including the image of the painter reading a newspaper, mirroring the experience of the book's reader, is an invitation into the poems, two of which feature an appearance by the artist herself.
"Small Paintings Within Sarah McEneaney's Paintings" juxtaposes the two acts of making, writing and painting. The details in this poem are lush and forbidden, moving quickly from the more genteel details of weather and botany to intensely intimate moments—an abortion, cunnilingus, the quotidian exposure of the body. Coffman does not shrink from these potent details, but neither does she sensationalize them. The balance is strikingly real within the lyrical expression Coffman has found for all her experiences, great and small.
My friend did this for a time in her work, adding a small picture unlike
its larger picture.
To identify a painting I ask about, she says, "What's the small painting
in it?"
GOD AMONG US: 'Less Obvious Gods' is available in paperback from Iris Press. Learn more about Lisa Coffman's upcoming readings and purchase signed copies of Less Obvious Gods ($15) and her previous book, Likely (Kent State Univ. Press, $15), at lisacoffman.com.
The painting-within-a-painting is the key to Coffman's poems as well—the dioramic moment chosen to accompany a larger experience or idea that may at first seem peripheral or even contradictory to that idea, but which ends up encapsulating it. This technique takes a turn when McEneaney reappears near the end of the book in "My House, Summer '98," in which the words of the artist's rapist appear as a newspaper headline in a painting whose main focus seems at first to be the artist's garden. Coffman's description of the painting is so fluent that this detail is as arresting to the reader as it must be to the viewer.
"She remains an inspiration to me," Coffman says.
Not yet even a year old, Less Obvious Gods has that ageless quality of a book of poems whose subjects are eternal and whose details are elegantly preserved against obsolescence. Coffman has graciously gifted us not only with her experiences, but with a cipher to our own—if only we are willing to read the code.
Arts Editor Erin C. Messer sings the body, electric or otherwise, at emesser@newtimesslo.com.