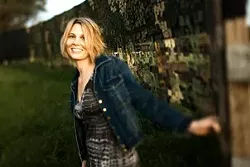 PHOTO BY BARRY GOYETTE
SONG BIRD : Inga Swearingen takes flight on her new CD First Rain, which she'll present in concert on Oct. 25 at the Clark Center.
Sunny! That's the best word to describe Inga Swearingen's new CD
First Rain
.

It sounds like a bubbling brook, it looks like sunlight filtered through green leaves, and it smells like fresh air after a spring rain.
The local jazz singer brings her highly trained voice to songs more aligned with the pop folk genre—think Everything But the Girl, Joni Mitchell, Natalie Merchant, Cassandra Wilson.
Swearingen also proves herself a talented writer, penning half of the album's songs and choosing an equal number of perfect covers and traditionals, including "Black Is the Color of My True Love's Hair," the Beatles' "Blackbird," and jazz classics such as "Heart and Soul" and "Skylark."
On Sunday, Oct. 25, Inga Swearingen appears in concert at the Clark Center at 4 p.m. with a cornucopia of guest performers. Afterward, Inga will sign CDs at a reception with food and drink in the lobby. Tickets are $23.50, available online at ClarkCenter.org or by calling 489-9444. Tickets are also available at Boo Boo Records. New Times spoke with Inga Swearingen via e-mail.
New Times You have a new video, which is really wonderful. Is that a first? How was the experience?
Inga Swearingen Thank you. Glad you liked it. We had fun making it! Barry Goyette planted that seed in my head a while back, and having a new album gave us a reason to do it. It was my first video and I was a bit shy, but I trust Barry completely. We shot in a very comfortable place for me—Old Edna Barn—and as the day went on, it just felt like a jam with my friends.
New Times This CD really stretches the definition of jazz. What was your artistic vision here?
Inga Swearingen Well, I view jazz as a big umbrella—there's a lot that can fit under it, in my opinion. But you're right; there aren't many swing tunes on the album. We did incorporate jazz harmony and improvisation and the sense of exploration that jazz encourages. When I arrange a song, I try to get to the essence of the lyric and find a musical way to communicate that. And when I write, I'm pulling from everything that inspires me, be it jazz, classical, folk, rock—anything good. I try not to ask myself what genre I think it is until I have to describe it to others.

New Times You're working with a lot of great local players. Have you developed any special sort of artistic relationship or collaboration with any of them (including Barry Goyette)?
Inga Swearingen Yeah, the musicians on this CD are amazing. They each contributed something very special, both in notes and spirit. Usually I'd bring a sketch of a song to Jeff Miley, our guitarist, and we'd work out some ideas together. That helped me see what worked and what didn't before taking it to the band. Once we had the songs recorded in the studio, Chris Robertson and I worked together to create an overall warmth to the album. We made many decisions about how to present the songs in an honest way that supported the lyric. Barry Goyette heard the album and suggested we shoot the photos up at my parents' farm. I now realize how significant that was to package this music in images of my home. Peg Eckert heard the music and saw the farm photos and created the perfect dress for me to wear at the CD release concert. The whole thing has been a collaboration. We formed a vision together and everyone added to it, and it was FUN!

New Times What's the plan for promotion?
Inga Swearingen Promotion is a lot of computer time, and I've made friends with that. I do have some help getting it out there on a more national level, and I continue to try and play for new audiences frequently. Heather Hellman has done a great deal to help get the word out, and, once again, Barry Goyette has given the project a sense of unity with his incredible aptitude for anything visual.

New Times One final question: What surprised you most about how this album came out?
Inga Swearingen Last year my friend Pam Dooley said, "It's time for you to record again; let's have a party." So we put on a couple of house concerts at the farm that helped to fund-raise for the project. I was surprised and touched by people's generosity. We made this together and the music is filled with that gratitude and love.


Double Soul Brew
There must be some cosmic alignment going on, because Downtown Brew has two acts with soul in their name this week. We'll get to that in a minute.
First, on Thursday, Oct. 22, Straylight Run and Lydia deliver an evening of rock, alternative, and experimental music (7 p.m.; all ages; $12 presale or $13 at the door). Straylight rose from the ashes of early-2000s emo act Taking Back Sunday, swapping out Sunday's aggression for a sound the band describes as "pensive, dreamy, and often piano-driven." After the concert, the next installment of the Central Coast DJ Competition will get its freak on as DJ Katchafiya goes mano-y-mano with DJ Sol.
On Friday, Oct. 23, Tomorrows Bad Seeds return with Bare Feet (8 p.m.; all ages; $10) to deliver an evening of rock, reggae, and dub. L.A.'s the Bad Seeds like to mix in a little soul, hip-hop, and punk in their set, so if you're expecting roots reggae, fugitaboutit!
On Saturday, Oct. 24, the first "Soul" band cometh! Hip-hop act Souls of Mischief hit the club (7:30 p.m.; all ages; $14 presale or $16 at the door). Some of these dudes have been rhyming together since they were 8, which is when Oakland native Tajai hooked up with his future band mate A-Plus while both were in elementary school. Tajai met Phesto in junior high school. Then A-Plus later introduced Tajai and Phesto to the final member Opio in high school. That's some old skool history.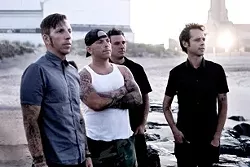 PHOTO COURTESY OF BOUNCING SOULS
20 YEARS YOUNG! : Bouncing Souls are celebrating their 20th year as a band with a show on Oct. 25 at Downtown Brew.
"Soul" band number two bounces, babies. On Sunday, Oct. 25
, the Bouncing Souls
spring into action with opening acts Bayside
and Broadway Calls
(8 p.m.; all ages; $19 presale or $21 at the door). Bouncing Souls are celebrating their 20th anniversary of kicking asses and taking names by delivering one new original song per month throughout 2009, available for the standard less-than-a-buck download on the first of each month, or for purchase on 7" vinyl in quarterly compilations on their own Chunksaah Records (each featuring one additional bonus track). 

Said guitarist Pete Steinkopf, "We all decided that we wanted to do something different. We'd been on the same schedule for years: write a record, record a record, wait for the record to come out, then tour on it until we wanted to start the cycle again. We also wanted to break our own patterns and do something that was going to be inspiring and new


for us."
PHOTO BY CHRIS STRONG
BANJOIST! : William Elliot Whitmore (pictured) opens for Hoots and Hellmouth at Downtown Brew on Oct. 27, making for one helluva show.
On Tuesday, Oct. 27
, Hoots and Hellmouth
will be joined by opening act banjoist William Elliot Whitmore
(awesome!) for an evening of indie and Americana roots music (8 p.m. ; all ages; $10). Hoots has a simple message: "The exchange of music is a bond, a way to build community, an environment in which to share an experience. Sing with us! Dance with us! Lay your weary burden down and get lifted for a spell. Let's break away from the traditional roles of performer and audience." Looks like I'll be playing percussion with some beer bottles.
PHOTO COURTESY OF CAL POLY ARTS
MASHUP! : Three amazing genre-bending virtuosos—Béla Fleck, Zakir Hussain, and Edgar Meyer—are joining forces on Oct. 26 in the Performing Arts Center's Cohan Center to conjure a brand new sound mixing classical, bluegrass, and world music.
Hattrick!
Holy crap! Three amazing genre-bending virtuosos are joining forces on Monday, Oct. 26 at 8 p.m. in the Performing Arts Center's Cohan Center! Witness the spectacle of Béla Fleck, Zakir Hussain, and Edgar Meyer conjuring a brand new sound mixing classical, bluegrass, and world music, represented on their new CD The Melody of Rhythm.
"When I play with Zakir, I'm not an Indian musician, but we can find a place to meet," said Fleck in press materials. "Along with carrying the top level of Indian classical music in his veins, Zakir is incredible at understanding music from all over the world and collaborates effectively with an amazingly diverse number of musicians. [Plus], Edgar is one of my longtime pals and influences. I'm thrilled to find a new way to collaborate with him."
"Working with Béla and Edgar is an experience that transcends musical collaboration," added Zakir. "Certainly, it's a creative effort unprecedented in my own life—a way of looking at melody and rhythm through their eyes, affording me another way of expressing myself through my instrument."
Meyer agreed, saying, "The give and take between musicians is often very defining. Ideally, I'm more focused on Béla and Zakir than I am on myself. From the beginning, Bela's vision on the instrument transcended traditional expectations and Zakir brings a complete re-defining of tabla without any loss of traditional values."
A free pre-concert lecture will be held at 7 p.m. in the Performing Arts Center Pavilion, presented by Cal Poly Music Dept. faculty member Ken Habib. Student and adult tickets range from $20 to $48. Call 756-2787.
More music…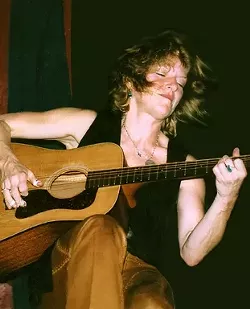 PHOTO COURTESY OF CAROLINE AIKEN
AIKEN GOOD MUSIC : Painted Sky Studios has lined up contemporary folk maven Caroline Aiken for an intimate acoustic concert on Oct. 22.
Painted Sky Studios has lined up contemporary folk mavens Caroline Aiken
and Jill Knight
, with Eric Williams
and Brynn Albanese
, for an intimate acoustic concert on Thursday, Oct. 22
, at 7:30 p.m. Fellow folk babe Mare Wakefield calls Aiken "the real deal. She infuses each song with true grit and years of performing experience, sanding down the rough edges just a little with her soft Southern drawl." Tickets are $20 at Boo Boo's, the Cambria Business Center, or by calling 927-8330.
The Richard Green Band, still riding high on the success of their new album Better Days, plays the Frog and Peach on Thursday, Oct. 22 at 9:30 p.m. Green writes amazingly hooky tunes that you'll have to pry out of your head with a crowbar.
There're too many great shows to list during the 33rd Annual Jubilee-By-The-Sea that happens on Thursday, Oct. 22 through Sunday, Oct. 25 at venues throughout Pismo Beach. See 20 acts on five stages perform a total of 118 shows. Big band, Dixieland, swing—they've got it all. For badges (Yes, you do need stinking badges) call 773-4382 or 800-443-7778. All-Event badges are $20 to $80. Daily badges are $20 to $40. Get more info at pismojazz.com.
Christian, R&B, and country artist Sonya Diane Jones, with hubby Nick, returns to town with three gigs: Friday, Oct. 23 at the Manse on Marsh, at 3:30 p.m., in SLO; Saturday, Oct. 24, at Creston Village, at 3 p.m., in Paso Robles; and Sunday, Oct. 25 at Merrill Gardens, 3 p.m., in Santa Maria. The retirees always get a big kick out of these shows, and they love visitors, so come on out!
PHOTO COURTESY OF PRESTON REED
GUITAR MASTER : Incredible guitarist Preston Reed plays Oct. 23 at Coalesce Bookstore and Oct. 24 at Castoro Cellars.
SLOfolks is all aflutter over the incredible guitarist Preston Reed
, who
Total Guitar
claimed is "widely thought of as the world's most gifted guitarist,"
Guitarist Magazine
hailed as "true spellbinding guitar mastery,"
The Herald
labeled him as absolutely unmissable," and the
London Evening Standard
ranked him "in a class of his own." What can I add? See him Friday, Oct. 23
, at Coalesce Bookstore (7 p.m.; call 772-2880; $20) or Saturday, Oct. 24
,
at Castoro Cellars (7:30 p.m.; call 238-0725; $20).
How come SLO doesn't have some special regional music? You should start it; I'm busy writing about Son Jarocho, the music of the Mexican State of Veracruz, which blends Spanish, African, and indigenous influences. It's bold, lively, and captivating, and one of its purveyors, Pa'sumecha, is coming to the Steynberg Gallery on Saturday, Oct. 24 at 8 p.m. ($15 presale at Boo Boo Records or $20 at the door).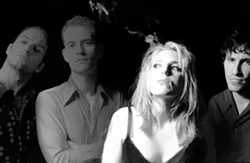 PHOTO COURTESY OF BREECH
BETTY ROCKER! : L.A. indie rockin' bluesy act Breech hits the Z Club on Oct. 24, fronted by Missy Gibson who's also called Betty Rocker because of the band's fundraising "rock'n'roll bake sales."
L.A. indie rockin' bluesy act Breech
hits the Z Club on Saturday, Oct. 24
at 9 p.m., along with local artists Slick Bishop
, Heath Seager
, and Genevieve Phillips
. The
OC Weekly
recently crowned Breech "Best Indie Rock Band," maybe because front gal Missy Gibson is some kind of wonderful. The band has enjoyed notoriety due to their "rock'n'roll bake sales," which they use to raise funds, and which led

LA Weekly
to dub Gibson "Betty Rocker." Get tickets at the Z Club, Boo Boo Records, the Cal Poly Box Office, the Paso Robles Event Center, or ValliTix.com. Breech will do a free in-store at Boo Boo Records at 5:30 p.m.
PHOTO COURTESY OF DOUG WEBB
A TANGLED WEBB : On Oct. 25, check out premier West Coast sax player Doug Webb at the next Famous Jazz Artist concert at the Hamlet.
On Sunday, Oct. 25
, check out premier West Coast sax player Doug Webb
at the next Famous Jazz Artist concert at the Hamlet. Webb's appeared on recordings by Quincy Jones, Doc Severinsen, Horace Silver, and Freddie Hubbard, in addition to his own. He also performed all of the saxophone solos in the recent Clint Eastwood film
Gran Torino
. Call 927-0567 for tickets and showtimes.
Glen Starkey accepts no substitutes! He only drinks genuine beer … or whisky … or whatever's handy. Pull him a pint at gstarkey@newtimesslo.com.
CD Reviews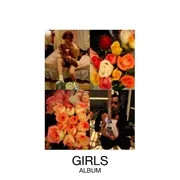 Girls—Album
Restructuring the catchy melodies and stripped-bare musical architecture of the Ramones for a West Coast beach house garage party, the San Francisco-based two-man duo Girls (Christopher Owens and Chet "JR" White) have crafted an infectious and charming debut album of California sunshine pop and fuzz-out surf guitar haziness. With a backstory that includes childhood cult indoctrination, a millionaire surrogate, and prescription drug addictions, it all synthesizes down into their psychological-evaluation opening track "Lust For Life," as Owens line-lists aspirations for normalcy: boyfriend, father, suntan, pizza, beach house. "Ghost Mouth" slows down the signature "boom ba-boom kssh" beat of the Ronettes to deliver an ode of dejected isolation and AM gold. Elsewhere, they unleash huge waves of sound as on "Summertime," which drops into hypnotic, wavering sonics of being lost in the curl, or "Big Bad Mean Motherfucker," which revs up and lets loose with an overcharged greasy guitar solo, with background harmonies wooing the whole affair in loving Beach Boys tribute. A deceptively simple record but executed perfectly.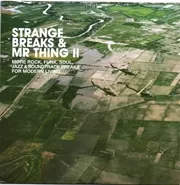 Mr. Thing—Strange Breaks & Mr. Things II
Taking the DJ skills he's honed at DMC battles worldwide and digging deep into his treasured vinyl collection, Mr. Thing of the Scratch Perverts releases his second set of rare and sought-after breaks. Planned as a five-part series, Strange Breaks & Mr. Thing revives the conceived beat mix-tapes from hip-hop's golden era: scouring through bins of obscure '60s and '70s sounds for the undiscovered, nasty break that can turn a thousand producers on and turn a party out. Starting with the funk-lite sitcom-jazz of "Sally," Mr. Thing re-arranges the eerie organ and drum backbeat on Dick Walter's "Spooky Doo" before scratching up the raw Michigan funk of Jake Wade and The Soul Searchers. Yes, anonymous names fill the roster here, with only one or two being familiar to only the most devote record collector. But whether it's the disco-groove of Johnny Griffith, the sunny xylophone schmaltz of Jerzy Milian Orkiestra, or the marching band cover of the Jackson 5's "ABC" by Hot Butter & Soul, Mr. Thing scoops out unexpected nuggets of funky delicacies from these under-acknowledged sources, providing further stimulus for beat heads everywhere.

—Malik Miko Thorne, of Boo Boo Records and mikovision.blogspot.com, where you'll find archived reviews and soundclips.