The gateway to the summer music season is upon us! After teasing it for weeks with mentions of its stellar lineup and a few of my favorite players, the Live Oak Music Festival is finally here this Friday, June 16, through Sunday, June 18, at Camp Live Oak, nestled among oak trees in the Santa Ynez mountains just 80 minutes south of SLO Town off Highway 154. The good news is tickets are still available—either day passes if you want to come for a day or full festival camping passes. Visit liveoakfest.org to buy tickets and peruse the entire lineup, which was put together this year by local promoter Good Medicine Presents.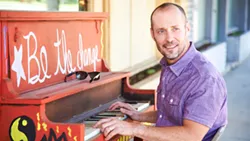 Photo Courtesy Of Paul Thorn
SOUTHERN GENT Amazing singer-songwriter Paul Thorn plays the final day of the three-day Live Oak Music Festival (June 16 to 18) in Camp Live Oak, on June 18.
There's a ton of great performers this year. On Friday see The Tipsy Gypsies, The Brothers Comatose, Nick Waterhouse, The Monroe, Stolen Thunder, Jackie Greene, and the Carolyn Stills Combo. On Saturday see Joe Craven & The Sometimers, Jessica Fichot, Tom Ball & Kenny Sultan, Ozokids, Mama Tumba, Vaud and the Villains, Lee Fields and the Expressions, Word Sauce, Ozomatli, Rey Fresco, and Soul Scratch. And on Sunday, check out Joe Koenig and the Homewreckers, Moonshiner Collective, Sam Outlaw, Birds of Chicago, The Turkey Buzzards, Liz Vice, Mark Adams, Donavon Frankenreiter, and the guy I want to highlight this week, Paul Thorn.
Thorn, who I last interviewed in 2016, is a Southern gentleman, the son of a preacher, who did a stint as a professional boxer and skydiver, and when he was eventually discovered, he was quickly signed to A&M Records, where he recorded his first album, Hammer & Nail. It was his first and last foray into major label recording.
"Well," Thorn said in a thick Southern drawl, "at the time I was just young and green and got a record deal with A&M, but unbeknownst to me, when I signed the deal, I didn't know they were in the process of being bought out, and the fellow that signed me was gone after the sale, so I sort of fell by the wayside. We already had our own recording studio, so after that, we decided to record our own records and press our own CDs, and 10 albums later we have a successful model. We're incredibly lucky to do everything ourselves, and when you own everything, it makes it all a lot easier."
Amazingly, Thorn has had the same band for 20 years!
"I think we respect each other and treat each other good. Anyone you live with/travel with on a daily basis, there's gonna be things that arise you might not like, and you might get on each other's nerves, but that's what friendship is—you love 'em in spite of that. But the real coup de grace that makes it all work is we each get our own private hotel room. It's important to have time apart, private time to yourself. But you know what, any job, your job or my job, there're gonna be things that wear you out, and we all gotta carry some sort of cross."
Thorn writes great narrative and often-philosophical songs in the Americana genre, meaning you can hear Southern rock sounds, blues, country, folk, and gospel. I just love his message! On "You Might Be Wrong" he sings, "Muslims, Christians, Buddhists, and Jews/ Got their own version of the truth/ There's a line in the sand/ There's a war goin' on/ They forgot to remember/ You might be wrong."
Or there's the fantastic song about family and those closest to us called "I Don't Like Half the Folks I Love," that goes like this: "My family reunion is going on today/ My relatives have all flown in/ From places far away/ As we sit here eatin' chicken/ It hits me like a truck/ I don't like half the folks I love// Me and my former best friend/ Had a big fallin' out/ I caught him with my wife/ So I punched him in the mouth/ We just can't hang out anymore/ But I still wish them luck/ I don't like half the folks I love."
Grab your camping stuff, come on down, and join the Live Oak family. The event supports local public radio station KCBX 90.1FM. It's going to be amazing!
Good vibes!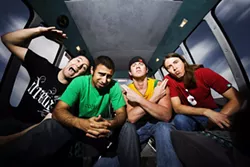 Photo Courtesy Of Rebelution
SUMMER FUN Reggae and rock act Rebelution headlines the four-act Good Vibes Summer Tour on June 17, at the Avila Beach Golf Resort.
Grammy-nominated reggae and rock act Rebelution headlines The Good Vibes Summer Tour 2017, with Nahko and Medicine for the People, Collie Buddz, Hirie, and DJ Mackle this Saturday, June 17, at Avila Beach Golf Resort (4:30 to 10 p.m.; all ages; $45 general admission or $140 VIP balcony at eventbrite.com or Boo Boo Records).
It's been quite a year for Rebelution, who last summer released the studio album Falling Into Place, which debuted in the Top 10 on the iTunes overall chart, landed at No. 15 on Billboard's Current Album chart, entered the Billboard Top 200 chart at No. 32, and took the coveted No. 1 spot on Billboard's Reggae chart. Additionally, the record scored them a Grammy nod for Best Reggae Album.
"Earlier this year, Rebelution launched their own customized cannabis oil battery pen, herb vaporizer, and oil, which is currently available in select dispensaries in California," their manager noted. "They also recently teamed up with Rock Brothers Brewing to produce the Feeling Alright IPA."
They know how to do it right! Get your summer vibe on this Saturday for this Otter Productions Inc. show! It's supposed to be sunny and 78 at Avila, but bring some layers. It'll drop to 57 after sundown, and you're going to want to stay until the end.
More music ...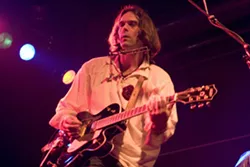 Photo Courtesy Of Chris Laterzo
COUNTRY ROCKER Chris Laterzo opens a two-act Songwriters at Play show on June 15, at the Templeton Tennis Ranch.
Songwriters at Play hosts gospel, soul, and pop vocal trio Burning, Bad & Cool (James Scoolis, Billy Baxmeyer, and Jim Conroy) as well as an opening set by singer-songwriter Chris Laterzo on Thursday, June 15, at the Templeton Tennis Ranch (6 to 8 p.m.; all ages; $17.50 general admission or pay $50 for the four-show season at ttrtennis.com/concerts). Expect "Southern fried soul, gospel, and blues music dipped in thick, sweet harmony," from Burning, Bad & Cool. Laterzo's alt-country is inspired by the likes of Creedence, Neil Young, Willie Nelson, and Bruce Springsteen.
Patrick Landeza, who plays Hawaiian slack key guitar, and the group Hoapili Pomaika'i Aloha, will bring some island sounds to Coalesce Bookstore this Thursday, June 15 (7 p.m.; all ages; $20 tickets available at 772-2880). Landeza is the first and only mainland-born-and-raised Hawaiian musician to win the Na Hoku Hanohano Award, the premier Hawaiian music award.
Photo By John Gillepsiet
1920S TIME Jazz, Dixieland, and ragtime act Blair Crimmins & The Hookers play Tooth & Nail Winery on June 16.
Native Harrow, who earlier this month released a double album called Sorores, plays Linnaea's Cafe this Thursday, June 15 (7 p.m.; all ages; pass the hat). Think Laura Marling, Joni Mitchell, Nick Drake, and Tim Buckley. Native Harrow is "thinking woman's folk music," the songs of Devin Tuel, who was born near Philly but cut her teeth performing in NYC.
Jazz, Dixieland, and ragtime act Blair Crimmins & The Hookers play Tooth & Nail Winery this Friday, June 16 (5:30 p.m.). Hailing from Atlanta, this is an act whose goal is to bring 1920s style music to a new audience. Four years and 500 shows later, they're doing it! They're touring in support of their fourth full-length album You Gotta Sell Something.
Retro eclectic act the KW Combo featuring Kate Wells plays Friday, June 16, at A-Town's Bristol's Cider House (6:30 to 9 p.m.). Expect blues, R&B, jazz, country classic and alt-rock, and originals.
Photo Courtesy Of Annie Oakley
STRAIGHT SHOOTIN' HARMONIES Americana-folk duo Annie Oakley plays Linnaea's Cafe on June 16.
Americana-folk band Annie Oakley plays Linnaea's Cafe this Friday, June 16 (7 p.m.; all ages; pass the hat) with opening singer-songwriter Jamey Geston. Annie Oakley, which hails from Oklahoma City, delivers sparkling harmony vocals, gorgeous melodies, and brilliant lyrics. "Their combination of entertaining storytelling and dreamy melodies have led to Rising Star and Oklahoma's Choice: Best Band awards in 2016 and a coveted official showcase at Folk Alliance International 2017," according to press materials.
Two-time Blues Music Award nominee Missy Andersen and her guitarist/bandleader/husband Heine Andersen make at stop at Luna Red this Friday, June 16 (10 p.m.), as part of their Soul American Tour. This woman can sing!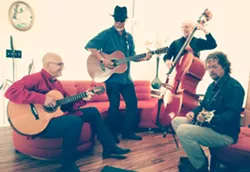 Photo Courtesy Of The Cc Riders
RIGHTEOUS RIDERS On June 17, see local super group The CC Riders (Dorian Michael, Louie Ortega, Ken Hustad, and Kenny Blackwell) doing their blues, roots, country, and Tex/Mex music at D'Anbino's.
This Saturday, June 17, see local super group The CC Riders (Kenny Blackwell, Louie Ortega, Dorian Michael, Ken Hustad) doing their eclectic mix of blues, roots, country, and Tex/Mex music at D'Anbino's in Paso Robles (8 p.m.; 21-and-older; $15).
See Pointdexter on Saturday, June 17, at Frog and Peach (10 p.m.; 21-and-older; free), where they promise to bring their pop-funk-rock-fusion of "sexy saxophone, tasty guitar licks, inconceivable bass lines, rock vocals, and dynamic drums, that will cradle your eardrums, vibrate soul, violate your senses, and leave you with an astonishing lust for more," according to the band.
Photo Courtesy Of Emily Franklin
POP CHANTUESE Emily Franklin will release her new album, Emily By The Bay, on June 19, in Baywood's Back Bay Café.
Local performer Emily Franklin has recently returned from Austin and Europe and is set to release her new album, Emily By The Bay, this Monday, June 19 (5 to 7 p.m.), at Back Bay Café in Baywood. Expect pop with some soul, folk, and jazz influences. Eric Williams (bass), Dean Giles (percussion), and Matthias Clark (guitar) will join her.
Morro Bay's The Siren has partnered with Good Medicine Presents to bring Fat Wreck Chords recording artists The Mad Caddies to the club on Tuesday, June 20 (8 p.m.; 21-and-older; $15 presale at ticketfly.com or Boo Boo Records). The horn-driven ska and punk act also makes forays into everything from Dixieland jazz to surf, rockabilly, country, and swing.
Grand Central Music (3195 McMillan Ave., suite E, SLO) will take part in Make Music Day this Wednesday, June 21, from 2:30 to 6:30 p.m. The global event takes place in 750 locations in 120 countries, offering a chance for anyone of any age and skill level a chance to join with others to make music. You can also just come and listen. Come join Grand Central Music proprietor Dan Ernst and friends!
Keep up with New Times Senior Staff Writer Glen Starkey via Twitter at twitter.com/glenstarkey, friend him at facebook.com/glenstarkey, or contact him at gstarkey@newtimesslo.com.