First-time director Sky Bergman helms this documentary that asks older people their secret to a happy and fulfilling life. Mixing one-on-one interviews, her subjects' personal photos and home movies, as well as archival footage of seminal events in their lives, Bergman uncovers wisdom collected from 40 subjects with 3,000 years of collective life experience. (72 min.)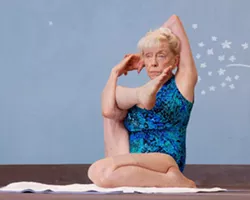 Photo Courtesy Of Sky Bergman
THE YOGINI Russian occupation survivor Emmy Cleaves, 85, said, "It's not your numerical age; it's your biological age, so think young, act young, feel young, forget the number."
Glen Culturally, Americans tend to dismiss our elders. What do they know, right? Thankfully, Bergman had the good sense to turn her camera on her own grandmother, whose sage advice led Bergman to seek out other 70- to 100-year-olds and ask them to tell their secrets. Not only did she discover people with wonderful stories to tell, she also found wonderful storytellers, who delivered their personal histories in a gripping, mesmerizing way. All told, she interviewed 40 people, but Bergman's brisk 72-minute film puts 10 front and center, and what amazing stories and advice they offer. I'm a sap for something like this and choked up frequently, and all the while I couldn't help but think of the many older people in my life who would have been perfect for this project. It's really about learning to get the most out of life, finding something to live for, and leading a life of integrity and kindness. Her subjects are people you can't help but fall in love with, people who have endured hardship but persevered, people who learned the secret to a long marriage and happily share it, and people who have cultivated a desire to never stop learning, loving, and finding a reason to get up every morning ready to seize the day. The film is truly an inspiration. Old folks rule!
Anna This film is sweet and sentimental, inspiring the audience toward a life well lived instead of settling into sappiness. The 10 seniors the film focuses on have very different lives, yet have lived them with united ideals—keep learning, keep moving, and appreciate both the big and the small things in life. Set up as a series of questions, the histories of the subjects are woven artfully with advice and life lessons. To begin with, Dr. Tedone (or as I like to call him, Mozzarella Man) talks about his childhood working in his parents' store, his father's death at a young age, and his drive to finish medical school all while keeping the family business afloat. His story moves into his marriage and fatherhood over nine children, each with their own passion and path. His passion and unending love is clear in his words, and seeing the local legend speak with such zest for life and showcase a great sense of humor is good medicine for the soul. This is a generation that has seen the atrocities of war play out in a way that directly affected their young lives, families, and futures. Hearing them recall those memories is incredibly touching and heartrending. Bring on the Kleenex!
Photo Courtesy Of Sky Bergman
THE DANCER Fabric artist and dancer Blanche Brown, 78, said, "Life goes by so quickly, and most young people are in such a hurry to get to the next part of their life that they don't really take time to just enjoy what's happening right now."
Glen When Dr. Tedone talks about his work as a pediatrician, his workload of seeing upwards of 60 patients a day, saying if a child was sick and parents were worried, he was going to be sure to see that child, you really understand why his generation is called "The Greatest Generation." Growing up in the Great Depression, going to war against fascism, and coming home to build a stronger country through hard work and gumption, never complaining, just taking care of business—that's inspiring. And Dr. Tedone makes amazing mozzarella sold at his daughter's Shell Beach deli, DePalo & Sons! My wife and I buy it frequently! There are actually several local subjects in the film, including artist and lifelong learner Evy Justesen, who at 50 got a student visa and moved to France to learn her mother's native tongue; and now-deceased Los Osos resident Botso Korisheli, who escaped Stalin and became a famed music teacher and sculptor; and Susy Eto Bauman, whose Los Osos farming family was sent to a Japanese internment camp. My mom and dad are of this generation, as are my wife's grandparents, and this film is a monument to lives like theirs, lives of dignity and honor, of self-sacrifice and generosity. We younger generations could do well by these lessons. I absolutely loved this film.
Anna Lives Well Lived served to reinforce my gratitude for the stories and history that my grandparents have recounted my entire life. While a lot of people rail against the thought of aging, I relish the idea in a way because of stories like these. If anything, these subjects are a reminder of the importance of taking care of both mind and body, taking the time now to set up a vehicle to serve you well in the future. As a local, it's especially fun seeing characters from around the county, though I have no doubt this film will resonate with audiences around the globe. Seeing and hearing the lifetime of emotions—from desperation and loss, to love and triumph—emanating from the cast of characters is both heartwarming and tear jerking. This is one to catch at The Palm for sure, and bring friends and family along. Everyone can appreciate and learn from the sage and sometimes whimsical words of our elders. Δ
Split Screen is written by Senior Staff Writer Glen Starkey and his wife, Anna. Comment at gstarkey@newtimesslo.com.