On Sept. 22, the autumnal equinox will bring the Summer of Energy to an unceremonious end. Expect no banners, commissioned anthems, or ballyhoo of any sort. Just political fallout.
PHOTO BY JESSE ACOSTA
ECO TEMPLE : At almost 16,200 square feet, Temple Beth David will be the largest green building on the Central Coast after its winter completion.
# As the Green Movement surged inland from the Pacific coastline, a mounting fuel crisis provided strong opposing pressure from energy lobbies. The meeting of these two fronts combined with a looming November election that threatened to reshape the face of Congress boisterously hurled energy issues atop the agenda. As a result, a quarter-century-old offshore drilling moratorium tumbled state fuel standards fell under attack and the long-delayed planning process of a national nuclear fuel repository in the desert outside of Las Vegas bounded forward.
Outside the halls of Congress, every American watched with ire as gas prices leaped and dove like a snared marlin. This summer, one energy issue or another rested on the tip of everyone's tongue, and that trend looks to survive the season.

Chances are, if it glows, whirls, radiates, zips, heats, cools, cruises, hums, or blares it matters. Energy drives the world, and, more than any other aspect of modern life, dictates the public agenda at every level of government. In our time, it remains the only finite resource currently affecting absolutely every corner of humanity.
A conservationist living on the Central Coast will never successfully order the closure of a controversial power plant any more than he or she could ratify the Kyoto Protocol or prosecute Big Oil for collusion. Still, recent trends show small-scale eco-friendly practices escaping the co-ops and gaining cultural momentum in the households of Middle America.
The green-building market continues to set new high marks in its torrid growth record. Composts are appearing in more backyards than ever, and community gardens these days fill up as quickly as do the lines at organic food markets. Even a relatively uneventful PowerPoint documentary by former president-elect Al Gore managed to rock the box office.
In coastal California, where the movement first took shape, conservationists continue to look for new ground to break on small ways to remedy the colossal problem of powering future generations. What follows is a sampling of a few local efforts.
Fermer la porte
Conservationists like to throw around numbers when it comes to sustainable energy alternatives to monstrous coastal power plants like Moss Landing and Diablo Canyon.
How many windmills would it take to replace 1,500 megawatts' worth of natural gas? How many square miles of solar panels in the Mojave Desert could end the debate over spent uranium fuel once and for all? It's a noble pursuit, but one that all too often crumbles once the cost estimates trickle in.
San Luis Obispo resident Pete Evans recently pondered the matter in a different light: How many open retail doors doth a Diablo Canyon make?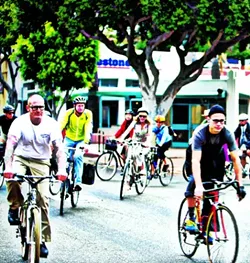 # Anyone frequenting SLO's downtown corridor knows the feeling of a retail temperature assault. On a scorching day in the peak of summer, the arctic blast of conditioned air through a door comforts passersby and lulls them inside like a siren's song. It's such an effective practice, some fashion retail giants made it policy.
In the throes of a July heat wave that claimed more than 100 lives in the Central Valley and fried transformers all over the state, Evans decided to pick a fight. The miffed resident began approaching city, county, and state officials, aiming to jumpstart the solutions engine to brace this colossal energy loss.

According to Evans, he met a concerned but less-than-enthusiastic response.
SLO Chamber of Commerce Vice President Patricia Wilmore stated that the temptation to throw open doors constitutes an otherwise rare practice made widespread by San Luis Obispo's extremely moderate climate.
Several downtown business owners chalked the phenomenon up to an arms race, driven by competition to suck in customers. Mother's Tavern owner and SLO councilperson Paul Brown called the situation a concern, but not a problem.
"We're not the Socialist Republic of San Luis Obispo," Brown quipped. "As a business owner, I would hate to have a law telling me what to do with my door."
"We can't afford that kind of thinking anymore. It's time to start something like we did with the smoking ban," Evans said, referring to San Luis Obispo's 1990 moratorium on smoking in public buildings the first in the nation.
An informal local think-tank yielded four potential solutions: mutual agreement legislating tax breaks for stores making responsible choices applying pressure to the planning commission to include energy conservation rental clauses in approved plans or banning the practice outright.
The first two options, many local conservationists argue, wouldn't provide enough incentive to outweigh the monetary motivation. Passing the onus to the planning commission would only affect new developments and may contain some legal snafus without additional legislation. The final option drafting a groundbreaking new ordinance may carry enough public appeal to spark an intense debate in the foreseeable future.
However, business leaders believe energy conservation in San Luis Obispo is achievable without legislation. During the energy crisis at the turn of the century, the Downtown Association and Chamber of Commerce launched a conservation drive in San Luis Obispo, titled "Power Down SLO."
"We're looking to regenerate that campaign," the chamber's Wilmore said. "I don't know if going so far as an ordinance would be appropriate."
"It's at the point where we're still hoping to use education and encouragement," San Luis Obispo councilperson and mayoral candidate Christine Mulholland added. "People tend to forget. We have to remind ourselves every so often."
One ... two ... three ... less cars
When Spanish missionaries first rolled up the Pacific coastline, they took three instant initiatives. They built churches. They shot bears. They laid roads.
A few centuries later, the internal-combustion engine arrived, and bearless California received its cultural centerpiece. Conservation issues flowed in and out, but always stopped at the driveway. "Save the world, man," became a coastal mantra, "but stay the hell out of my garage."
When talking about bikes, imbedded logic often dictates the public dialogue. Students ride bikes for vehicular reasons. For everyone else, bikes constitute a tool for recreation.
Why?
Because.
Several years back, a few Central Coast residents asked that question again. San Luis physician Jim Hannah along with Phil Novotny of B.O.B. Trailers and Mickey Kozuschek of Truvativ founded the SLO County Bicycle Coalition in 2001. Advocating regional and urban planning to foster a safe environment for vehicular cyclists, the group began pushing for bike paths and introduced the concept of a road diet to the Central Coast. The model, simply put: Plan roads for all users, not just the ones in steel or fiberglass hulls.
When a car struck and killed 8-year-old trick-or-treater Kimberly Macias on South Street last Halloween, the tragedy sparked a review of that particular thoroughfare. A focus group resolved to apply the road diet to reconstruction plans, with the aim of making busy and fast-moving roads like South safer for lesser citizens of the road. Around the same time, the city began working on bridging safe routes to community schools.
Similar to the statewide legislative strides that followed the death of a cyclist on a highway in Santa Barbara, progress flowered from tragedy. But is SLO ultimately any safer?
"No," answered longtime bicycle commuter Dan Kallal. "There are positive developments coming down the pipeline, but the congestion is making the roads more chaotic. We still need better planning."
A massive transportation bond measure, set to go before voters in November, offers relatively few accommodations for bike-related projects certainly not enough to offset recent cuts to grant programs by Gov. Arnold Schwarzenegger. Local activists even expressed concern that the funding shortfall could jeopardize the completion of a massive Railroad Safety Path connecting the Cal Poly campus to the southeast corner of town.
According to the city's principle transportation planner, Peggy Mandeville, public works recently attained two significant grants and continues to work with Union Pacific to license use of the land surrounding the main rail artery. The city plans to bankroll the project one way or another, but less grant funding means a more distant completion date.
Despite the reduced flow of state funding, other Central Coast cities look to get in the game. Pushed forward by councilperson Jim Guthrie, Arroyo Grande recently drafted a bike plan that would allow the city to apply for grants. Plans for new commuter lines continue to sprout all over the county. Noteworthy additions include a Class 1 connector from Morro Bay to Cayucos, the El Morro Bikeway in Los Osos, and, of course, the anticipated completion of the Bob Jones Trail, linking Avila Beach to San Luis all pushed forward through advocacy.
Yet, north of the grade, cyclists still frequently complain of unfriendly planning. Particularly in the boomtown of Paso Robles where the horribly dangerous thoroughfares of Niblick Road and Highway 46 prove unavoidable links in any route cycling remains darn near perilous. The coalition admitted little presence in the North County.
"It's hard, because if you focus on everything, then you get nothing done," coalition director Adam Fukushima lamented.
Paradise, ventilated and cooled
Almost four millennia ago, a few nomadic tribes circulating around the Levant forged an idea that would reshape the world. The movement sparked by Judaism ultimately did little service to Apollo or Shu, but redirected the way the western world thinks about nature from forces at the whims of petty beings to something more cohesive and divine.
East of San Luis Obispo on Los Osos Valley Road, the construction of a cutting-edge green synagogue by Congregation Beth David carries on that progressive spirit. Upon completion in December, Temple Beth David will be the largest green building on the Central Coast at just less than 16,200 square feet.
Because of its location on valued open space, the challenge for planners rested in blending the structure in with its magnificent surroundings. Nothing in this quest proved cheap, easy, or expeditious.
"Judaism has always been rooted in sustainability," Rabbi Norman Mendel explained of his congregation's decision to build a low-footprint place of worship.
The synagogue, designed by architects Ken Haggard, Polly Cooper, and Rich Bellar of the San Luis Obispo Sustainability Group, sports a hefty roll call of energy-conserving and long-term cost-saving features. The harbinger of these savings: Our forgotten friend Apollo.
Solar panels to be hoisted on the roof will drastically slash the energy bill. Numerous aqueous steel tanks installed near light ports along the floor will trap heat from solar radiation and keep the boilers fallow. Skylights provide free illumination in the daytime, and less-exposed rooms come with solar tubes that draw sunlight through a reflective funnel. With the help of a clever lens, the light then pours in.
All without so much as the flicking of a switch.
But if the temperature drops too low as it sometimes does in the windy Valley of the Bears a furnace unit kicks in. The unit, however, rather than abstractly represented by a dial on the wall, occupies the administrative office with its flame in clear view.
"It's to increase consciousness," Cal Poly architecture professor and congregation member Paul Wolff explained. "It's not just a vent on the wall to be forgotten about you can see it running."
To further bolster the building's ability to conserve heat, two walls marked as potential energy leaks received straw-bale reinforcement an element that, oddly enough, protects from wildfire, according to architects.
"During the 41 Fire, our building was leveled," SLO Sustainability architect Haggard related. "The only things left intact were a few straw-bale benches. We've been using straw since then.
"The fire can't get any oxygen," he continued. "It's like trying to burn a phonebook."
Most impressive of all the elements is a computer-controlled ventilation system that opens and closes windows throughout the building to harness a soothing but not overpowering wind flow. Planners designed the system with decades' worth of wind-pattern data collected in the Los Osos Valley.
Though impeccably energy efficient by design, the temple's location required additional ecological efforts. County planners mandated that the congregation maintain more than 60 of the lot's 90 acres as open space. Also, according to site grading contractor Chris Sunderland, concerns over the unimpressive-yet-endangered tar weed prompted the mass relocation of individual plants.
Finally, a massive berm, topped with still-fledgling native vegetation, helps minimize the viewshed impact, while muffling the traffic clamor and blocking the overpowering winds that rifle through the Los Osos Valley. The earthwork combined with the architectural schemes and colors of the building successfully blends the construction project in with the hillsides of Bishop's Peak and Cerro San Luis.
As far as the efficacy of the au naturale climate control the jury is still out.
"With passive heating and cooling, it's still more of an art than a science," Wolff said.
The project's winter completion means Temple Beth David's green HVAC system will certainly undergo a baptism by fire ... or a mikvah by frost. Whatever. We'll see if it works.
Racks with plaques
With a donation of $975 to $1,750, San Luis Obispo public works will install a high-quality bike rack at a public location of your choosing, along with a plaque to commemorate the donor. To make a donation, contact Peggy Mandeville at 781-7590.
Take a break
PG&E offers rebates and incentives to businesses employing power-conservation techniques. Find out if your office or shop qualifies at www.pge.com.
Rotting right
A little knowledge can make the difference between proper compost and a maggot-filled anaerobic sludge. Check out www.epa.gov/compost for composting basics and advanced tips.
Food fast
The contents of a deep fryer may not do a body great, but your car might stomach them a little better. Andrew Villasenor (720-5057) can retrofit your diesel engine to run on bio-fuels OPEC-free and free of the pump. Many restaurants are more than happy to dish out bio waste they normally would over storypay to dump.
No fossil fuels were burned in the researching of this report. To call staff writer Patrick M. Klemz a dirty hippie or invite him to your drum circle, shoot an e-mail to pklemz@newtimesslo.com.