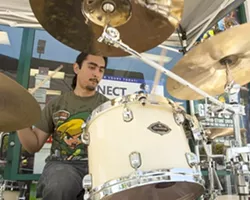 PHOTO BY STEVE E. MILLER
WHERE'S HIS SHELL? : Drummer Diego Marquez performs under the alias of Roy Koopa.
R
ather than continuing the seemingly hopeless journey of decimating Mario and Luigi, and enduring the stress of repeatedly kidnapping Princess Toadstool, the Koopas—spawn of the almighty Bowser—have decided to channel their emotions into music, which just happens to be the music of classic video games.
The Koopas is manned—or Kooped—by three members, who have donned names from the many children of Bowser: Wendy Koopa, Frankie Van Hooser; Iggy Koopa, Johnny Gutierrez; and Roy Koopa, Diego "Boof" Marquez.
Since the Koopas are the children of Bowser, who has a track record of taking out Mario or Luigi at either a racetrack or his treacherous castle, it makes sense that the video-game music classics would be accompanied by something like thrash metal.
But the band didn't start out with the intention of playing music from video games to an edgy sound that surfaces from influences like Judas Priest, Motörhead, and Black Sabbath. During the band's early days, someone would always come to practice with a brand new video game song perfected, which would lead to the others wanting to learn it. Eventually, they decided to band together as the Koopas and share their love of video games and the music that accompanies them.

TURTLE SHELL RHYTHM : The Koopas perform at GameStop on Aug. 21 at 12 p.m. GameStop is located at 487 Madonna Road.
Although the band is named after the archenemies of Mario and Luigi, the band's repertoire is not wholly dedicated to the music of the
Mario Bros.
saga. During their Aug. 7 show at GameStop, where they played two sets, the band performed music from
Mega Man X
;
Paper Boy
; songs from the
Zelda
saga;
Metroid
, which they had learned the night before; and, of course, the main overworld theme from
Super Mario Brothers
.
And the Koopas definitely know their music. The drummer, Diego, drums away with utmost tenacity; when he blasts his bass drum it feels as if he were about to kick some green Koopa shells at the audience. And then there are Johnny and Frankie, who both posses the deadly combination of rapid finger work on the guitar and a pick hand that could give the almighty Bowser a run for his kingdom.
The musical skill and finesse of the Koopas must be in their blood.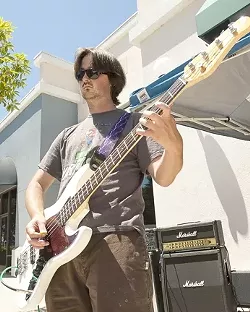 PHOTO BY STEVE E. MILLER
LIL' BOWSER : Johnny Gutierrez, aka Iggy Koopa, rocks out for video gamers everywhere.
"During practice, we typically run through everything we know once," Frankie said. "Then we bitch about video games: 'I can beat you in Mario Kart.'"
Given the Koopas' practice space, it's no wonder that video games are on the front of their mind. Plus there is the fact that they are a video-game cover band. The Koopas call their practice space The Doom Ship House. For the non-Mario buffs, it's a reference to the recurring ship that harasses and harangues worlds one through seven of Mushroom World. Each Doom Ship houses one of seven Koopas.
PHOTO BY STEVE E. MILLER
PINK BOW : Koopas frontman Frankie Van Hooser performs under the alias of the only female Koopaling.
In Mushroom World, the Koopas have done their share of conquering, but here they have had some trouble. The band still lacks a singer. But Koopas are a proud, resilient species; they can adapt to any environment, be it water or grassy hills, and at the same time take care of business. The Koopas will be making a return to GameStop in San Luis Obispo on Aug. 21 at noon, and the band is waiting to secure a date for Farmers Market.
The Koopas' future looks promising. The band plans to perfect the intro song to the Super Nintendo masterpiece Donkey Kong Country, and a version of the underworld stage of Super Mario Brothers, which is played purely with octaves, in addition to several other songs from Metroid. The band also plans to gather songs in order to record a CD on their Claustrophobic Gopher Records label.
The Koopas may not be selling out arenas around the world but during their show at GameStop on Aug. 7, it was truly a band of brothers who had joined together to hear their favorite songs from classic video games. The Koopas are a band for we few, we happy few: those who have spent countless hours engaged in noble battle to destroy Bowser in his myriad of appearances, overthrowing the tyrannous rule of King K. Rool from Donkey Kong Island and recovering his banana hoard. Or for those who were just trying to survive the week delivering newspapers while simultaneously avoiding the jaws of a dog, or the grill of a car; it's a band for those of us who only remember our childhood in choppy pixels.
Henry Houston is an intern for New Times' sister paper, the Santa Maria Sun. Send comments via Arts Editor Ashley Schwellenbach at aschwellenbach@newtimesslo.com.