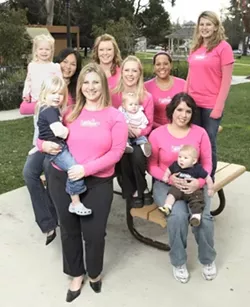 PHOTO BY STEVE E. MILLER
KID CARE : SLO County Sitters opened in mid-January, offering childcare beyond typical babysitting and nanny duties.
# Many busy parents across the county breathed a collective sigh of relief on Jan. 16--the day SLO County Sitters officially opened for business.
"We placed two different nannies with families during our first day open," said Tina Porter, president of SLO County Sitters.
"We're finding so many parents in need," added Anthea Mouw, vice president and CEO of the company.
The business, created by Porter and Mouw, provides childcare to those in need of affordable childcare that goes, as they put it, "above and beyond" normal babysitting and nanny duties. They even offer services to tourists who need hotel-sitting for their children.
"We know what we want as moms," Porter said. "I mean, it's a great feeling to come home and see that somebody's done your dishes for you. Just those little extra touches go a long way."


"Above and beyond" means no TV while babysitting. It means wearing the bright pink SLO County Sitters logo shirts while babysitting. It means every time babysitters are done working for a client, they hand him or her a form detailing what the children ate, what activities they did, and if there were any problems.
According to San Luis Obispo resident Gina Maire, who recently used the service to hire a babysitter for her three children when she needed to attend a black-tie event, having a detailed list of what her children did in her absence was very helpful.
"The girl that we had was great with the kids," Maire said. "She fed them, she cleaned up after they ate. I had a list of rules for the kids, and she followed them.
"And they were sleeping when we got home--which is rare," she added.
Porter (whose two daughters are 2 1/2 and 8 months old) and Mouw (whose daughter is 2 1/2 and son is 6 months old) became friends a year and a half ago through a local moms group. Soon after, they realized they shared similar frustration over the lack of childcare options in the county. They began harnessing that frustration into a business.
According to Porter, SLO County Sitters acts as the middleman between parents and sitters so the sitters can concentrate on the children and not on things like billing.
"It's really great the way Tina and Anthea have it set up," said full-time Cuesta student Andria Biggers, 20, who has been working as a baby sitter for SLO County Sitters since the opening. "We just pretty much show up and baby-sit, and they take care of all the logistics."
One of the logistics SLO County Sitters is adamant about is their strict screening process, which includes a background check, CPR certification, clean DMV records, and random drug testing.
"We go in with the mindset of, 'Would we have these people work with our children?'" Mouw explained.
The extra lengths SLO County Sitters goes to seem to be paying off.
"I'm definitely going to use them again," Maire said.
For more information, visit www.slocountysitters.com or call 439-0410.
Intern Mica Vincent compiled this week's Strokes and Plugs. E-mail your business news to strokes@newtimesslo.com.