The San Luis Obispo County Democratic Party is backing six candidates vying for various county offices in the June 5 elections.
In a Feb. 28 announcement, the party said it officially endorsed Greg Clayton for county sheriff, Judge Mike Cummins for district attorney, and Tim Covello for SLO County Superior Court district judge.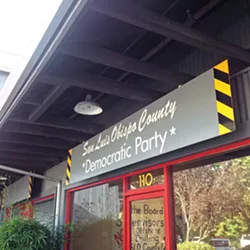 Photo By Chris Mcguinness
BATTLE FOR THE BALLOT BOX The SLO County Democratic party announced it is officially endorsing six candidates for the June 5, 2018 elections.
Earlier this year, the party endorsed Arroyo Grande resident Jimmy Paulding in his bid to challenge 4th District County Supervisor Lynn Compton, as well as incumbent 2nd District County Supervisor Bruce Gibson, who will be defending his seat against two challengers, Jeff Eckles and Patrick Sparks, both of Morro Bay.
"If you look at the candidates we are running in the June election, we have a very broad slate of coverage," said SLO County Democratic Party Chair Rosemary Wrenn. "These are people who are 100 percent committed to serving their community."
Clayton, a private investigator and former police officer, is running against incumbent Sheriff Ian Parkinson. Cummins, a retired judge and former attorney, is running against incumbent DA Dan Dow. Covello, a former prosecutor and current SLO County Superior Court commissioner, will be running against local defense attorney Ilan Funke-Bilu for an open spot on the bench caused by the pending retirement of Judge Barry LaBarbera.
According to Wrenn, endorsements not only allow candidates to receive monetary support from the party but also enable them to use its logo on campaign materials. The endorsements also give candidates access to individuals who are willing to walk precincts, work phone banks, and do other activities to help them get elected.
"We can provide a lot of manpower," Wrenn said. "We already have a lot of people knocking on doors for these candidates."
After the 2016 election, Wrenn said the county Democrats made a concerted effort to recruit candidates for local elections.
"We had a really good response to our efforts to get people to step up and run for office," she said.
Wrenn said to expect the party to make additional endorsements for the November elections, when several seats on local city councils and service districts will also come up for re-election.
On the other side of the aisle, the Republican Party of SLO County has endorsed several candidates of its own, including Compton, Parkinson, and Dow. Party Chair Randall Jordan told New Times that the party had not made a decision on endorsements for the 2nd District supervisor race, nor the race to fill LaBarbera's judgeship. Δ