Some guys know how to have fun, and James Kaye is one of them. His most accomplished video is One of Those Days, a song with an amazing hook and a video that depicts a leisurely day partying with friends. It's a classic hip-hop milieu, replete with poolside antics, pretty women, and bros getting into their cups. Produced by Sean Ross, it's definitely a professional-looking product and captures the local emcee's G. Love vibe.
In Kaye's The Real Thing, we see him roll out of his ride and head into the back door of The Nautical Bean and order coffee and breakfast, highlighting a painting by local artist Lena Rushing as well as a skate deck art show. Then, we see stickers from local companies like Azhiaziam and Tap It Brewing before he heads to work where he runs a commercial wood chopping concern. Clearly, he enjoys representing SLO Town's chill style.
Kaye's bio says he's "a writer, speaker, coach, student, and young entrepreneur," and that his "music pursuit began with Clockwork Royalty and the '08 homies and continued to be developed with Ojai's finest The K.I.D. Rick."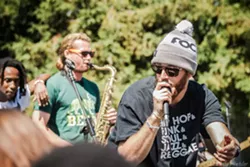 PHOTO COURTESY OF JAMES KAYE
VIDA LOCA!: Local emcee James Kaye brings laid-back hip-hop to SLO Brew on Feb. 26, with a bunch of other local artists.
He says, "I'm primarily a solo artist, but I enjoy collaboration with other conscious individuals (Deepsee, Wordsauce, Kauzafex, Ep1c, Ashes 2 Light, Sean Ross, Playground Poets, and many more)."
He's also known for running the Rock 'n Flow festival that's taking a year off as they search for a new venue since their old one is now the new SLO Town skate park, which is why he's having a mini Rock 'n Flow this Thursday, Feb. 26 (8 p.m.; all ages; $15 presale or $18 at the door), at SLO Brew, with Dax the Aktivist, Ziplock Music, Wordsauce, Casey G, Common Groundz, and Zee Will.
This is homegrown music made by locals who love their stomping grounds!
Also this week at SLO Brew, on Friday, Feb. 27, check out Surfer Blood (8 p.m.; all ages; $15 presale or $18 at the door), a group that's played the "Coachella Festival, released a new video and a Record Store Day album of demos, and are also at work on their third album."
Their sound reminds me of the Smoking Popes, but according to NME magazine, the band reflects the "finely nuanced and understated treatment of the [late-'80s/early-'90s]-era works of Pythons. Aided by Foo Fighters and Pixies producer Gil Norton, Surfer Blood conjures college rock's feeling of youthful, nostalgic melancholy without using any of the sub-genre's gimmicks."
Talk in Tongues will open the show. Their debut album comes out on Fairfax Recordings later this year, but you can hear their garage-psychedelic-rock sound online with their song "I Still Don't Seem to Care."

Son of Slim!
Lots of sons follow their fathers into the family business while others run as fast as they can from their father's shadow, but not bluesman Shawn Holt, who has happily followed in his famous father's footsteps.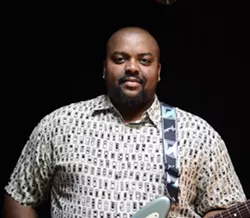 PHOTO COURTESY OF SHAWN HOLT
CHIP OFF THE OLD BLOCK: Shawn Holt, son of Magic Slim, fronts his deceased father's band the Teardrops on Feb. 27 at the SLO Vets Hall.
Shawn is the son of Morris Holt, aka Magic Slim, the famed Mississippi-born son of sharecroppers who followed acts like Muddy Waters and Howlin' Wolf to Chicago and became part of the Windy City's vibrant blues scene under his mentor Magic Sam. He and his brother Nick eventually started a Chicago blues band called the Teardrops, and this Saturday, Feb. 28, Shawn Holt and the Teardrops play the next SLO Blues Society show at the SLO Vets Hall (8 p.m.; 21-and-older; $25 at the door, Boo Boo Records, or Cheap Thrills).
With a booming voice and larger-than-life stage presence like his dad, Shawn is a worthy heir to his father's throne. He's got his dad's guitar chops and beyond, mixing both classic and contemporary influences; and the Teardrops have retained the energetic, driving sound they've always had.
Shawn cut his teeth at 17 touring with his dad's band, but soon he split off to form his own group. He returned to the Teardrops again in 2013 when his father was hospitalized and later died. During his first year leading the band, their debut release Daddy Told Me (Blind Pig Records, 2014) received the Blues Blast Music Award and the Blues Foundation Music Award for best new artist debut album.
The rest of the band includes Levi William (guitar/vocals), Vern Taylor (drums/vocals), and Christopher Biedron (bass). The Irene Cathaway Rhythm and Blues Band will open the show. SLO Dance offers free dance lessons at 7:30 p.m. for ticket holders.

More music …
One of my favorite local songwriters, Loren Radis, headlines the Songwriters at Play showcase this Thursday, Feb. 26, at the Shell Café (6:30 p.m.; all ages; free). He's a habitual award winner in the New Times Music Awards, in part because of his warm and engaging sound, but also because his lyrics are full of heart and soul. As his bio says, "His songs are about what's important to him: life, love, growing up, and the belief that an honest man can go far." Ryan Behling, Bob & Wendy, Mark Getten, and Tim Jackson will also perform short sets.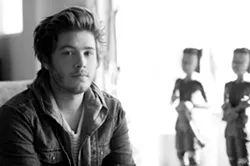 PHOTO COURTESY OF JOSEPH BASSA
DOWN FROM THE NORTH: Joseph Bassa from Keflavik, Iceland, is one half of the duo Surtsey & Co., playing Last Stage West on Feb. 27.
Brewfish, an alternative rock-and-reggae band from Long Beach, plays Frog and Peach this Thursday, Feb. 26 (10 p.m.; 21-and-older; free). Their So-Cal sound infuses reggae, dub, rock, dancehall beats, and a touch of R&B.
Do you like '80s New Wave and pop? Do you think you'd like it if Nirvana covered those songs? Then check out Makeover this Friday, Feb. 27, at Tap It Brewery at 5 p.m. Feel free to wear headbands and tube socks.
A new duo touring the West Coast under the moniker Surtsey & Co. plays Last Stage West on Friday, Feb. 27. "I hail from the St. Louis rock band Blackwater '64," explained Ben Martsolf. "At the end of February, I'm teaming up with my good friend Joseph Bassa from Keflavik, Iceland. Joe's been residing in Los Angeles while recording new material and working as a hired hand in the music industry. Our good friend and director Nigel Walsh will be creating a short documentary about life and culture of the touring musician in the United States, stringing together a run of shows ranging the entire coast in a span of two weeks. We'll be playing small concerts of original music while we document the events, the people we meet, the trials and challenges of even a small trip, while taking in the lifestyle and wonders of the Coastal Northwest. The scenery couldn't be any more inspirational." Check these guys out! Maybe you'll end up in their documentary!
SLOfolks has two concerts of traditional Irish music this weekend when Goitse plays Friday, Feb. 27, at Coalesce Bookstore (7 p.m.; all ages; $20; call 772-2880) and Saturday, Feb. 28, at Castoro Cellars (7:30 p.m.; all ages; $20; call 238-0725), but at the time of this writing, they were both almost sold out. Call to check on ticket availability.
If you're looking for a big sound, check out the Cal Poly Wind Bands' pops concert set for Saturday, Feb. 28 (8 p.m.; all ages; $12 to $14 general; $9 to $12 seniors and students; call 756-4849), in Harman Hall of the Performing Arts Center's Christopher Cohan Center. The 70-member Wind Orchestra begins with a medley of Broadway show tunes from Wicked, Avenue Q, Spamalot, and The Lion King, as well as George Gershwin's "An American in Paris," among others. The 65-member Wind Ensemble will present two original works in a jazz style by Austrian composer Otto Schwarz, among others.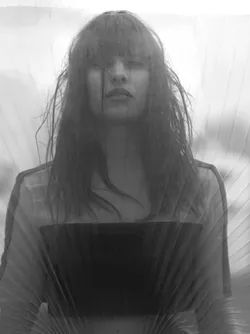 PHOTO COURTESY OF SOFIE WINTERSON
AMSTERDAM HAZE: Experience the dreamy indiepop of Amsterdam native Sofie Winterson starting on March 4 at Last Stage West, March 5 at Linnaea's Café, and March 8 at Otter Rock Café.
Daniel Isle Sky, a singer-songwriter based in San Diego, plays Otter Rock Cafe this Sunday, March 1 (6 p.m.; all ages; free). "I just got back from a week with Donovan Leitch where I wrote some new songs," explained Daniel. "Do you remember Donovan? I'll be going into the studio to record them soon, and I am excited to be including them in my live set." Usually classified as alt-country when he plays with his full band, Daniel will be performing solo acoustic.
A touring favorite, Chi McClean, currently of Nashville, returns to the area to headline two Songwriters at Play showcases starting this Sunday, March 1, at Sculpterra (1 p.m.; all ages; free) with Holly Ann Phillips, Bob Rea, and Mia Edsall and continuing on Monday, March 2, with a show at Bang the Drum Brewery (6:30 p.m.; all ages; free) with Dorian Michaels, Mia Edsall, Kate Wells, John Sandoval, and duo Paul McCarty & Luanne Behm. McClean's known for his soulful vocals and flashy guitar work supporting his haunting Southern rock style.
Check out the dreamy indie-pop of Amsterdam native Sofie Winterson starting on Wednesday, March 4, at Last Stage West (6 p.m.; all ages; free). She played last year's SXSW Showcase Festival and was picked up by college radio nationwide. "Sofie Winterson combines spherical key sounds, electronic drums, verby guitars, and Sofie's strong and beautiful voice and creates a filmic and hazy dream," according to her bio. "The band blends psychedelic lo-fi sounds from the likes of Beach House and the Cocteau Twins and even the catchiness of Blood Orange into moony, well-crafted pop songs." You can also see them Thursday, March 5, at Linnaea's Café (7 p.m.; all ages; free); and Sunday, March 8, at Otter Rock Café (6 p.m.; all ages; free).
Keep up with Glen Starkey via twitter at twitter.com/glenstarkey, friend him at facebook.com/glenstarkey or myspace.com/glenstarkey, or contact him at gstarkey@newtimesslo.com.