Environmental groups and activists have filed a lawsuit in an attempt to stop a proposed solar-power project from covering the Carrizo Plains.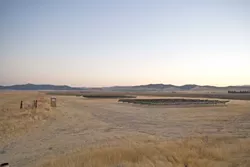 FILE PHOTO BY STEVE E. MILLER
JUST THE BEGINNING? : A test array of solar panels may be as far as SunPower's California Valley Solar Ranch project gets if a lawsuit filed by local environmental groups is successful.
"This is a case about the threat to one of the last remaining wild grassland areas in California," reads the first line of the lawsuit, filed by Carrizo Commons, North County Watch, and local farmer Michael Strobridge. "… The darkness and quietness of the area and its unusually pristine night sky provide an exceptionally rare and increasingly unique opportunity for humans to enjoy and reflect upon a natural state of repose and beauty."
Such sentiments dogged the myriad county meetings devoted to SunPower's California Valley Solar Ranch project, a 250-megawatt network of photovoltaic panels spread across 25 properties and 4,685 acres in the sparsely populated California Valley area east of San Luis Obispo.
The project was approved by SLO County planning commissioners on Feb. 24 after numerous public hearings and an exhaustive tweaking of the original design. It was later appealed to county supervisors who unanimously rejected that appeal and gave the project its final go-ahead on April 19.
But the lawsuit alleges county officials failed to follow the California Environmental Quality Act and inadequately analyzed the project's Environmental Impact Report. Project critics have consistently brought up the environmental impacts to local species like the kangaroo rat and San Joaquin kit fox.
The lawsuit names the county, SunPower, and a number of its affiliates, including NRG Energy, which entered into a purchase agreement with the company last November.
The lawsuit further alleges that alternative sites weren't adequately reviewed, off-site mitigation lands for impacted species haven't been sufficiently identified, and generally that the project was shipped through without an appropriate level of environmental scrutiny.
If the lawsuit is successful and the petitioners are granted injunctive relief as they have requested, it could halt construction of the project, scheduled to begin by the end of summer.
A SunPower spokeswoman declined to comment on ongoing litigation but stated that the project complies with California environmental laws.
As of press time, county officials had just begun to review the lawsuit and were preparing for a settlement conference that by law must take place within 45 days of the lawsuit's filing. The lawsuit was filed May 20.
Planning commissioners also recently approved First Solar's Topaz Solar Farm project, also in the Carrizo Plains. County officials could not be reached to say if that decision was appealed, though officials have long expected the project will have to go to county supervisors for a final decision.