I'm listening to James Kaye's new album F.O.U.N.D. II, an old-school hip-hop album with a sound that would fit right along with '90s icons Arrested Development ("Tennessee") or Digable Planets ("Rebirth of Slick—Cool Like Dat")—hooky samples, memorable melodies, and clever, expressive rhymes.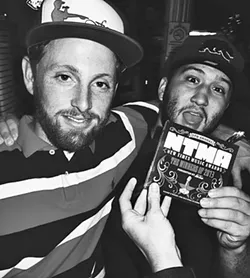 PHOTO COURTESY OF JAMES KAYE AND WYNN
HIP-HOP HEROES: Local hip-hop stars James Kaye (left) and Wynn release new albums on April 9, at Tap It Brewing Co.
Kaye is mainly known for hip-hop tinged R&B/pop tracks like "One of Those Days" or "Warm it Up," but on this album he returns to his straight ahead hip-hop roots.
"My first official album was a collaboration project with long time friend and producer Deepsee called F.O.U.N.D. (Focus Opens Under New Depths)," Kaye explained. "Represented in the artwork by an under-water theme, that project symbolized the journey one must go on deep within themselves to find who they truly are and what they truly care about. Now, a few long years later, Deep and I have come together again to release our second full-length album, appropriately titled F.O.U.N.D. II. A straightforward hip-hop project, with Deepsee-flipped soul- and jazz-based samples accompanied by heartfelt James Kaye rhymes and melodies, we bring what I believe is some of our very best work yet."
This Saturday, April 9, James Kaye and fellow local hip-hop artist Wynn are both releasing new albums at Tap It Brewing Co. (8 p.m.; 21-and-older; $10 presale or $15 at the door).
Wynn's new one is called King Wynn, and I didn't get a chance to give it a close listen because it arrived on deadline, but I skipped through it and it's filled with personal rhymes and sizzling production that offers clean beats to keep the lyrics front and center. This should be a party.
Support local hip-hop!
Deep thinker
This Thursday, April 7, Seattle-based indie folk singer-songwriter Noah Gundersen plays the Fremont (7 p.m.; all ages; $17 presale at ticketfly.com or $20 at the door). Founder of the band The Courage, Gundersen pens emotionally potent songs that explore weighty topics, just what you'd expect to be hovering around the head of an intellectually curious and creative 26-year-old.
PHOTO COURTESY OF NOAH GUNDERSEN
QUESTIONER: Seattle singer-songwriter Noah Gundersen brings his emotionally deep songs to Fremont Theater on April 7.
"Sometimes making songs for a living feels like living to make songs, and sometimes I get an uneasy feeling that I'm doing something wrong 'cause nothing really feels like home and I just want to be alone, calculate the hours till the power in the well goes dry," he sings on "Selfish Art," off his newest album Carry the Ghost.
He explores existential themes throughout, asking age-old questions, such as why are we here?
"This album grew out of a desire to know myself, to know how I was supposed to live," Gundersen explained in press materials. "And in that process, I realized that maybe there is no 'supposed to be.' The concept of Carry the Ghost is that we're made by our experiences and to accept that instead of fighting it. The last several years have been a process of accepting things as they are and to not see them as so black and white or right or wrong, to accept that we're not made to be a certain way, but that we are involved in an ongoing process of becoming."
Brought to you by Numbskull and Good Medicine Presents, the show is but one of three they're producing this week.
Country singer Casey Donahew plays Friday, April 8, at Tooth & Nail Winery (6:30 p.m.; 21-and-older; $25 presale at ticketfly.com or $28 at the door). Over the last decade, the Texas alt-country singer-songwriter has grown from a regional performer to a national one, scoring a dozen No. 1 singles along the way. This show is something of a sneak peak of his new album, All Night Party, being officially released nationally the day of the show.
UK rock super group The Darkness plays Fremont Theater on Saturday, April 9 (8 p.m.; all ages; $25 presale at ticketfly.com or $30 at the door). The award-winning, multi-million-selling band was formed in 2000 and they released their fourth album, Last of Our Kind, in 2015.
Feel the thunder!
Love is in the air
On his new album The One, former Cal Poly student turned touring singer-songwriter Mike Annuzzi has one thing on his mind: love! Each one of the record's 12 tracks is about love, from the opener "Baby, Come On" and its lyrics—"Baby, I would never let you go, no. I said baby I would never let you go, come on"—to the acoustic closer "I Will Keep Loving you" and its lyrics—"I love the way you look at me like you're caught up in a dream and you're hanging onto daylight drifting off to sleep. Rest your eyes. I will keep loving you."
PHOTO COURTESY OF MIKE ANNUZZI
THE LOVER : Mike Annuzzi plays four local shows this week in support of his album of love songs, The One, on April 8, at The Wine Shed; April 9 at Vina Robles and later at The Cliffs Resort; and April 10 at The Cliffs.
Annuzzi has a knack for penning catchy melodies and spinning out thoughtful lyrics that could drift into cliché but thankfully don't. On the album's hookiest song, "Paradise," he sings, "Let me tell you about the time when I flew across the ocean; it was a deep blue sea. I counted days and minutes for my pretty baby to come right back to me. I saw the mountain and the birds and the sand on the beaches, and all the families, some said this is the greatest place around. Well, somehow not for me. I pick fruits and candies known the world over, well nothing is that sweet, don't compare with the lips on that girl that makes me want to be the man that I can, no, no, no, no, that's what I call paradise, looking into your eyes singing your sweet lullabies, and we're both feeling fine, and that's what I call paradise."
It's also worth noting that Annuzzi, in addition to writing all the songs on his new album, plays every instrument—the guitars, bass, keys, and drums.
Check him out during one of his four local shows this week: Friday, April 8, at 7 p.m. in SLO's The Wine Shed; Saturday, April 9, at 1 p.m. in Paso's Vina Robles; later that same night at 6:30 p.m. in Shell Beach's The Cliffs Resort; and Sunday, April 10, at 11 a.m. back at The Cliffs.
Guitar sizzle!
PHOTO COURTESY OF DENNIS JONES
DEEP BLUES : Dennis Jones plays April 9, for the next SLO Blues Society concert at the SLO Vets Hall.
Bluesman Dennis Jones delivers smooth and soulful vocals, but his guitar work is a force unto itself. Drawing on influences such as Albert King, B.B. King, Guitar Shorty, Jimi Hendrix, and Jimmy Page, Jones walks the line between blues and rock, leading listeners along by their ears.
This Saturday, April 9, the SLO Blues Society presents the Dennis Jones Band and opening act Burning James and the Funky Flames at the SLO Vets Hall (8 p.m.; 21-and-older; $25 at the door).
Born in rural Baltimore County, Jones picked up the guitar at age 13. In his late teens, he moved to Europe further developed his skills, returning to the U.S. in 2004, seven years later, a fully formed bluesman. He played with the Zac Harmon Band when they won the International Blues Competition (IBC) in Memphis. He now calls L.A. home, but he tours extensively.
"Blues music is my therapy," Jones said in press materials. "Writing songs has been a way of helping me understand and deal with life, love, and loss."
SLO Record Swap Live
PHOTO COURTESY OF JUNGLE FIRE
FEEL THE FIRE : The people who bring you the SLO Record Swap present Afrobeat orchestra Jungle Fire on April 10, at Tap It Brewing Co.
The organizers who bring you the semi-regular SLO Record Swap vinyl vendors fair are now trying their hand at live concert promotion, which shouldn't be too much of a stretch since Manual Barba has done it before. If I'm not mistaken, Barba's the guy who first brought Sharon Jones and the Dap Kings to the area. This time, he's bringing Afrobeat orchestra Jungle Fire to Tap It Brewing Co. on Sunday, April 10 (doors at 4 p.m.; 21-and-older; $12 presale at Boo Boo's and tiicketfly.com or $15 at the door).
"Hot on the heels of headlining last year's Live Oak Music Festival, Jungle Fire brings an incendiary mix of Afrobeat, Afro Latin, and funk, with their 11-piece ensemble that rivals the best and finest groups, giving nods to the great bandleaders of these genres, such as Fela Kuti, James Brown, and Tito Puente," Barba said in press materials. "We're passionate about this show and we believe we're providing SLO a unique opportunity to see one of the finest acts of its kind."
The event is co-sponsored by KCBX Public Radio, Boo Boo Records, Bill Gaines Audio, and Good Medicine Presents.
More music …
Close Encounters with David Baumgarten and Marianne Kennedy is a concert interspersed with dramatic readings from their books The 14th Day of Christmas and Faces of Exile, happening Friday, April 8, at the Steynberg Gallery. Local musicians Judi Brown, Bob Liepman, Chrisanne Wollett, and Sidney Wilson Young will join in. Angela Hutt and Chad Stevens will perform dramatic readings, and Guy Rathbun will preside over the entire affair. The 7 p.m. event costs $10; call 547-0278 to reserve tickets.
PHOTO COURTESY OF DAVID BAUMGARTEN
MULTI MEDIA MEET-UP: Writer, performer, and filmmaker David Baumgarten is one of several artists who will present Close Encounters, a multi-media event on April 8, at the Steynberg Gallery.
Cal Poly Arts proudly presents globalFEST On the Road: Creole Carnival—"three global music artists honoring the roots of African musical currents crossed with a fusion of sounds from the Americas"—on Friday, April 8, at the Spanos Theatre (8 p.m.; all ages; $32 students and $40 general admission at 756-4849 or online at calpolyarts.org). See samba ensemble Casuarina from Brazil; Emeline Michel, the reigning queen of Haitian song; and guitarist Brushy One String.
Bluegrass roots act Little Black Train plays the Red Barn Community Music Series on Saturday, April 9 (5 p.m. potluck; 6 p.m. show; all ages; $15 at the door).
Jam Iconz, a new local roots reggae act, plays Paso's Barrel House Brewing on Saturday, April 9 (5:30 to 8:30 p.m.; all ages; free), in celebration of the release of their new EP. Bring chairs or a blanket, or get there early and score one of the tables. A food truck will be on site.
Both Café Musique Cambria album release party shows sold out last weekend, but you can catch them this weekend at Steynberg Gallery on Saturday, April 9 (7:30 p.m.) and Sunday, April 10 (2 p.m.). Call 547-0278 to reserve seats.
Salvador Santana (Carlos' son) plays with special guests on Sunday, April 10, at Rancho Nipomo BBQ (doors at 6 p.m.; 21-and-older; $15 presale at 925-3500 or $20 day of show).
Mike Wojniak, a San Diego-based singer-songwriter, plays Linnaea's Café on Wednesday, April 13 (7 p.m.; all ages; pass the hat). He names Radiohead, Coldplay and Andrew Belle as influences.
Keep up with Glen Starkey via twitter at twitter.com/glenstarkey, friend him at facebook.com/glenstarkey, or contact him at gstarkey@newtimesslo.com.