When it comes to crafting pop gems, Fialta gets it. Like the Swedish pop act Abba, Fialta is a two-couple band that meshes together so perfectly it's nearly preternatural!
The local quartet—David Provenzano and Michael Leibovich (formerly of Sherwood), and their spouses Sarah Shotwell and Beth Clements, respectively—will release a brand new five-song EP, Hell Niño, at SLO Brew this Friday, April 14 (10 p.m.; 21-and-older; $10 at ticketweb.com). Like previous recordings, it delivers lush, synth-drenched, gorgeously refined ear worms with whimsical instrumentation, harmony vocals, and melodies that go to surprising places yet satisfy expectations.
PHOTO COURTESY OF FIALTA
POP WÜNDERKINDS!: Fialta, photographed at Cal Poly's architecture graveyard in Poly Canyon, releases their excellent new EP 'Hell Niño' with a show at SLO Brew on April 14.
"Wake Up" opens the EP, starting quietly before building to a jangly gallop that mixes male and female voices and builds to a hooky chorus: "Wake up, wake up. Why are you not hearing me? You're wasting time." It's a call to arms that I want to hear on my morning alarm clock.
"English Guarantees" follows, a song that could be an outtake from the Beatles' Sgt. Pepper's Lonely Hearts Club Band. The members' multi-instrumental abilities really shine through here.
The next track, the lightly punk anthem "Fire," is infectiously and relentlessly upbeat: "We were sitting out by the fire with ashes on our tongues. Lighting up the treetops, we were bored of having fun. Writing on the wall, it was there all along, but I couldn't read you. The shadows brought you there with a blink in your stare. Why'd I believe you? I guided you through the darkness but you don't remember me." It'll get stuck in your head right quick!
The next track, "Palm Reading," is impossibly tender and charming, layered with haunting whistling that blends with a lush "woo-hoo" chorus. All four members have interesting voices that work separately and together. On this track the percussion really stands out. It's arresting and beautiful.
Fialta closes their EP with a cover of Weezer's "Holiday," which features a soaring chorus that takes the melodic punk song in a new direction. It's clear why they chose it as its kaleidoscopic melody and lyrical themes are right in Fialta's wheelhouse: "Let's go away for a while, you and I, to a strange and distant land where they speak no word of truth but we don't understand anyway. Holiday, far away, to stay on a holiday, far away. Let's go today, in a heartbeat! Heartbeat, heartbeat."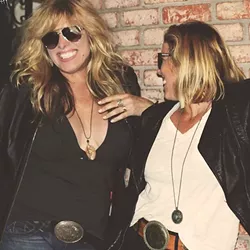 PHOTO COURTESY OF THE BLONDE BOMBERS
BRASSY!: The Blonde Bombers, comprised of singer-songwriters Lacy Younger (left) and DeBlois Milledge, play SLO Brew on April 17.
What a great new collection of indie-pop nuggets! Fialta has already established themselves outside the area by touring as well as licensing their songs for advertisements for K-Mart and Chipotle as well as TV shows such as Awkward, A to Z, Parenthood, Degrassi, and About a Boy. They have my vote for band most likely to succeed!
Also at SLO Brew this week, check out The Blonde Bombers on Monday, April 17 (10 p.m.; 21-and-older; free). The self-described "alt-edgy Americana" act features award-winning singer-songwriter Lacy Younger. She's opened for Bon Jovi, Huey Lewis, the Steve Miller Band, Kenny Wayne Shepherd, and more. She's joined by her "soul sister" DeBlois Milledge, a fellow singer-songwriter with some serious guitar chops. "We're an acoustic duet and we sing a wide variety of songs from country, blues, and folk cuts from the '70s—Fleetwood Mac and Tom Petty, etc.—and of course, our original material," Milledge said. "The show focuses on our harmonies." I checked them out online and they sound awesome!
Chris Beland, who recently returned to the Central Coast after eight years in Oregon, plays SLO Brew's Pint Night on Tuesday, April 18 (10 p.m.; 21-and-older; free). He's got a great voice and writes amazing songs, and he accompanies himself on guitar and kick drum with some harmonica thrown in.
Finally, dance electronica act Autograf comes to SLO Brew on Wednesday, April 19 (10 p.m.; 18-and-older; $20 at ticketweb.com).
20 years legacy tour!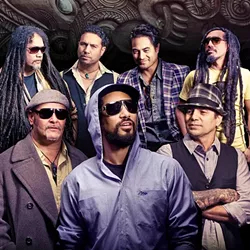 PHOTO COURTESY OF KATCHAFIRE
PEACEFUL WARRIORS: Katchafire, New Zealand's all-Maori roots rock and reggae band, plays April 14, at the SLO Guild Hall, as part of the 20th anniversary tour.
Yes, it's been 20 years since New Zealand's all-Maori roots rock and reggae band Katchafire formed, and to celebrate they're taking their act on the road with a massive tour that travels through California, Nevada, New Zealand, and Hawaii.
Numbskull and Good Medicine Presents bring Katchafire to the SLO Guild Hall on Friday, April 14 (7 p.m.; all ages; $20 presale at ticketfly.com or $25 at the door). Inna Vision opens.
Formed in 1997 by lead guitarist Grenville Bell and sons Logan (lead vocals) and Jordan (drums), the group has remained a family affair from the beginning when they started playing Bob Marley-inspired original music in New Zealand's bars and clubs. With a fan base of thousands, their debut album, Revival, sold an astounding 45,000 copies—more than double platinum in sparsely populated New Zealand.
It wasn't long before they outgrew New Zealand and took their act to Hawaii, where their popularity exploded and they headlined the 10,000-capacity Waikiki Shell. In the last couple years, they've toured throughout the Pacific from Australia to Guam and Saipan.
They put on a great live show, and seeing them in the intimate SLO Guild Hall ought to be amazing.
Dreamers
PHOTO COURTESY OF CAGE THE ELEPHANT
AMERICAN EX-PATS: Grammy Award-winning rock act Cage the Elephant, which formed in Kentucky but moved to London before their first album was released, plays the Fremont Theater on April 14.
Cage the Elephant has a pretty improbable success story. Founded in Bowling Green, Ky., the band was composed of clock punchers in dead-end jobs. Matthew Shultz was a plumber who felt trapped and thought if he didn't leave he'd be stuck there for life. He joined Brad Shultz, who was formerly in telemarketing, to work at a sandwich bar—not exactly vertical moves on their part. Daniel Tichenor worked at a hardware store. But they joined up with Jared Champion, Nick Bockrath, and Matthan Minster, signed with Relentless Records after showcasing at SXSW, wound up opening for Queens of the Stone Age in Canada, and then moved to London before their first album was released.
Their eponymous release was well received, as was the follow-up Thank You, Happy Birthday. Their third, Melophobia (which means fear of music), also continued to establish the band's rock bona fides. Their fourth, however, cemented their star quality. Tell Me I'm Pretty won the Best Rock Album Grammy Award, beating out Blink-182, Gojira, Panic! at the Disco, and Weezer.
This Friday, April 14, Cage The Elephant will make a stop on their "Live & Unpeeled, The Acoustic Tour," at the Fremont Theater—one of a series of rare acoustic shows featuring a string quartet (8:30 p.m.; all ages; $45 at ticketfly.com).
Sounds interesting!
Ragin' Cajuns
Longtime A Prairie Home Companion host Garrison Keillor called BeauSoleil "The best Cajun band in the World!" He may just be on to something. The Grammy Award-winning super group has been delivering incredible swampy Cajun sounds for 42 years, distilling and blending the music of New Orleans jazz, zydeco, folk, country, and blues into a potent Southern mélange.
This Wednesday, April 19, BeauSoleil plays Cal Poly's Spanos Theatre (7:30 p.m.; all ages; $35.20 student and $44 general admission at 756-4849 or online at calpolyarts.org).
Expect a high-energy concert featuring the extraordinary fiddling and vocals of bandleader Michael Doucet. All the members draw on their Acadian ancestry to create this American heritage music, of which Bob Dylan gushed when he saw them play the New Orleans Jazz & Heritage Festival, "That's my kind of music!"
Trust me, it's going to be a challenge to stay in your seats for this one!
Americana heroes
PHOTO COURTESY OF CHRIS HILLMAN AND HERB PEDERSEN
AMERICANA ICONS: Chris Hillman and Herb Pedersen play a fundraising concert at the Edwards Barn on April 22.
This one's more than a week away, but the intimate concert and dinner show may sell out, so if you want to go, get tickets now for the return of Chris Hillman and Herb Pedersen, who play on Saturday, April 22, at Nipomo's Edwards Barn (5 p.m.; all ages; $100 by contacting John Truman at tickets@odox.org or calling 206-6904).
This evening of folk, country, and bluegrass music features legendary singer-songwriter Hillman, a founding member of The Byrds and The Flying Burrito Brothers, and a founding member of The Desert Rose Band with Pederson.
The longtime collaborators are playing this benefit concert for the iconography project and Ethiopian charity of the Orthodox Church of the Annunciation in Santa Maria.
According to bio materials, "Hillman is also a member of the Rock and Roll Hall of Fame, a four-time Grammy nominee, and a recipient of the Americana Music Association's Lifetime Achievement Award. Herb has performed and recorded with numerous notable bluegrass and country musicians over the decades. As an acoustic duo, Chris and Herb have recorded several successful albums and CDs, including at the Edwards Barn in 2009."
The event features a Mediterranean dinner catered by the Central Coast's Hapy Bistro and Santa Ynez Café. There's also a no-host wine bar available. Don't miss this down-home concert by two iconic American musicians.
More music …
Everything Turned To Color plays Linnaea's Café on Saturday, April 15 (7 p.m.; all ages; pass-the-hat). This serendipitous musical partnership features veteran songwriters and brothers Bryan and Kyle Weber, graduates of New York University, and jazz vocalist Neha Jiwrajka, whose mother is a classically trained Hindustani singer. I checked out their stuff online—very cool folk-jazz sounds!
PHOTO BY TAYLOR BALLANTYNE
BRIGHT LIGHTS: Folk-jazz act Everything Turned To Color—featuring brothers Bryan and Kyle Weber and jazz vocalist Neha Jiwrajka—plays Linnaea's Café on April 15.
Poindexter is a pop-funk-rock-fusion act with a "sexy saxophone, tasty guitar licks, inconceivable bass lines, rock vocals, and dynamic drums that cradle your eardrums, vibrate your soul, violate your senses, and leave you with an astonishing lust for more," according to band rep Kevin Kinsella. See them at Frog and Peach on Saturday, April 15 (10 p.m.; 21-and-older; free).
On Sunday, April 16, John Rybak & Friends plays Last Stage West (6 to 9 p.m.; all ages; free). The Bay Area musician is steeped in blues rock, and jazz traditions.
Critically acclaimed guitar player and singer-songwriter David Starr of Colorado joins multi-instrumentalist songwriting couple Wendy & Bob of San Luis Obispo and award-winning songwriter Susan Marie Reeves for a rare evening of sharing songs on Tuesday, April 18 (6 p.m. potluck; 7 p.m. show; all ages; $16 presale from Julia at 748-4249 or at eventbrite.com/e/rare-gathering-of-brilliant-singersongwriters-house-concert-potluck-tickets-32795222393).
Café Musique's Brynn Albanese (violin) and Duane Inglish (accordion) play as a duo at Pewter Plough Playhouse this Wednesday, April 19 (7 p.m.; all ages; $5 at the door). This charming 60-seat theater is the perfect play to see these amazingly talented musicians.
Keep up with New Times Senior Staff Writer Glen Starkey via twitter at twitter.com/glenstarkey, friend him at facebook.com/glenstarkey, or contact him at gstarkey@newtimesslo.com.