Atascadero's centennial celebration was set to coincide with the 100th birthday of its most famous resident, but legendary photographer Joe Schwartz couldn't make the date. Schwartz died early the morning of March 13 at the age of 99.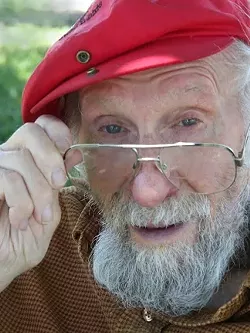 PHOTO BY NANCY KOREN
1913-2013 : World-famous photographer Joe Schwartz passed away in his Atascadero home early the morning of March 13.
Atascadero officials announced Schwartz's passing; he was the subject of several city ceremonies honoring the legend in February.
"This is the person who has made the word Atascadero known across the country," Cal Poly graphic arts professor Harvey Levenson said last month. "The man we're talking about is a man of deep value. He's a humanist of the highest order."
Schwartz earned international acclaim for his folk photography capturing the lives of the inner-city poor toward the middle of the 20th Century. The Smithsonian Institution National Museum of African American History and Culture, set to open in 2015, will feature a series of Schwartz's photographs in one of its first permanent exhibits. He also served as a combat photographer in World War II and was a part of the Photo League of the 1930s along with Dorothea Lange and other photography icons of the time.
Schwartz was born in the borough of Brooklyn in New York City. He spent the final 25 years of his life living above Cuesta Grade.