If you've ever spent some time in the sun-soaked vineyards of Paso Robles or in the wine aisles of several Central Coast grocery stores, you're probably familiar with the work of Joseph Kalionzes. For the past few years, his prints have been featured on the wine labels and tasting room walls of Chronic Cellars. They're playful and macabre images—dancing skeletons and dashing devils—that can now be seen in the Postcards from a Printmaker exhibit at Paso's own Studios on the Park.
PHOTO BY KAORI FUNAHASHI
SOMETHING FISHY: Joseph Kalionzes taught himself printmaking techniques, and his works are pulled from hand-carved linoleum and wood blocks.
Wine and art have been inextricable from each other since Kalionzes was young. As a kid, this is how he got his start: drawing skull and crossbones poison labels on the bottles of wine his father made. It began as something fun and evolved into a more studied passion about seven years ago, when Kalionzes first began experimenting with rubber stamp making.
"I was sort of following some Mexican printmakers from the 19th century," he explained over the phone. "So I would make stamps out of rubber. It was the only time I did artwork that was instantly fun. The whole concept was fun. Printmaking was instantly gratifying."
Over the years, Kalionzes' skill and subject matter have developed greatly from his time of rubber stamp making. With nothing more than some books, an occasional workshop, and the Internet, he created a simple, clean style of bold lines that features figures and scenes inspired by the iconography of Dia de los Muertos and traditional Mexican culture.
"I'd always liked skulls," he said. "Mexican printmakers were into that imagery, the skull imagery, and commentary."
For each print, Kalionzes does a light sketch directly on the block with a pencil. Then it's a matter of intense and meticulous labor—carving out the wood or linoleum by hand and carefully refining the lines until they're ready to make a print on paper with an oil-based ink. The process is rough and time-consuming, yes, but the sleekness and simplicity of Kalionzes' prints make an impression that's far more than literal.
In stark black and white, his images continue in the vein of those legendary 19th century Mexican engravers like José Guadalupe Posada, with prints that convey a pointed and whimsical sense of humor. Skeletons wield mustaches, skulls are made of fishes, and devils don smug grins. They're ripe with jest, but they're also part of a larger cultural exchange.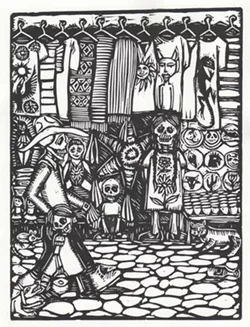 IMAGE COURTESY OF STUDIOS ON THE PARK
BLACK MARKET: Kalionzes' prints are heavily inspired by the playful, gothic imagery of the traditional Mexican celebration, Dia de los Muertos.
"Mexico is my exotic place," Kalionzes commented. "In some ways, it's still a foreign land. My family's always visited down there, and my aunt is in Mexico. I just had a fascination for the country. … It's weird when you think of borders, the Mexican culture here and there. I mean, the Mexican-American culture is deeply rooted in the wine industry."
Indeed, Kalionzes' prints reflect that crossroads where Mexican labor and American commerce meet. The works are traditional in method, but modern and global in their sensibility. His jaunty skeletons go beyond the realms of village markets in cobblestone streets. They command gondolas in Venice and traverse the diverse landscapes Kalionzes has traveled. In fact, many of his newer prints go beyond the Dia de Los Muertos symbolism. This exhibit, in particular, showcases his masterful versatility with intricate renderings of such varied scenes and subjects as a dodo bird and Japanese imagery.
"I'm getting more complicated, and it's been challenging," Kalionzes said. "I'm getting into architecture, perspective, stuff I never really thought about—having depth and movement, as opposed to just enjoying the clear delineation between blacks and whites. I'm kind of getting a little messier, but more thoughtful and intellectual."
Postcards from a Printmaker conveys this trajectory toward more complex material, but it also presents an exquisite display of a centuries-old practice—one that may be considered more dead than the skeletons in Kalionzes' prints.
AFTERLIFE OF THE PARTY: Postcards From a Printmaker will be on display through Nov. 9 at Studios on the Park in Paso Robles. On Oct. 31, Studios will also be holding an All Hallows' Eve party, from 6 to 9 p.m., with live music from The Monroe, a costume contest, crafts, and drinks courtesy of Chronic Cellars. For more information, go to studiosonthepark.org or call 238-9800.
As he noted over the phone, "Computers can do it pretty quick. They have some program, you click a button, and it's there. But I carve for days and have this. It might be my reaction personally to all this cyber stuff, 'cause, I mean, I have callouses. [But] using my hands and cutting yourself and getting sore, it's definitely gratifying in that way. The labor of it—that I find cool. It validates it for me."
Jessica Peña digs a skillfully made skull. Contact her at jpena@newtimesslo.com.