"And what are you doing in Skopje?" the dark-eyed woman asked as she handed me a pair of shoes I had just paid for with the last of my Macedonian denars.
BAA BAA : Sheep roam in the pristine countryside near the town of Gostivar.
# And I explained, for what I knew would perhaps be the last time, that I was a visiting U.S. Fulbright Scholar and that I had just completed a semester's stint of teaching/researching at the South East European University in Tetovo.
"I am going home this afternoon," I added, somewhat apologetically.
Between the lines, what the Macedonian lady was really asking, I suspect, was: Why would anyone choose to be in this inferno? And, knowing that in a few hours' time I would be fleeing the unrelenting heat when I stepped on a plane, I felt a pang of guilt as I looked at the neatly dressed lady in her ramshackle store. Like so many people here, she had that weary look beyond her fa¡ade of grim determination, a look of someone who feels trapped.
Since early May, the temperature in this city, the capital of the Republic of Macedonia, had hovered at 40 degrees Celsius. Air conditioning, while available, was a luxury doled out only in small measures. During the day, those who could stay indoors did so to escape the stifling heat that enveloped the land and would not dissipate even at night. In an open field near my apartment building, people had been lining up to buy watermelons from a parked truck some consumed the melons on the spot, oblivious of the stench emitted by two roadside dumpsters situated nearby.
The Republic of Macedonia is a landlocked country, boxed in by Greece on its south, Albania on its west, Serbia on its north, and Bulgaria on its east. I knew next to nothing about the country when I applied for a Fulbright grant in the summer of 2005. It was among the few countries that had a need for computer science scholars. By the time I arrived in Skopje in January of this year, I had managed only to learn a smattering of phrases in Macedonian, a Cyrillic language, and I had acquired no more than a limited knowledge of the country, such as that it is the size of the state of Vermont and that each Macedonian denar is worth two U.S. cents.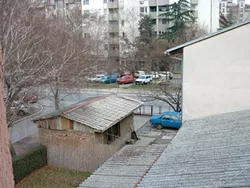 ROOM WITH A VIEW : A street scene in Skopje, capitol city of the Republic of Macedonia.
# My first impression of Skopje was unsettling. On the road from the airport into the city, panhandlers came right up to the cars for handouts as our driver nervously locked the doors. I saw vehicles, many oozing toxic exhaust, jostling with each other on congested roadways. The city's landscape was a hodgepodge of concrete-block buildings mixed with dilapidated old buildings. Drivers elbowed their ways around each other with little regard to the safety of each other or the pedestrians.
After three days of living in relative luxury as a tourist in a downtown hotel, I moved into an apartment. For the next five months, I lived among the locals.
It didn't take me long to realize that life in Skopje for the average citizen was no bed of roses. Without a car, I walked to get my groceries, as many of my neighbors did. There was no shortage of food, but the supply was seasonal and the varieties were limited. Few homes were equipped with clothes dryers and dishwashers. Pollutions noise and air were debilitating. A walk on the streets was an exercise in obstacle-course navigation. Reckless drivers had no compunction about brushing by you with merely inches to spare walkways were often blocked by parked cars, forcing one to step into the traffic unleveled sidewalks featured vicious protrusions that, in the United States, would be lawsuits waiting to happen missing manhole covers laid in wait for the unwary. Feral dogs and cats roamed the trash-strewn streets. I soon came to appreciate the many personal safeguards and amenities that I took for granted back home, such as pedestrian rights, railings on stairways, functional public bathrooms, and clean health facilities. Over the five months, I lost 10 pounds or 10 percent of my body weight. I cannot recall running into a single obese person during my stay, nor did I come across any fitness centers in the city.
Economically, Macedonia could not compare with the elites of European countries. The official unemployment rate of the nation has hovered above 35 percent since 2003, although it is widely believed that there is a substantial unreported "gray market." In 2005, its gross national product ($5.75 billion) ranked at 125, behind countries such as Macau and Afghanistan and just ahead of Zambia and Malta. The Gross National Income per capita was reported by the World Bank in 2006 at $3,000. According to the U.S. Embassy, 30 percent of the population lived below the poverty line (USD $75/month) in 2005, and the nominal average net wage per worker in April 2007 was 14,291 denar ($300 USD.)
But the humble economy of the country belies the intelligence of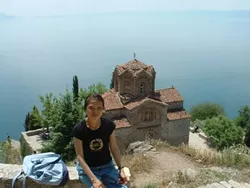 BEING THERE : Mei-Ling Liu visited the St. Jovan Church at Kaneo, Ohrid. The church was featured in the Macedonian film Before the Rain.
# its citizens. In addition to their native language, many are fluent in Albanian, an unrelated language. Additionally, most of the young people are well versed in English. Macedonians are avid readers, as evidenced by the vast array of publications on display in newsstands. I had the privilege of meeting some of the brightest young Macedonians when I served on a panel that interviewed candidates for a Fulbright fellowship, including a young man who scored perfectly in the physics subject test of our Graduate Record Examinations.
I could not help but sense in the people of Macedonia an abiding forlornness. Almost to a person the young people I talked to spoke of connections that one must have in order to get a job or win a grant. Young and old alike mentioned the widespread nepotism in government and universities, where allegedly relatives and cronies of those in power filled well-paid positions or received generous grants.
Recreational facilities, too, were in short supply. Starting in early June, when children were out of schools, I had to keep the windows of my apartment tightly shut at all times because of the noise generated by youths who congregated on the streets, day and night. They gathered on sidewalks for their favorite activity: chatting while smoking cigarettes. In scorching heat, younger teens played soccer or basketball on sidewalks or in parking lots. With no outlets for their excessive energy, frustrations led to anger and destruction. A university student told me that in the dormitories, everything was broken by the residents. I saw some evidence of that type of behavior in the university where I taught. Bathrooms for the staff were kept under locks. In the student bathrooms that I visited, there were no paper supplies (allegedly because they would all be stolen) and every toilet was dysfunctional (allegedly because students flush down plastic bags to plug them up on purpose). Laboratory equipment was in disarray a few weeks into the semester, allegedly because of vandalism by students.
The retired parents of an ethnic Albanian colleague received only 100 euros a month for their pension, their sole source of income. They and others of their age spoke fondly of the days when Josip Broz Tito was alive, when everyone had work and incomes were equitable. They spoke nostalgically of the days when, as part of the former Yugoslavia, the Macedonians enjoyed a standard of living above neighboring countries. It truly pained my Macedonian friends that Greece and Bulgaria countries that the former Yugoslavians once regarded as poor neighbors and bargain shopping grounds are now economically above their own country. Bulgaria, currently a Mecca for outsourcing, further earned the ire of some Macedonians who complained bitterly of the brain drain that siphoned Macedonia's brightest youths to Bulgaria.
Beyond geographic boundaries, the Macedonians complained of impenetrable bureaucracy, rampant corruption, and prohibitive costs that made it impossible for them to obtain visas for traveling. One well-educated friend stated, in anguish, that the United States and the United Kingdom were the only two countries whose officials in Skopje did not expect under-the-table payoffs from visa applicants. For the average Macedonian, the options for traveling destinations are limited to neighboring Balkan nations. For a seacoast vacation, Albania is the only accessible and affordable destination. (Macedonians are not welcome with open arms by the Greeks, who supposedly hold a grudge against the name of the country neither can an average Macedonian afford the high prices in Croatia.)
Some college students do find summer work in the United States: Disneyworld and Universal Studios in Florida, for example, seem to have found in Macedonia a gold mine of summer youth employees. The young people hired to work in Florida this summer were among the most ebullient of the Macedonians I met in the country.
Traveling within the country itself was also a challenge. I can testify to this based on my own difficulties in commuting between Skopje, where I lived, and Tetovo, where I taught. Tetovo, one of the largest cities in Macedonia, is separated only by a 40-minute drive. And yet public transportation between the two cities was spotty at best. For two weeks I tried in vain to ride to work on a bus, only to discover that the service was unreliable and, worse yet, the buses were unsafe.
In spite of the adversities, the Macedonians are a proud and accomplished people. They are masterful artists, excelling in ironwork, carving, and tailoring. They are excellent engineers and mechanics. Fresh produce is artfully displayed in open-air green markets. Restaurants, even though they charge only a fraction of what we pay in the United States, are invariably tastefully furnished and impeccably decorated. Macedonia has a rich culture and has produced world-class painters, sculptors, and performing artists. The Opera House and the Macedonia Philharmonic in Skopje put on first-class performances at criminally low ticket prices in sub-optimal settings.
They are deeply religious: Churches and mosques dot the landscape in cities and villages, and religious icons decorate offices, stores, and taxis. I was told that there are 365 churches in Macedonia, one for each day of the year.
I must admit to feeling trapped myself toward the end of my stay. By the time I gave a final examination at my host university, my two fellow U.S. Fulbright Scholars had already finished their assignments and left town. Just then the weather took an abrupt turn for the red and the mercury rose to an insufferable 45 degrees Celsius (more than 110 degrees Fahrenheit). During the final days when I packed for my departure, I could hardly bring myself to step outside of my air-conditioned apartment. As much as I was saddened to part with my Macedonian friends, I was only too glad to leave Skopje in late June for a long-planned short tour of Italy.
Returning to Skopje in early July, I was dismayed to find the city still in the grips of the heat wave. With affluent Italy still fresh on my mind, the contrast between the two countries could not have been more poignant. I left an Italy teeming with tourists who crowded its hotels and frolicked in its piazzas, museums, and high-priced eateries. I returned to a Skopje hotel that was virtually deserted: I was the only diner at the hotel's restaurant that evening. And yet somehow this dilapidated hotel arranged without my request to have a staff member meet me at the Skopje airport upon my return from Italy. Two bags that I left in the custody of the hotel, at no charge, were brought into my room promptly. The hotel bill for my overnight stay came to less than half of what I had paid in Italy just the night before. The hotel even allowed me to stay beyond the normal check-out time to accommodate the late-afternoon departure of my flight out of Skopje. To cap it all off, a cab driver was arranged to see me off at the airport, hoisting my two heavy bags onto a cart before waving goodbye.
As my plane made its way toward the Atlantic Ocean, I tipped my hat to the Macedonians. I thought of the people who, as a local cynic put it, had to work harder because jobs are so difficult to come by. I thought of the hospitality I enjoyed from those who have so little: a neighbor who took me into shelter in her cramped apartment on a night when I was accidentally locked out of my apartment my friend who hosted me for a weekend stay with her family in their Gostivar home. I thought of those who suffered in silence and those who lived in despair, but also of the indomitable souls who bravely endeavor to forge a way out of their confinements: the entrepreneurs and artists who distinguish themselves with outstanding works, the scholars who tapped every resource available to learn. I thought of the staff of the deserted Hotel Continental who went out of their way to accommodate a lone foreign female traveler. I thought of the excellent service I received, at no charge, from a female doctor who practiced at the state hospital, in a building with dim lighting, peeling walls, and dripping faucets. I remembered the torn carpets in the Macedonia Opera House in Skopje, but also the superb sets and costumes produced by the crew on a shoestring budget.
In my heart, I will always have a place for the proud people of that humble nation.
INFOBOX: Behind the story
Mei-Ling Liu is a professor in Cal Poly's Computer Science Department. She traveled to Macedonia as a Fulbright Scholar earlier in 2007.
---
Mei-Ling Liu is a professor in Cal Poly's Computer Science Department. E-mail comments to the editor at rmiller@newtimesslo.com.