Local singer-songwriter Caleb Nichols needs to get out more. Or at least he needs to get out around here more. We just don't see him playing enough.
The talented performer has been a part of groups such as Port O'Brien, Grand Lake, Churches, and Release The Sunbird, but on his new EP 90 Days in New York, he's front and center, delivering four new tracks that are somber, contemplative, and luminous.
PHOTO COURTESY OF CALEB NICHOLS
RECLUSE: After a hiatus, local singer-songwriter Caleb Nichols returns with a new EP, which he'll release on Nov. 26, at Kreuzberg in SLO.
Nichols grew up in Los Osos but did a lot of touring with the aforementioned bands. He still gets out on the road, but when he's home in SLO, where he lives with his husband, he keeps a low profile.
The EP opens with "90 Days In New York," in which he faces down his personal anxieties. Nichols calls the song and EP "a hushed, autumnal EP about encountering and leaving New York City."
He follows it with "Close My Eyes" by Arthur Russell, "a fellow LGBTQA artist with one foot in both rural and city life."
Both these tracks as well as the EP's final song, "(I Fell in Love On) Christmas Day," were recorded by Ian Pellicci at New Improved Recording in Oakland. The third track, "Brighter Days," was recorded by Jason Quever in Pan American Studios in San Francisco and features Jameson Swanagon on guitar and Quever on keys.
The recording marks a renewal after a period of quiet for Nichols, who was processing experiences and changes in his personal life.
"I wanted to kick myself in the ass," Nichols said, "and get back to releasing music after a period of anxiety and change."
The songs are gorgeous and tender, and Nichols offers musical surprises, taking notes in unexpected directions.
He'll perform an EP release party this Saturday, Nov. 26, at Kreuzberg in SLO (7 to 10 p.m.; all ages; free).
"Joining me at the show are Jameson Swanagon performing solo guitar music and Joshua Barnhart performing with his band," Nichols said. "It's gonna be a hoot!"
Ukulele sensation
The amazing Jake Shimabukuro returns with a show at the Fremont Theater this Wednesday, Nov. 30 (7:30 p.m.; all ages; $35 and $40 plus handling fees, by phone at (888) 825-5484, online at vallitix.com, or at Boo Boo Records).
PHOTO COURTESY OFJAKE SHIMABUKURO
UKULELE WIZ: The amazing Jake Shimabukuro plays the Fremont Theater on Nov. 30.
Nobody plays ukulele like Shimabukuro, who approaches the instrument in a novel way and plays with virtuosic ferocity.
He's toured relentlessly since his new album, Nashville Sessions, was released two months ago. It has since reached No. 3 on the Billboard Contemporary Jazz Albums Chart. Shimabukuro jammed with two top Nashville session players—bassist Nolan Verner and drummer Evan Hutchings—to create the new album, which breaks from his more traditional ukulele sounds in past recordings.
"We approached the performance like a jazz trio record," he said in press materials, "but with a more progressive rock sound. At first I was hesitant. 'We're just going to go in and jam? Really? With nothing prepared?' I never dreamed we would leave the studio six days later with a full album."
This guy's a true musical genius. Rolling Stone magazine called him "one of the hottest axemen of the past few years who doesn't actually play guitar."
He's also the subject of an award winning documentary Jake Shimabukuro: Life On Four Strings, currently playing on Netflix.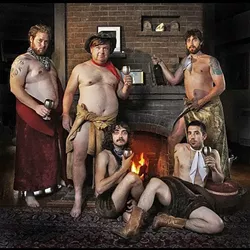 PHOTO COURTESY OF THE KYLE GASS BAND
MAN-HERD: The Kyle Gass Band, featuring members of Tenacious D, plays SLO Brew on Nov. 25.
The second greatest band in the world
Guitar wiz Kyle Gass is part of Tenacious D, aka The Greatest Band in the World, but when he's not playing with his co-conspirator Jack Black, he tours with The Kyle Gass Band, who'll play this Friday, Nov. 25, at SLO Brew (10 p.m.; 18-and-older; $12 at ticketweb.com) with Scary Little Friends opening.
"Along with The D's longtime electric guitarist, John Konesky, resident Sasquatch and guitarist/vocalist, Mike Bray, mythical bass legend, 'Uncle Jazz,' and percussion genius/international heart-throb Tim Spier, the rollicking gentlemanly ensemble traverses hill and dale to bring earth-shattering rock and roll to the wanting 100s," their bio boasts. "If you're lucky enough to catch this man-herd on the road, you'll surely count it as one of your finest living days."
Should be a lot of irreverent fun.
End of an era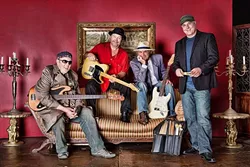 PHOTO COURTESY OF SOUL SAUCE
SAY GOODBYE: Soul Sauce, a terrific local quartet, is calling it quits at the end of the year, but you can see them Nov. 26, at Cambria Pines Lodge.
I'm sad to say Soul Sauce is calling it quits. This amazing group, featuring Tommy Lee Nunes (vocals and guitar), Chet "CT" Hogoboom (vocals and guitar), Bruce Sorensen (vocals and bass), and Dean Giles (drums), has been bringing us a great mix of rock, groove, soul, and R&B—much of it original—for the last six years.
Their grand finale happens New Year's Eve at Pear Valley Winery, but according to the venue, the event is sold out; however, Soul Sauce has four more gigs between now and then.
See them on Saturday, Nov. 26, at Cambria Pines Lodge (9 p.m. to midnight); Sunday, Dec. 4, at Las Cambritas in Cambria (1 to 4 p.m.); Friday, Dec. 9, at Morro Bay Sellers Wine Bar performing as an acoustic trio (8 to 10 p.m.); and Friday, Dec. 16, at Mr. Rick's in Avila Beach (8 to midnight).
I'm sure these talented performers will turn up again, just not as Soul Sauce. Great run, guys!
More music …
PHOTO COURTESY OF CAFÉ MUSIQUE
TAKE FLIGHT: Awesome Gypsy jazz, swing, wild classical, tango, and folk act Café Musique plays D'Anbino on Nov. 25.
Awesome Gypsy jazz, swing, wild classical, tango, and folk act Café Musique plays D'Anbino Vineyards and Cellars this Friday, Nov. 25 (8 p.m.; 21-and-older; $15 at 227-6800). These are all terrific musicians delivering a diverse selection of music. Just a great live act!
Toro Creek Event Center presents a buffet dinner and concert featuring Freebo at The Last Stage West on Saturday, Nov. 26 (7 p.m.; all ages; $45 presale at 792-0505 or 461-1393, or $55 at the door). Folk, rock, and blues icon Freebo has toured and recorded with the likes of Bonnie Raitt, CSN, Maria Muldaur, John Mayall, Ringo Starr, Dr. John, Neil Young, and more.
Alternative indie rock band Lezayr plays the Frog and Peach this Sunday, Nov. 27 (10 p.m.; 21-and-older; free). "This is the first time we'll be performing at the amazing Frog and Peach and we're super happy to finally have the opportunity to play in SLO," frontman Alex Ayala said.
Have a tropical Christmas
Surf guitar legend Merrell Fankhauser is known worldwide, but he just so happens to live in Arroyo Grande, where he tapes his syndicated TV show The Tiki Lounge. On air for 16 years now and broadcast to 3 million viewers in California and Hawaii, the show is celebrating its longevity with the release of Merrell Fankhauser and Friends: Tiki Lounge Live, a dozen tracks recorded live on the show with performances by '60s group The Brymers, Oahu native Lindsey Ikeno, Merrell's son Tim, Spirit drummer Ed Cassidy (on the last recording before his death), and a whole lotta Merrell's guitar work, including "California Cosmic Jam," which was composed on the spot.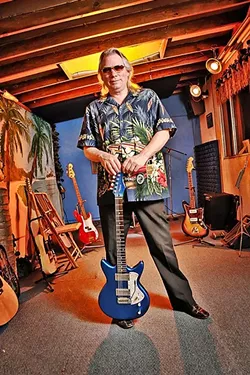 PHOTO BY LUIS ESCOBAR
STILL ROCKIN'! : To celebrate his long-running TV show The Tiki Lounge, Merrell Fankhauser and Friends recently released Tiki Lounge Live, a CD of songs performed on the show.
Fankhauser was born and raised in Kentucky, where he grew up fascinated by the bottleneck slide guitar played by his black playmates' fathers. That early introduction to the blues sparked his musical interests, and when he moved to California at 13 years old, he quickly got into surf rock, recording the famed "Wipe Out" with his band The Impacts at age 18, where he got his first lesson in the music biz after Del Fi Records tricked him into signing away his music rights for a dollar. Through the '60s and '70s he became psychedelic rock pioneer in bands such as Merrell and the Exiles, H.M.S. Bounty, and MU.
Now 72, Merrell is still actively writing and performing new music. His song "Message from the Dome" was recently picked up by a Russian record label that plans to include it on a compilation CD celebrating 60 years of Russian space exploration.
"Yes, it's really real!" Merrell enthused. "It will be an all-instrumental space-style release with 11 other groups. The label heard my album Signals From Malibu on radio in Russia. I'm getting a lot of play lately in Russia and Poland. Had a review in a Russian music mag! You just never know."
Merrell's highly sought after 1967 album Fapardokly is going to be reissued on Gear Fab Records for release in January.
"The Tiki Lounge Live CD continues to get radio play in U.S and Europe," Merrell added. "Hard to believe the Tiki Lounge TV show has been on air for 16 years covering the Central Coast on Channel 2 and down to Lompoc and on Comcast Channel 25 and Hawaii. I'm very thankful to still be getting music releases after all these years."
He also did an interview with Michalis Limnios for a Greek online community called Blues Greece (blues.gr), as well as Limnios' syndicated radio show that's broadcast to 20 countries.
"We did a phone interview in November to coincide with the release of the new Tiki Lounge Live album," Merrell noted.
You can learn about all things Merrell Fankhauser at his website, merrellfankhauser.com. You can buy his CDs directly from him by sending an email to merrell@merrellfankhauser.com. He'll even sign them for you. Have yourself a very tiki Christmas!
Keep up with Glen Starkey via twitter at twitter.com/glenstarkey, friend him at facebook.com/glenstarkey, or contact him at gstarkey@newtimesslo.com.