Craig Nuttycombe has mortality on his mind. Now 70, the local singer-songwriter has lived quite a musical life. While a Hollywood High School student in the early '60s, he played rhythm guitar with the surf band The New Dimensions, and in the mid '60s he played around the Sunset Strip with a bunch of other bands, including The Eastside Kids, where he met Denis Lambert.
In 1968, he and Lambert formed the folk duo Lambert & Nuttycombe, releasing their first album, At Home, on A&M Records in 1970. In 1973, the pair released their second, As You Will, on 20th Century Records. Lambert's increasing drug use led to their eventual separation, but Nuttycombe released a solo album, It's Just a Lifetime, on A&M Records, produced by the great engineer Glyn Johns, before leaving his music career to work on a ranch in Carmel Valley for several years before finally settling in San Luis Obispo.
Photo Courtesy Of Brittany App
THE SAINT OF SONGS AND DOGS Craig Nuttycombe (and band) will release his excellent new album Twin-Tailed Comets on Aug.17, at Painted Sky Studios.
Of course, he's never stopped playing, but he did stop chasing fame, although sometimes fame had a way of chasing him. When The New Dimensions played a reunion concert 50 years after their formation, a production company started a documentary on the band. About a decade ago, a Japanese fan of Lambert & Nuttycombe brought Nuttycombe to Japan to play a couple of shows and promote the re-releases of some Lambert & Nuttycombe recordings.
That aside, Nuttycombe has been happy to cultivate a quiet musical life in SLO Town, where he's independently released a series of albums such as My Own Beat, Get It Done, Planetorial Janitor, All You Need, Impermanence, and his most recent effort, the amazing Twin-Tailed Comets, for which he'll play at an album release party next Friday, Aug. 17, in Cambria's Painted Sky Studios (7:30 p.m.; all ages; $15 at Boo Boo's, Ball & Skein, or by calling (805) 927-8330).
The 13-song album takes listeners on an eclectic ride, opening with "Everything Going Forward," on which he sings, "Everything going forwards will be backwards. In a sense I don't care anymore. I'm just looking for some place to fall and it may be that someday I'll be calling at your door."
Nuttycombe likes to get metaphysical, political, and whimsical in his songs, and this one's about time, relativism, and relationships.
"I wrote that in the early '70s," Nuttycombe explained recently over lunch. "Denis and I demoed it but we never recorded it for an album. I was in my early 20s and here I am in my early 70s, and it's just as pertinent. The album's a mix—some [songs] are old, some are new or middle-aged."
The second track, "Mosey On," seems to get at the heart of how Nuttycombe sees the musician's life: "See the funny little man on stage. He likes to sing. He likes to play. He likes to joke and clown around. He always smiles. He don't frown. You know now, he don't sing about the goofs he made, detours taken along the way. Somewhere perhaps he might have stayed instead of mosey on."
Trying to be a professional musician leads to weird places, and it also makes relationships hard, as track 3, "Split Apart," seems to explore: "I miss my old friend. Wanna see her again. Twin-tailed comets blaze across the sky. ... Like basic math, make a whole from two halves. I've got lots of loving inside my heart. Someday I'm going to give it to my split apart."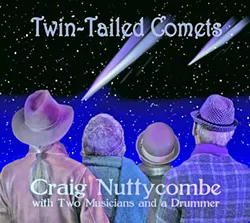 Image Courtesy Of Craig Nuttycombe
TWIN-TAILED COMET Craig Nuttycombe with Two Musicians and a Drummer have recorded 13 tracks that are sure to surprise and entertain.
For "Time," a song written by Denis Lambert, Nuttycombe tapped Denis' daughter Denise Lambert. Denis committed suicide in the '90s, and you can feel the emotion bursting from her tender country voice as these two sing a song written by someone so close to them—someone too-soon departed: "Improbabilities. It's not as easy as it seems to be, and oh time, you have changed me," the chorus rings.
"I wanted to redo it in honor of him and with his daughter, who flew in with her fiancé from Nashville to record it," Nuttycombe added. "It's a tribute to Denis and an excuse to get together with Denise. I haven't really stayed in touch as much as I wanted to, just a phone call every few years, but she told me I was like the father she never had. It was very touching."
The album lightens up considerably with "Go Outside," which Nuttycombe said, "pays homage to dogs in the last line." If you check his webpage, Nuttycombe, a staunch dog lover, has a link to photos with many of his dogs over the years.
"Which way shall we go outside? Perhaps we'll let the dogs decide because dogs somehow, they just know best. They're happy when they go for a ride, run around and play outside and then lay down and take a rest."
The song's all about nature's rejuvenating power, and it segues nicely into the next track, "Derelictal," which features all of Nuttycombe's bandmates from the Gypsy jazz, swing, folk, and wild classical super group Café Musique, of which he's been a member for years.
The song's rhymes are so amazing! "I'm a derelictal man. I lead a derelictal life. I'd really like to find me a derelictal wife. Together we'd explore the dark side, just we two, living us a life of derelictal blues. Derelicts!"
Aside from the one song written by Lambert, there's only one other cover on the album, "It's All in the Movies," by Merle Haggard off his 1976 album of the same name. It fits perfectly into Nuttycombe's style: "But that's all in the movies / It won't happen to you and I / That's all in the movies so baby don't cry."
"I've always loved it," Nuttycombe said. "I discovered it in the '70s, and I don't think it was especially popular, but I still find myself playing it around the living room. I wanted to record it before I die."
There goes that mortality thing again! It continues on "Rise and Fall," on which Nuttycombe sings, "I came in on a rise. I'm going out on a fall. I feel I had a good life in between but it makes me rather sad, it makes me downright mad, to watch it turn into some kind of ugly dream. Mainstream media, reality TV, never thought that we could stoop so low, to select a president who has no common sense, hey just sit back and have some popcorn, watch the show as it all unfolds and the story's told. Isn't it a shame you cannot grow old."
Yet for every dose of reality about death or politics, Nuttycombe's got a song to lift you back up. "Shoe Be Do Wah" is one of the funniest songs on the album, opening like an early Tom Waits lounge tune: "Now looky here. I was sitting on the throne, waiting on some scat, reading the paper 'bout some new guru cat. It took me back to my earlier days when I heard the Maharishi speak at UCLA. He had a grin from ear-to-ear like a Cheshire cat, said, 'For a nominal fee I could show you where it's at. You can give away your pot, throw away your booze. You won't need any of that stuff when I enlighten you.' He couldn't stop giggling, he just radiated hope, and I thought to myself, 'Yeah, I want in on the joke.' He said, 'Come back with some fruit, a little bit of cash, and one of my disciples will show you the path.'"
The song goes on to explain how the disciple whispered Nuttycombe's personal mantra in his ear, which turns out to be "Shoe Be Do Wah Shoe Be Do Be Do Wah." Nuttycombe frequently has his tongue firmly implanted in his cheek.
Nuttycombe sings a beautiful duet with Cambria chanteuse Jill Knight on "At Bay," about estranged lovers rethinking their breakup: "We had it handed to us on a platter. God's arm came down from the sky. Remember those tears of recognition? Can we put a hold on goodbye?"
Nuttycombe pulled the next track, "When My Time Comes," from the vaults.
"This one's dedicated to Glyn Johns because he produced it on my 1978 A&M solo album It's Just a Lifetime," he said. "Forty years later the song still resonates for me."
Nuttycombe sings, "Well when my time comes, won't be long, until I have no choice but to leave, I don't normally ask nothing, but this time I will ask something, please speak kindly of me."
The song is Nuttycombe's producer and Café Musique bandmate Eric Williams' favorite, and Nuttycombe notes that Williams "laid down some amazing organ and slide guitar on that track. Eric's amazing. It wouldn't be the same [album] without his production, arrangement, and playing. One of the nicest compliments was from Wendy Liepman [of Bob & Wendy], who said, 'You know, all the arrangements sound like they should be there. Nothing's out of place.'"
"My goal," Williams said, "is to figure out what each song wants to be, what the nature of it is. What does the song need to be itself."
The orchestration and arrangements are truly perfect, with a huge variety of textures and sounds. The musicianship is first-rate! Nuttycombe's core band for the project also included Café Musique bassist Fred Murray and local percussion master Daryl Vandruff, whose idea it was to bill the group as Craig Nuttycombe with Two Musicians and a Drummer.
Guest players also included Tim Costa, Bob Liepman, John Astaire, Brynn Albanese, Duane Inglish, Laurie Rasmussen, and Tom Ball. What a sound they make!
One of my favorite tracks is the cowbell-heavy "I've Had Some Fun." This one boogies!
Sings Nuttycombe: "I've had 70 trips around the sun. I've had me some loving and had me some fun. I wrote myself a song or two and every once in a while I try to sing them to you. Oh I've had some fun! Just when I think there can't be much more, you come a-knockin' on my front door with a birthday balloon and a child in tow. I swear I've never seen such a beautiful glow. You make it fun!"
The final track, "The Haunting," is another quirky one.
"We put 'The Haunting' last because after hearing it [no] one will ever want to hear it again," Nuttycombe joked. "Since it's last, no one will have to skip past it. It was track number 13, which is appropriate."
Photo Courtesy Of David Mcclister
STILL KICKING After some health scares, Willie Nelson (pictured) & Family return to Vina Robles Amphitheatre on Aug. 11, with Alison Krauss & Union Station.
"It starts as a cowboy ballad," bandmate Williams said, "then merges into a ghost story and then back to a cowboy ballad. The subtheme is, 'I'm going to die soon, and then I'm gone but not really gone.'"
Nuttycombe sings, "Don't mourn me when I go cuz all you've got to know is that I'm still around, but you don't have to be a-scared cuz when I'm floating up the stairs, I promise I won't make a sound. Yet in death like life you see there's a mischief side to me so what I promise may not all be true. I'll try to keep it on the quiet side except don't be too surprised if from somewhere out of nowhere comes a 'boo!'"
This should be a great album release show next Friday, so don't miss it! On a final note, it's never too late for love! Jill Knight and Craig Nuttycombe would like to announce their engagement and pending nuptials. Congrats, you crazy kids! Mazel tov!
More music ...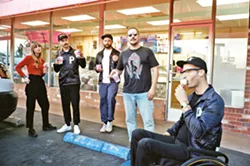 Photo Courtesy Of Maclay Heriot
ROCK THE BEACH Portugal the Man (pictured) plays the Avila Beach Golf Resort on Aug. 11, with Chicano Batman.
Despite some recent health problems, 85-year-old Willie Nelson & Family will play Vina Robles Amphitheatre on Saturday, Aug. 11, with Alison Krauss & Union Station (8 p.m.; all ages; $65 to $150 at vinaroblesamphitheatre.com).
Two bands, the beach, and the sunset—what more do you want? See Portugal the Man at the Avila Beach Golf Resort on Saturday, Aug. 11, with Chicano Batman (gates at 5 p.m.; all ages; $42 to $87 at eventbrite.com).
Not enough choices this Saturday? Check out indie darlings Rainbow Kitten Surprise when they play the Fremont on Saturday, Aug. 11 (9 p.m.; 16-and-older; $25 at Boo Boo's or eventbrite.com). Δ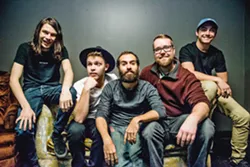 Photo Courtesy Of Rainbow Kitten Surprise
ADORABLE Indie darlings Rainbow Kitten Surprise play the Fremont on Aug. 11.
Keep up with New Times Senior Staff Writer Glen Starkey via Twitter at twitter.com/glenstarkey, friend him at facebook.com/glenstarkey, or contact him at gstarkey@newtimesslo.com.