When Los Osos resident Malinda Rae saw President Donald Trump's July 26 tweet announcing plans to ban transgender people from serving in the U.S. military, her reaction was a mix of sadness and confusion.
"I don't understand what the big deal is," she told New Times. "I don't understand what people are afraid of."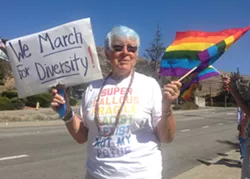 Photo By Chris Mcguinness
SUPPORTING TRANS TROOPS Carroll Leslie of Los Osos joined a crowd rallying for the rights of transgender military service members and veterans outside the SLO County Veteran's Memorial building on July 31.
Rae, a Vietnam-era veteran, served in the military at a time when transgender people, and the LGBTQ community in general, were forced to remain closeted in the armed forces. She watched as both society and the military evolved on the issue, from the "don't ask don't tell" era of the 1990s to the administration of former President Barack Obama, who removed many of the barriers preventing LGBTQ people, including transgender individuals, from serving openly in the military.
"When Obama allowed it, at least there was some normalization," Rae said.
But the current administration's attitude toward the issue, and trans rights in general, has been far harder to pin down. Despite campaign promises that he'd be a strong defender of the LGBTQ community, Trump drew ire when he suddenly announced via Twitter his plans to ban transgender individuals from military service.
"Our military must be focused on decisive and overwhelming victory and cannot be burdened with the tremendous medical costs and disruption that transgender in the military would entail," the president tweeted.
Trump's mercurial stance on LGBTQ issues has left many in the community, including Rae, uncertain of the future they face under the new administration.
"It's hard to predict what they are doing," she said.
In the wake of the president's announcement, citizens, LGBTQ advocates, civil rights organizations, and others vocally opposed the change in policy. In San Luis Obispo, a group of residents and ministers gathered in front of the SLO County Veteran's Memorial Building on July 31 to show support for transgender service members and vets. The small crowd lined the sidewalk with colorful flags, signs, and chants of "support our trans troops."
"We will not let them stand alone," David Robinson, treasurer for Tranz Central Coast, told the group as they gathered around an antique artillery gun outside the building. "We will not."
Robinson is also a veteran, and served in the air force for 10 years. As a gay man, Robinson said he felt he had to hide that "1 percent" of himself when he served. He told those gathered at the rally that he couldn't imagine having to hide "99 percent" of himself had he been transgender.
"I think it's important that they see we support them," Robinson said. "We cannot be invisible."
But a tweet from the president doesn't necessarily mean policy is imminent. A statement from the Department of Defense indicated that the military wouldn't enact the ban without a formal order from the president.
"The Department of Defense is awaiting formal guidance from the White House as a follow-up to the commander-in-chief's announcement on military service by transgender personnel," a DOD statement read. "We will provide detailed guidance to the department in the near future for how this policy change will be implemented."
A week later, the DOD had yet to receive such orders. That's unlikely to stop advocates like Robinson, Rae, and others from speaking out in opposition to it and in support of trans rights.
"Most of us don't want anything special. ... We just want to be treated like any other person," Rae said. "It's not fighting for more than anybody else has." Δ