During a recent appearance on Dave Congalton's "hometown radio" show I was shocked, quite frankly, over the number of people calling in to discuss chain restaurants. I don't review fast-food places for one simple reason: if you dine in Applebee's, Chili's, McDonald's or Wendy's, and all the rest, you can expect that most foods they're serving were made at the corporate commissary and frozen for shipment. It's the same at every restaurant in these chains.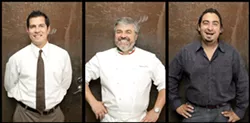 PHOTO BY STEVE E. MILLER
SMILES WELL EARNED: Antonio Moline, the manager of Buona Tavola; Antonio Varia, the chef and restaurant owner; and Christian Mandarino, the marketing manager of Buono Tavola make diners exceedingly happy.
On occasion we all need a cheap meal fast, but I prefer spending my dining dollars in restaurants owned by locals who put their heart and soul into their eatery. And I encourage every foodie I meet to think the same way. During a recent visit to Buona Tavola on Monterey St. in SLO my dining experience exemplified this standard. As I read the new take-out menu it reminded me of owner/chef Antonio Varia's maxim since he opened there in 1992: "I cook with love!"
The truth of his statement is evident in every dish you're served. Admittedly I had not dined there in over a year. So when Varia's new marketing consultant, Christian Mandarino, a passionate young restaurant expert who boasts an impressive resume, invited me over to SLO to sample new dishes from the summer menu, I eagerly accepted.
I encouraged Mandarino to order foods we could share so I could taste more dishes. With the first course of the soulful duck and turkey dumplings ($12.75) smothered in a rich, onion confit, I hummed in delight and couldn't resist eating both dumplings. They paired them with a glass of Badia di Morrona 2005 Chianti ($7 a glass), an earthy red with plum and spice notes, which was a very good match.
The Parma salad ($10.75) was another excellent dish. Made of fresh arugula tossed with red apple, toasted walnuts, diced Roma tomatoes, parmesan shavings, and housemade balsamic vinaigrette, it including a generous serving of sliced Parma prosciutto. Although the Chianti was good with it, I would've liked it even better with the delightful Valle Isarco 2006 Pinot Grigio ($7.50) they poured next. Its clean crisp flavors with tangy citrus notes would have made a great counterpoint to the salty ham. We also tried a refreshing and tasty Masi Modello Della Venezie 2007 Rose ($5.50–a real bargain). Both of these wines were quite complementary with our pasta and entrées.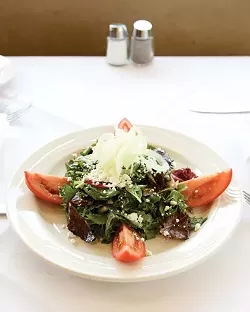 Even better than the first courses were the "primi and secondi piatti" courses (pasta and entrées). That day's specials included a housemade linguini with shrimp and calamari, in a white wine and spicy tomato sauce, so perfectly cooked I was impressed because they're so easily over-cooked. We also enjoyed a pristinely fresh ahi, seared a perfect rare with sides of fresh snow peas, julienne of carrots, and roasted potatoes.
We relished the perfect conclusion, which was a flourless chocolate torte with caramel sauce. While it's always fun to experiment at new restaurants, I came to realize we should never forget old favorites that endeavor to provide us with the finest locally grown and locally produced foods.
Mandarino pointed out that our local restaurants are nothing like the "high and mighty" places in Napa Valley wine country. He explained: "Here we get to realize what's readily available in local foods and Buona Tavola has a stand in SLO's Thursday night Farmers Market. We're in wine country and we don't take advantage of people by raising prices."
Although Varia wasn't cooking when I visited, I didn't realize that, considering the quality of the meal. Mandarino said Varia was away, but the food was just as delicious as if he had cooked it and served it to me himself. Mandarino explained the credit goes to the Flores family who've been cooking for Varia since Buona Tavola opened in 1992.
For our lunch, Mandarino chose a table on the sunny patio where I'd never dined. He mentioned that it's very popular among locals, and I could see why. Above the patio they've hung a cascade of small white lights, plus there's a bubbling fountain in the courtyard center, all of which creates a romantic ambiance, especially at night. During inclement weather they roll out the overhead covers and turn on heat lamps to make the patio every bit as comfortable as inside the restaurant at lunch or dinner. Undoubtedly it's much more romantic at night.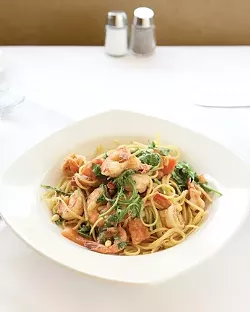 Mandarino moved to Paso Robles from Los Angeles, where he was trained in the art of fine dining at some of that city's most prestigious resort hotels. He was born in Argentina, where his mother was a native; his father, Domenik Mandarino, was born in Italy. Domenik, who was a mechanical engineer, relocated with his family to Los Angeles when his son was just 10.
Domenik began working in restaurants in L.A. and soon worked his way up to become a chef. He began teaching his son the basics when Christian was just 14 years old. Christian Mandarino's first job as a young adult was at the St. Regis Hotel; from there he moved to the Regent Beverly Wilshire, a Four Seasons hotel (featured in the movie, Pretty Woman). After he started working for Varia, and they came to know each other, they discovered Varia and his father, around the same age, had worked together at Silvio's restaurant on Melrose in L.A.
Mandarino left L.A. in 2004 for an opportunity to work for the Food Network's star chef, Bobby Flay, and moved to Las Vegas to work at Flay's new Mesa Grill in Caesar's Palace. Mandarino relocated to Paso Robles last year for the opening of the new steakhouse Bernick's. After helping them open, he moved to Buona Tavola, where he began working with Varia's wait staff, teaching them the art of upscale service.
Although I met Mandarino in SLO, you'll find him most often in Buona Tavola Paso Robles. There Varia's cousin, chef Mauro Zaretti, runs the kitchen, preparing dishes with fresh fruit, vegetables, and herbs Varia grows sustainably in his home garden in Creston, just as the Flores use Varia's produce at Buona Tavola in SLO. Mandarino informed me Varia raises pigs and rabbits, too.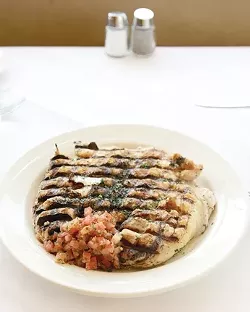 Let's face it, you'll never find these standards in any chain restaurant. So please, support your local restaurant and you'll find your dining dollars well spent.


Correction:

In my review of Cass House Restaurant in Cayucos, June 19, I mistakenly reported the bread is housemade. Most of it is, except the baguettes, which are made by Hush Harbor Bakery in Atascadero. Cass House Restaurant is open for dinner only, Thursday through Monday evenings.
---

You can reach New Times' Cuisine columnist at khardesty@newtimesslo.com.