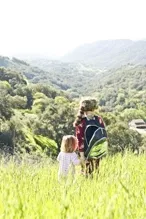 PHOTO COURTESY OF BRIAN SCHMIDT AND ANN-MARIE PLASTINO
AN UNEXPECTED JOURNEY: After a car crash, JoJo (right) and his sister (Avila) embark on an outdoor odyssey to find their grandmother's house.
"This is not a film for overprotective parents; Boys use pocket knives; girls eat bugs." This is the audacious disclaimer that begins The Incredible Adventures of JoJo (and his annoying little sister Avila), a locally produced children's film that will make its debut at the Fremont Theater.
It's an irreverent beginning to a movie that boldly challenges the common notions one may have about movies for kids. There are no princesses in need of a prince in The Adventures of JoJo; there are no animated, anthropomorphic vegetables with tales to tell; and, there is certainly no attempt at whitewashing any ugly elements. Instead, you will find images and situations that will put the modern parent in a state of nervous peril: car crashes, guns, mafia-type body dumps in the river, and wolves. So many wolves.
"Imagine The Grey with Liam Neeson, but for kids," director/writer Brian Schmidt described over the phone. That's more or less what we're dealing with—a black comedy fairy tale adventure … for kids.
In truth, The Incredible Adventures of JoJo may sound like Disney in the hands of Quentin Tarantino, but the story is relatively simple and lighthearted. It begins with JoJo—a rambunctious 6-year-old with a predilection for pissing on insects. At the outset of the movie, he, his little sister, Avila, and their mother are on the way to grandmother's house in the woods. They get there just fine, and everything seems hunky-dory. There's some quality, family time puzzling, and JoJo receives a gift from his grandma—his very own pocketknife!
However, in the car, on the way home, disaster strikes! JoJo is playing with his new knife in the backseat; Avila grabs it, thinking the thing a new teething toy; their mother, naturally, freaks out, and the car careens off the road, crashing into a wooded ditch and leaving the mother bleeding and unconscious. The next morning, JoJo barely bats an eye at his injured mother before setting out on an adventure that includes hobo hijinks, poopy pajamas, a fantastical mountain of couches, and a literal cliffhanger.
PHOTO COURTESY OF BRIAN SCHMIDT AND ANN-MARIE PLASTINO
JUST AROUND THE RIVER BEND: In the midst of their adventure, JoJo and Avila find themselves riding down the river in a barrel, while being chased by an errant hobo.
"We want parents to squirm in their seats," Schmidt's wife and co-director/writer, Ann-Marie Plastino said.
Her husband agrees: "The film is a kid's movie, but it's almost more geared for adults. Parents watching it, it puts them on edge. I feel like my wife and I are trying to entertain ourselves more than anybody else."
Both Plastino and Schmidt had always wanted to make a film. The former graduated from Cal Arts with a background in animation, while the latter grew up on the Central Coast and attended Cal Poly. They both shared a sense that kids movies had become overly sanitized and far too safe. So, they wrote a script, saved money, cast their family, and set out on their own filmmaking journey that would last about five years.
"We wanted to make this a different kind of kids movie," Schmidt said. "When we grew up, our parents were like, 'Come home when the street lights come on.' This is for parents who aren't worried about you falling out of a tree, but more worried about kids not climbing trees."
Indeed, the entire enterprise is rife with this sense of edgy, nostalgia-driven playfulness. From the film's whimsical visual effects to its daring action sequences, The Adventures of JoJo exudes the kind of homespun adventures that would make Mark Twain proud. For example, in the film's opening sequence, as the mother is driving to grandmother's house, they pass another car on a bridge. Innocuous enough. But then, we see something a little shady. The car slows down, and a band of crooked characters appear, spouting smoke and toting baseball bats. Then, they dump a suspiciously human-sized bag of cargo out of the trunk and into the river. "She lived in a magical, far-away place … where one could go to dump their troubles," the narrator describes. It's inappropriate, sure, but it's cheeky in a way that charms more than it offends.
INTO THE WOODS: "The Incredible Adventures JoJo (and his annoying little sister Avila)" will premiere at the Fremont Theater in SLO on Aug. 15, and will screen through Aug. 21. There will be a special coloring contest for kids, who are also encouraged to wear pajamas and cowboy boots to the premiere. For more info, visit incrediblejojo.com.
The same goes for the film's characters and story. Both walk the delicate line between gratuitous shock and the realistic grit of everyday life. Sure, the grandmother may be a gambling, rough n' tumble type who scares off squatters with a shotgun, but she's also a sweet, concerned type who plays cards with her grandkids and calls the cops when they go missing. The same goes for the titular JoJo. He may pee on spiders, he may leave his sister in the claws of a wolf trap, but he cares for her. At least, he ends up caring for her, in the end. And, that's the overall feeling you take away from The Adventures of JoJo. It's a personal story, and a very personal film, about a boy, his family, the adventures of growing up, and a hobo who eats canned pet food.
"We want kids to see how much fun the world outside can be," Schmidt and Plastino explained. "We want to be adventurous and experience life. There's so much to live for. Every now and then, just shut off your screens, and enjoy the world around you."
Jessica Peña pees on bugs, and eats them 
(in that order) at jpena@newtimesslo.com.