PHOTO BY GLEN STARKEY
HE DOESN'T WANT ANY HOMELESS POETRY!: Albert Kraeber recently formed Save Our City From Outsiders (SOCFO), a group that's hoping to make the city less appealing to tourists, students, and transients.
Is SLO Town too pretty for its own good? That's what a group of concerned citizens is saying. Too many tourists, students, and homeless people are infiltrating the city and unfairly gobbling up scarce resources and social services, claims a group calling itself Save Our City From Outsiders (SOCFO).
"San Luis Obispo is considered one of the most beautiful places in the world," said SOCFO founder Albert Kraeber, a SLO native and amateur frog gigger. "Because of that, we're inundated by tourists who treat our natural resources badly, students who show no respect for we local folks, and traveling hobos who clog city streets panhandling for beer money, playing stupid folk songs on out-of-tune guitars, and making unwanted eye contact with local shoppers. I even had one guy offer to write me a poem for a dollar. Why would I want to pay some homeless jerk to write me a poem? Enough is enough."
Kraeber, sitting at his kitchen table surrounded by frogging buckets, spotlights, and tined gigging spears, said he'd put a notice on Craigslist and was surprised by how many people answered his call to arms.
"My ex-wife Evelyn claims I'm an old crank," admitted Kraeber, "but she's the old crank! My group Save Our City From Outsiders has 23 members now. Either I'm vindicated or SLO's full of old cranks, and you know that's not true! SLO natives are the best people in the world. We're just tired of being taken advantage of."
SOCFO has developed a number of proposals they believe might make the city less appealing to those they deem unsavory.
"Look," said Kraeber, pushing a bowl of freshly sautéed frog legs across the table, "there's not much we can do about the weather, but there're plenty of things we have control over. For instance, why don't we institute a curfew for Cal Poly and Cuesta students? I mean, I know local businesses depend on them to some extent, so I'm not talking about anything drastic. Maybe they'd be allowed downtown between 10 a.m. and 6 p.m.—business hours. They should be in their dorm rooms studying anyway, right?"
PHOTO BY GLEN STARKEY
MOVE THAT BENCH!: HE'S WALKING HERE! Phil Ottenberg is chair of SOCFO's City Uglification Committee, which proposes the removal of park benches and downtown trees.
According to a SLOPD spokesman, the city has no legal authority to regulate the rights of certain citizens to move freely throughout the city, but that hasn't deterred Kraeber.
"Well, we could talk to bar owners, who have the right to refuse service to anyone, and tell them to refuse service to college students," suggested Kraeber, licking frog juice off his fingers.
And if bar owners refuse?
"This is our town," asserted Kraeber, pounding his fist on the table and making the bowl of legs jump. "If these bar owners want to operate in our town, they better think about keeping us real citizens happy. Those damn kids will be gone in four years, but we live here year 'round and full time. Bar owners are going to be in for a rude awakening if they raise our ire. I can drink at home, just watch me."
Though Mayor Dave Romero didn't immediately return New Times' phone calls, Downtown Association Executive Director Deborah Cash was interested to hear about the new group.
"I haven't heard of them," admitted Cash by phone. "I really wouldn't know what to say until I saw what kind of ideas they had. I feel like the downtown is for everybody. This is the first I've heard of it."
So what about some of SOCFO's proposals? Kraeber suggested New Times speak to Phil Ottenberg, who heads the group's City Uglification Committee.
"Have you noticed all the tree work going on downtown?" asked Ottenberg, a heavyset man in his 60s who was seated in his western-motif living room. "That's a step in the right direction. I've lived in this town since I was conceived in the back of my dad's DeSoto in '44, and I remember looking down Higuera Street and seeing nothing but buildings and narrow sidewalks—no trees, no park benches … and no students, tourists, or transients either! Now look at it! Trees offering shade, park benches with people lazing all over them all damn day long. Who are these people? I don't know 'em. Well, now it seems like the city is getting the idea. They just took down a big tree in front of Natural Café, and they should just keep cutting. And get those damn green benches off the damn sidewalks. I'm walking here! Locals don't need any damn benches. We live here! If we want to sit down, we'll go home and sit on our sofas in front of the TV like normal people! It really steams my hide to think about it!"
PHOTO BY GLEN STARKEY
HA-HA! FAKED YOU OUT!: SOFCO members were angry at tax dollars building these public restrooms across from Big Sky Café, but find it hilarious when they "see some tourist waddling over there, squirming to take a whiz," only to find them closed.
What does Cash think of the idea to remove trees and benches?
"Considering our goal is to support and maintain the ambience and aesthetics of downtown, and considering the urban forest program is a big part of that ambience, it doesn't sound like our goals are compatible," admitted Cash, doing her best to be diplomatic. "And those benches were paid for by private parties to commemorate a loved one. So the service club or those people who paid for the benches and the plaques signed a contract to have the bench placed where they wanted but become property of the city. I would think the city probably isn't interested in removing them."
Ottenberg, under the glow of a saddle-totting cowboy lamp, also mentioned how pleased he was when the city finally closed the public restrooms across from Big Sky on Broad Street.
"Building those damn facilities was a waste of taxpayers' money—my money," screamed Ottenberg. "And then what happened? A bunch of bums started hanging out there, hassling people for money. So what does the city do? It installs a damn hi-fi stereo system for them and starts playing music. Why don't you give them free foot massages while you're at it? Of course that didn't drive them off. Even lazy bums like Mozart. When they finally shuttered the doors, I cheered. Not only did it get rid of the bums, but now I find it hilarious when I see some tourist waddling over there, squirming to take a whiz, only to find a sign that tells him to shove off. Yeah, go back and whiz in your damn motel room, tourist!
"Guess what?" continued Ottenberg, nodding toward his glass-doored gun cabinet. "I served my country! I'm a patriot, see? I was in 'Nam. You know what the Vietnamese did when strangers came into their villages? Do you? Well, they hid, because we were some crazy sons of bitches back then and they knew better than to mess with us. My point is, I'm not gonna hide! I'm an American and this is my town and I'm takin' it back. You hide, tourists! Hide, homeless! Study, you lazy students! Jeesh!"
PHOTO BY GLEN STARKEY
NOT SURE ABOUT SOCFO'S: IDEAS Downtown Association Executive Director Deborah Cash doesn't think SOCFO's ideas are compatible with her organization's mission, but she's willing to listen to a presentation.
Clearly an impassioned group, a question remains regarding SOCFO's suggestions: Will city officials and those with a stake in the vitality of downtown consider implementing SOCFO's ideas to discourage the homeless from using downtown?
"You know, I think homelessness and transiency is a problem in the entire country. I don't think you can label it just a local problem," asserted Cash. "As a community, we're doing everything we can to help. I think the new homeless campus concept that's being floated is a really positive step. It's actually been through the architectural review stage."
If approved and funded, the homeless campus will be located near the Prado Day Center and include a 200-bed facility.
"It'll be a 24-hour center and the homeless will sleep there and stay there and work with social services to get placed into homes," said Cash.
The problem with this idea, responded Kraeber in a follow-up interview, is it will still be a magnet to the homeless.
"See, this is what I'm talking about," he said. "It's like these knuckleheads who give these hobos change. If you're a lazy bum and you stick your hand out and people fill it with money, why would you leave? Why would you work? You wouldn't! You'd stand there with your hand out until you could buy a six-pack and then you'd go down to the creek and get drunk."
Cash takes a broader view of the problem.
"I kind of feel like the issue that's grown around homelessness is something our whole country is dealing with," she said sympathetically. "There are people who just need help, so the idea of denying that help doesn't make sense. I guess if they're [SOCFO] serious about pushing forward with this, I wish they'd contact me and make a presentation so we can discuss their ideas."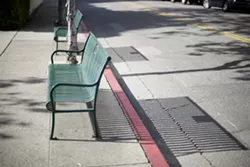 PHOTO BY GLEN STARKEY
BENCHES? WE DON'T NEED NO STINKING BENCHES: According to SOFCO, removing these green park benches will help eliminate panhandling downtown.
Another complaint from SOCFO is that groups like the Downtown Association and the Chamber of Commerce make the city look too good in brochures and tourism literature. They'd like to see more black and white photography and shots of dry hills in summer, according to Kraeber and Ottenberg. Plus, they'd really like to see the student curfew in place.
Cash paused for a minute, puzzling over these last two suggestions.
"A lot of our economy is based on tourism, so I'm not sure what that will accomplish and what will be saved," she said. "I'm a proponent of trying to encourage as much use of downtown as possible by all segments of our community as long as they enjoy and respect the town. No tourists and students? What's next? No people under five feet tall? I think it's a very slippery slope if you start down this path."
Glen Starkey has to be seen to be believed, and even then you should be very wary. Fool him once at gstarkey@newtimesslo.com.