Considering our population, the Central Coast seems to have more live music to choose from than anywhere in the universe. This week, as usual, there are some must-see out-of-towners coming, and I'll get to them, but let's start with a slew of our best local acts.
Over at SLO Brew, surf/garage/punk rock newcomers Hayley and the Crushers will officially release their debut full-length album, Jewel Case, and headline a multi-band show this Sunday, Oct. 9 (7:30 p.m.; all ages; free). Hayley is, of course, a local music veteran who's also a member of Magazine Dirty and the Tarweed Two, among other acts. The Crushers is just her newest incarnation with husband and bassist Reid Cain (aka Dr. Cain) and drummer Gabriel Olivarria. She's also New Times' Flavor columnist.
PHOTO BY PATRICK PATTON
CAKE WALK : Hayley and the Crushers bring their surf/garage/punk to SLO Brew on Oct. 9.
"She said you look like a child prostitute, I said mom I look cool/ I don't mess with the boys in the band, I got my own plans/ I don't make easy bake, gotta shake off the glitter and glue/ I gotta chain link roller rink rock n roll attitude/ Glitter and glue, eyeliner too," Hayley sings on their album's first single, "Glitter and Glue."
This is a band with attitude who describes their vibe as "you went to the beach to get a tan but were rudely interrupted by a gaggle of leather-clad beasts feasting on beer and ho-hos under the pier."
In addition to releasing their new album on CD, it's also available—like their previous recording Gidget's Revenge, an EP released in March—on cassette tape! What the hell? Do people even have tape players anymore?
"The title of our new cassette is a tongue-in-cheek reference to where we seem to be in the music world right now," Hayley said. "Those hard-to-open, once-flashy jewel case CDs are the new 8-track, the new wax reel. Everything is digital, streaming. Nostalgia is rampant, and we're all for it. Vinyl is expensive, and cassettes offer a tangible treat that feels intimate and unexpected. There's something cool about the fact that if you play that tape enough times, you'll wear it down with love, just like your favorite T-shirt. Just don't leave it in your car! Of course, we made CDs too, but we don't believe they're long for this world."
You've done straight punk, country, rock. What sound are you going for here?
"I was going for Joan Jett on a surfboard with her degenerate crushers causing trouble under the pier somewhere," Hayley explained. "It's fun, it's sassy, the lyrics are moody, swinging from teenage diary entries like 'Glitter and Glue' to straight-ahead rock 'n' roll that commands attention in its simplicity. It's about growing up fast, female empowerment, pulpy dreams about sharks and mermaids—basically what I'd probably have seen scribbled on the cover of my high school science notebook. It's pop, it's punk, it's garage rock, and it's got a touch of surf energy. Of course, there's always a lot of whimsy, glitter. We don't take ourselves too seriously."
Added her husband, Reid, "We really wanted to flip the script on a traditional three-piece rock band. Typically, you'll hear a distorted guitar and a clean bass, so we flipped it with a fuzzed out bass and a clean guitar, which contrasts well with Hayley's crisp, melodic vocals. Gabriel Olivarria works at Boo Boo Records and is an eclectic guy obsessed with everyone from Roky Erickson and metal to pop music through the ages. He attacks the drums in a way that makes people want to dance. I try to play bass melody lines, almost 'singing backup' with the bass."
The three members clearly have affection for one another.
"Gabriel looks tough, but he sings like an angel alien baby," Hayley quipped. "If I wasn't so busying playing guitar, I'd probably be watching Reid's crazy stage moves."
"Oh, it's a classic beauty and two beasts," Reid added. "Gabriel and I battle it out in the rhythm section, crushing the clowns and pretenders to the rock 'n' roll throne. Hayley runs the show with glittery guitar licks and keeps us under control offstage by feeding us pizza, fine beer, and Coke Zero. On stage, she's like an unexpected summer storm. First you see the lightening, then you FEEL THE THUNDER!!! This is our world beyond time and space: The Crusherverse!"
So that's what people should prepare themselves for at a live Crushers show?
"The biggest thing for us is inclusion," Reid said. "This isn't 'hang out in the back with your arms crossed being cool, bro' music. That's why I'm usually jumping off of an amp risking my life. We draw energy from our crowd and we want to throw it back. It's a give and take. We're here to party. Party with us!"
Added Hayley, "This band isn't for the bar scene. This year, we've played a Roller Derby, a festival on the beach, a house show … we will play your living room if you let us in the door. And we may raid your fridge."
Hayley is definitely a style maven. She and Reid live around the corner from my wife and me, and even when she's out walking their dogs, her style looks like a Madonna Inn cake. How did she find her voice and style?
"I found punk rock at 13 and it was like a bomb went off in my heart. X did me in—I would never be the same, and I am grateful for the bands that assured me I could do my own thing as long as I had passion and grit. By then, I had already been playing guitar a few years and it was an important outlet. Like a lot of young girls, I chaffed against what society told me to be and turned to heroes like the Go-Go's, Blondie, and Loretta Lynn for inspiration. When I perform, I try to think about the young girls in the audience, and when they come up to me and ask me questions about my life, I'm always the first person to say, 'Why don't YOU start a band?'"
This Sunday's show starts with a special magician guest artist, then the bands Other Houses, Justine and the Highs (of Orange County), Hayley and the Crushers on at 9 p.m., followed by Pancho and the Wizards. CDs and cassette tapes will be available at the show.
Also this week at SLO Brew, the incomparable Budos Band brings their big horn sound to the club on Saturday, Oct. 8 (9 p.m.; 18-and-older; $20 general admission or $40 VIP balcony at ticketweb.com). On their fourth album, they shifted gears a bit.
"This isn't The Budos Band IV," drummer Brian Profilio proclaimed in press materials. "This isn't just more of the same." A follow-up to 2010's The Budos Band III, their newest album, Burnt Offering, brought something new to the table. "We made a conscious decision to embark on a new sound," baritone saxophone player Jared Tankel explained.
Also, mark your calendars for next Thursday, Oct. 13, when Johnny Cash tribute act Cash'd Out plays the Brew (8:30 p.m.; 18-and-older; $12 general or $30 VIP).
Americana deluxe
Tim Jackson might have started his musical life as a dyed-in-the-wool rocker, but as his career has continued, he's morphed into a very fine folk artist and solo touring musician who every few years delivers another collection of memorable songs ranging from the emotionally resonant to tongue-in-cheek hilarious.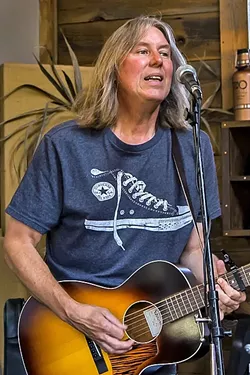 PHOTO BY CARL ADAMS
LOCAL LEGEND: Tim Jackson delivers his 10th album, Gasoline and Guitar Strings, during two album release shows: Oct. 7 at Paso's Chatteau Lettau and Oct. 28 at SLO's Band the Drum.
The first two tracks on his 10th album, Gasoline and Guitar Strings, are perfect examples. "I Can't Sleep" is about a man tormented by love: "Three A.M., tossin', turnin'" the song begins. "He can't sleep over you, nothin' he can say and nothin' he can do." He gets background vocal help from his Mesa/Bluemoon labelmate Dulcie Taylor, delivering a poignantly romantic song.
On the next track, "Vampire," the lyrics take a turn toward the thinly veiled ribald: "I want to be your vampire. I want to be your vampire. I want to give you my blood. I want to be your vampire. I want to give you my blood, baby. I want to be your vampire.// I want to be your pool boy. I want to be your pool boy. I want to clean your pool. I want to be your pool boy. I want to clean your pool, baby. I want to be your swimming fool.// I want to be your gardener. I want to be your gardener. I want to mow your lawn. I want to be your gardener. I want to mow your lawn, baby. I want to find that spot where you belong.// I want to be your organ donor. I want to be your organ donor. I want to give you my heart. I want to be your organ donor. I want to give you my heart, baby, unless you want another part."
These songs are a lot of fun, and Jackson's raspy-and-rough-around-the-edges voice and energetic guitar work make for an engaging live show.
Jackson will have two CD release parties this month, a North County gig on Friday, Oct. 7, at Chatteau Lettau in Paso Robles (6 p.m.; all ages; free), and a SLO Town gig on Friday, Oct. 28, at Bang the Drum (7 p.m.; all ages; free). Bring some dough to pick up a copy of this very fine CD, which also features local players such as Ted Waterhouse, George Nauful, Dave Miller, Freeman Lee, Tracy A. Morgan, Karen Wilkins, and Robert Alberts.
Big local blues jam!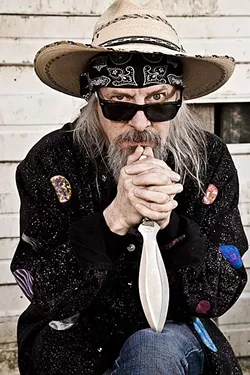 PHOTO COURTESY OF PHIL LEE
DEAD AIM: Phil Lee will throw his straight-to-the-heart tunes at Tooth & Nail Winery on Oct. 9, during Central Coast Live! Radio's Central Coast Blues Jam.
Central Coast LIVE! Radio, an online streaming service that focuses exclusively on Central Coast music, is quickly becoming an important part of the local scene, and this Sunday, Oct. 9, they're hosting the inaugural California Central Coast Blues Jam at Tooth & Nail Winery (noon to 5 p.m.; $25 to $100 presale or $30 to $110 at the door, available at centralcoastbluesjam.com). Expect a tightly orchestrated showcase of local acts playing short sets.
"This will be an all-star blues jam extravaganza with Paul Irving of Big, Big SLO as our master of ceremonies and The Narrow Bridge Blues Band as the event host band with the following musicians and bands on the bill," organizers Brad and Jennifer Golden of Central Coast LIVE! Radio said. "Carolyn Sills Combo (noon to 12:45), Narrow Bridge Blues Band (1 to 1:15), Catalina Eddy and the Blue Keys (1:20 to 1:35), Grampas Chilis (1:40 to 1:55), Back Bay Betty (2 to 2:15), Burning James and the Funky Flames (2:20 to 2:35), Toan Chau, Al Sanundo, Matt Suarez, & Kirk Nordby (2:40 to 2:55), Phil Lee with Narrow Bridge (3 to 3:15), The Cliffnotes (3:20 to 3:35), Deep Blue (3:40 to 3:55), Code Blues (4 to 4:15), Dorian Michael, Dylan Johnson, & Nicole Stromsoe (4:20 to 4:35), Big Daddy's Blues Band (4:40 to 4:55), and the Narrow Bridge Blues Band with Orphan Jon for three songs (5 to 5:15) followed by the Grand Jam!"
PHOTO COURTESY OF THE MONROE
TALENT TO BURN: The amazing alt-soul and rock act The Monroe plays Oct. 7, at Templeton's Barrelhouse Brewing.
The event benefits the SLO nonprofit MUSE Arts Education and Central Coast LIVE! Radio. This promises to be amazing!
Power of talent
For my money, The Monroe—now stripped down to a lean four-piece powerhouse—has more raw talent than any young band I've seen around here. They formed in 2012 and over the past four years have seen some personnel changes and a redefining of their music, but between Morgan Monroe's thrilling voice and multi-instrumentalist Dr. Isapony X.D.'s straight-up musical genius, they remain my vote for most likely to succeed. On Friday, Oct. 7, The Monroe plays in the garden of Barrelhouse Brewing in Templeton (5:30 to 8:30 p.m.; all ages; free).
Good Medicine Presents
Over in the Good Medicine's world, they start their week with US Elevator, a ripping good band recently formed by Johnny Irion, who's best known for playing with his wife of 17 years, Sarah Lee Guthrie, as well as folk dynasty The Guthrie Family for the past decade.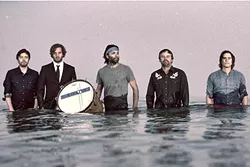 PHOTO COURTESY OF US ELEVATOR
GOING UP: US Elevator, the new side project fronted by Johnny Irion (far right) plays Tooth & Nail on Oct. 7.
"Sarah Lee and I are taking a musical break this year," Irion explained of his new project and album. "Tim Bluhm [of The Mother Hips] and I made it on an old Studer Tape machine in Santa Barbara last year."
The results are killer! The album's 11 tracks are richly orchestrated, mysterious, and filled with Irion's musically inventive songs that have a decided experimental '60s feel. The Beatles, Neil Young and Crazy Horse, Gram Parsons, The Hollies—the influences are unmistakable and irresistible. US Elevator plays Friday, Oct. 7, at Tooth & Nail Winery (5:30 p.m.; all ages; free).
Also thanks to Good Medicine, see Big Bad Voodoo Daddy on Thursday, Oct. 13, at Tooth & Nail Winery (6:30 p.m.; 21-and-older; $35 presale at ticketfly.com or $40 at the door). The retro jump blues and swing act puts on an off-the-hook live show!
GUITARISTA!: SLOfolks has once again booked one of the world's premier acoustic guitarists, Peppino d'Agostino, who'll play Oct. 7, at Coalesce Bookstore, and Oct. 8, at Castoro Cellars.
Get Pepe!
SLOfolks has once again booked one of the world's premier acoustic guitarists, Peppino d'Agostino, who'll return to the Central Coast for two shows this weekend, Friday, Oct. 7, at Coalesce Bookstore (7 p.m.; all ages; $20 available at 772-2880); and Saturday, Oct. 8, at Castoro Cellars (7:30 p.m.; all ages; $20 at 238-0725). "Sometimes words are just not enough to describe one of the world's most gifted guitarists," organizers said. "There is a reason why we've brought Peppino to our stage so many times. Over the years, he has become a member of our community and is truly a friend of ours."
Red barn!
The Red Barn Community Music Series presents Southern roots music proponents Thompsonia on Saturday, Oct. 8 (5 p.m. potluck, show at 6 p.m.; all ages; $15 at the door). "Thompsonia, comprised of Eric, Suzy and Allegra Thompson, combines Eric's and Suzy's deep devotion to Southern roots music with their daughter Allegra's fresh perspective," according to their bio.
Jazz it up!
PHOTO BY IRENE YOUNG
SOUTHERN FUN: The Red Barn Community Music Series presents southern roots music proponents Thompsonia on Oct. 8.
The SLO Jazz Festival's Fall Fest features four shows over four weeks starting with Incendio at Paso's Allegretto Vineyard Resort on Saturday, Oct. 8 (visit 2016fallfest.com for tickets and info). Incendio brings world fusion jazz driven by Spanish guitars and a wide background of musical talent.
Keep up with Glen Starkey via twitter at twitter.com/glenstarkey, friend him at facebook.com/glenstarkey, or contact him at gstarkey@newtimesslo.com.