It's quiet except for the echoing tinkle of water filling up a square 275-gallon water tank and the low murmuring of two men sitting at a cracked, peeling wooden picnic table.
That conversation is only audible when the wind dies down. They're chatting about the proper way to install a leach field for sewage and what it takes to get a permit to drill a water well.
Between gusts, hushed snippets about marijuana also rise above the silence. Who's growing where. Who's leaving the area for the weekend. Who's asked whom to watch their place. Who's doing what to save their plants.
The sun's already melted behind the hills west of the California Valley, and dark outlines separate solid objects from open space. A hose snakes between the tank in the back of a dark gray Toyota T-100 and a garden-style spigot sticking out of recently wetted dirt.
Before the Toyota showed up, the driver of a dark blue Nissan filled up a different 275-gallon tank. The truck's license plate indicates it was bought in Clovis and the driver says he's only been in the valley for a few months. He didn't want to give New Times his name, but he did say he was filling up to feed the marijuana grow he's manning for a friend.
PHOTO BY CAMILLIA LANHAM
SICK OF IT: California Valley resident John Wilson is tired of watching the area's community services district's board members bickering among themselves.
He stares at his cell phone as the water line moves higher against the plastic. It's the last night anyone will be able to pull in and fill a tank for free without getting pre-approved. It's Sept. 20, and tomorrow that spigot and four others on the property are getting locked down. There's supposed to be an emergency meeting about that and a host of other things in about 15 minutes, but the parking lot behind the California Valley Community Services District/library/post office is pretty sparse.
Save for a tiny dusty black Mercedes sports car with the door open. John Wilson is sitting in the driver's seat, his beige suede cowboy boots on the pavement. He'd heard about the emergency meeting, but he'd also heard it had been canceled—and he knew why.
It was a spat between California Valley Community Services District (CSD) board members over the reasons why board member Prince Frazier called the meeting—those include a plot to fire General Manager Vera Starr and an effort to kick two directors off the board. Starr pulled the agenda down from outside the office and three of the five board members refused to be at the meeting. Two members do not make a majority, hence the canceled meeting.
That's the extremely simple version.
"With this board we have a problem," Wilson says in the twilight. "The people who want to be on the board, they all want to be in control."
To hear Wilson tell it, bickering between Cal Valley CSD board members isn't exactly a secret. It's waxed and waned with each elected board since the 1960s, and he's watched the progression since he arrived in the valley 25 years ago. There was also that one time a general manager stole more than $300,000 from the CSD over a four-year period (he was caught in 2004).
The infighting has gotten especially bad since the marijuana farmers came to town in April, but the conflicts go much deeper than an argument about whether the CSD should allow growers to take hundreds of gallons of free water from the faucets on its property.
On Sept. 14, the SLO County District Attorney's Office announced it was filing several counts of felony voter fraud charges against two members of the board, President Lisa Marrone and Director Misty May Lambert, for saying they live in the California Valley when they allegedly live elsewhere. Both pleaded not guilty and have pre-trial hearings scheduled in SLO County Superior Court for Oct. 18.
The three women on the board, Marrone, Lambert, and Ro Webb, have been discussing and motioning to censure the men on the board, Frazier and George Ayres, at their monthly board meetings since July 5. According to meeting agendas, the multiple censures are due to violations of the Brown Act, Robert's Rules of Order, and CSD policies and procedures—but the specifics are lacking.
"The three women used to hate each other, but now they've found a common enemy. The two men," Wilson says with a laugh, before adding: "It's a sad laugh."
Incidentally, the three seats those women fill are up for grabs in this year's election. Nine people are vying for them, including the incumbents.
"When they say it's kind of like the Old West out here, it's kinda like that, but only because the county never shined a light on it," Wilson says.
Salty story
There are two sides in the valley—yes metaphorically, but also physically. The paved line of Soda Lake Road splits the valley, cutting southeast from Highway 58 through the California Valley and Carrizo Plain National Monument to Highway 166.
Thousands of 2.5-acre parcels of land sit on either side of it, a grid of named dirt roads between the Temblor and Caliente ranges on a flat expanse where a truck hauling a round water tank kicks up dust as it moves on a road miles away. Wilson guesstimates there are approximately 130 or so homes, and CSD General Manager Starr said there are about 150 garbage customers. The CSD picks up garbage and takes care of the roads. In 2014, 178 voters registered to vote in the district and 94 of them cast ballots.
"California Valley is what's called an antiquated subdivision; there's no services, there's no [paved] roads," said Art Trinidade, chief investigator for SLO County Code Enforcement.
The subdivision was created in 1964, according to the Santa Margarita Historical Society, by a developer who bought the 7,500-acre Chicote Ranch and split it up into 2.5-acre parcels you could buy for $10 down and $10 a month. And although there has been a store, a gas station, and a restaurant at different times, currently those don't exist. There's a Cal Fire substation in the valley that shares the CSD's plot of land and its water pump, but the closest SLO County Sheriff's Office substation is 50 miles away in Templeton.
The marijuana growers are new, and it's hard to tell how many of them exist, but more than 175 plots of medical marijuana sprung to life this year—there are no houses or water wells to go with them, yet, just tarped-in squares with greenery peeking over the top and dusty trucks parked out front.
"There is a hotel out there that has no vacancy now because of all of the marijuana growers, because we've told them they can't live in their RVs on their property," Trinidade said. "It's bad planning to have people living out there."
Still, people do live out there. The land's cheap, it's quiet, and it's far away from everything—and everyone. But that dividing line of pavement delineates more than just whether someone lives east or west of Soda Lake Road. It also splits land with "good" water below it from land with "bad" water below it.
It's not a hard line, but it's a pretty good indicator.
Board Director Webb has one of the homes on land with bad water. The 73-year-old with tightly curled teal blue hair that's fading back to white and a lilting rasp in her voice has lived there since 1982.
"I love it out here; it's a beautiful place," she said.
When she and her husband first bought the house, they dug three wells to see what they could find, and all of them shot up saltwater. The fluid destroyed their pipes, corroded all their fixtures, killed their plants; it was unusable.
"It's worse than the ocean," Webb said. "And when we got here, we were so naïve. We knew that it probably wouldn't have good water. … And everyone said it's fine, 'You can just haul water from the district.'"
So they did, and they have for 34 years. Every two weeks, she and her husband pick up three 300-gallon tanks full with their pick-up truck.
"We're very frugal," she added. "I recycle water to flush the toilets and stuff like that."
And although there used to be more homeowners who made the weekly trip over to the CSD to get the water they needed to live, Webb said there are only four or five homes that depend on those recently locked spigots.
Access denied
Shiny metal caps now cover each of those spigots with numbered brass-colored locks hanging off of them. It was not a decision made by the CSD board, but one the general manager made because she felt she had no other choice.
PHOTO BY CAMILLIA LANHAM
FILL UP: Marijuana growers and some California Valley residents get their water from this spigot at the Community Services District property. It's now locked up, and if someone wants to fill up a water tank, they need to get approved by the district's general manager and set up an appointment.
Sitting in Starr's office on Oct. 4, the afternoon sun is no longer shining through the windows. Her hands are folded in front of her on the brown conference table, and as she speaks they separate, rising into the air, only to come back together when she finishes a sentence.
"I'm going to protect what is ours," she says. "Not that we're not accepting of having new people in the district, but that was bit much."
She would watch truck after truck with tank after tank drive by her windows to the spigot by the picnic table at the far end of the parking lot. A constant stream of marijuana growers, according to her, was draining the aquifer below. She got a warning letter from the county about marijuana farmers using district water, and the board couldn't seem to make up its mind about what to do—and that's pretty typical.
Because the CSD doesn't have water service powers, it made sense to Starr to limit that access.
"The residents who have historically needed it, … of course they can still have access," she says. "They'll have to call and make an appointment."
The notice to residents consisted of a neon sign posted above each spigot warning of the impending lockup.
It's really not clear whether the decision she made was strictly on the up-and-up. She insists that she was well within her legal parameters to make the call. Board member Frazier contends that it was illegal because it should have been a board-directed decision—and that's why he wanted her fired.
David Church, the executive officer of SLO County's Local Agency Formation Commission (LAFCO), simply told New Times it was "up to the district." He also said that community service districts are expected to resolve conflicts on their own, and although LAFCO can give advice to districts, the commission doesn't have an enforcement arm.
Churchwell White LLP, a law firm based in Sacramento that the district contracts legal counsel from, didn't respond to New Times' request for comment, but gave Starr direction on the matter via an email dated Sept. 22. This letter was included in the agenda packet for the district's Oct. 4 meeting.
"The most prudent course of action is to leave the locks on the well and continue limiting access to it, but to have the district's board review and ratify that action as a policy of the district," the letter stated.
Locking down access to the water wasn't included on the agenda for the Oct. 4 meeting. When asked why, Starr responds: "Lisa [Marrone] decides what's on the agenda and what's not."
She adds that board President Marrone doesn't exactly agree that Starr did the right thing, but for the most part, the general manager looks to Marrone for leadership. The president's been a board member on and off for years, and Starr's been the district's general manager for a little more than one.
"She's been very helpful for me and very professional," Starr says. "I'm learning this as I go."
Gender war
The agenda for that Oct. 4 meeting included whether to ask LAFCO for emergency water powers, something Starr says Marrone is really pushing for but the district doesn't necessarily need, and approving two more censures each for Ayres and Frazier.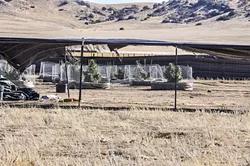 PHOTO BY CAMILLIA LANHAM
GROW OP: Medical marijuana grows popped up all over the California Valley starting in April.
The district's policies and procedures manual outlines a process for removing a board member if they are censured three times by fellow board members for violating the Code of Ethics. Frazier believes that's exactly what the female members of the board are trying to do, but Webb denies that's the case.
"That would certainly be nice, but I'm not sure that's the way it works," Webb told New Times over the phone in mid-September, adding that the censures are mainly on behalf of Starr, because directors Frazier and Ayres ("the men") have harassed her so much. "Censuring doesn't mean a whole lot; you can't kick them off the board or anything like that."
Looking back through email exchanges between Ayres and Starr, Ayres comes across as demanding and curt with the general manager. Starr blames the "hostile working environment" as the reason a recently hired employee with 40 years of heavy equipment experience quit after only a couple of weeks. She's silent for a moment as four ceiling fans whir overhead. "It's like war."
"It's far beyond anything I've ever seen. I told them a few months after I started, 'This is the most unprofessional office I've ever worked in,'" Starr says shaking her head. She's spent much of her career as an administrative assistant, most recently working at the Topaz Solar Farm, which started putting up panels in the California Valley in 2011. "This is a house divided against itself."
Earlier that day, on the other side of the building, Frazier opens his office door. He agrees: The board of directors is a mess. He sits in front of a window at a small desk with a vintage green and gold lamp, leaning back in a chair. It's in a well-used kitchen that hasn't been used in a while.
"We're being censured because we can't say anything, even in an open meeting," he says. "These are trumped-up charges. … When you have a he said/she said base, then, you know, you've got to hear both sides of it until a decision is made. If you're going to accuse somebody, make sure you have all the facts."
If the Oct. 4 board meeting is any indication of what happened at the previous meetings where censures against the two men were voted on (Aug. 2 and Sept. 8), there wasn't exactly due process for the accused, and some California Valley residents aren't happy about it.
Ruth Legaspi, who's served on the board before and is running for one of the three open seats in this year's election, spoke during public comment on Oct. 4. She lamented a lack of information in the agenda packet regarding the censures, what exactly happened, the specifics on what was violated.
"There's a lot of rumors in the valley; we don't know what's true, what's not true," she said. "We need the information."
Legaspi also accused the three women on the board of attempting to kick Ayres and Frazier out of office. Marrone responded to the accusation by saying they couldn't kick them out of office, but could strip them of their voting rights.
"Life goes on," Marrone said.
Wilson with the suede cowboy boots also spoke: "It's the same thing as last time. We're just going to censure you to censure you," he said. "What did he do? You have to list these things. We have to know."
Frazier had walked out of the meeting earlier in a huff, and Ayres moved to have the censures thrown out. Of course, that didn't fly with his fellow board members, who voted in the majority bloc of three to censure both of the men twice.
Truth or fiction
In Frazier's opinion, all of this back-and-forth between the sexes started in March 2015. A rumor was floating around about Director Lambert not being a resident. Tagging on to that was a rumor about President Marrone not being a resident either.
He's leaning back in his office chair with his hands clasped across his stomach. Every time a car pulls up, he leans forward and stands slightly to peer out the window. Post office boxes clank open and closed as community members pick up their mail. Occasionally, he waves at somebody.
Those rumors became something both he and Ayres tried to get the board to address openly, but he says he couldn't get the item placed on a meeting agenda.
"I put it on the agenda four times and Lisa Marrone took it off every time," Frazier says, his voice rising. "George put it on the agenda six times, and every time she took it off."
General Manager Starr acknowledged that it was something the two men tried to get on the agenda.
"They can fill out an agenda request form and turn it in to me, and it gets passed on to Lisa, and if she wants it in, I put it in, and if she doesn't, I don't," Starr said.
When New Times asked Marrone about it, she said she didn't remember ever getting requests from Ayres or Frazier about it. She added that they often don't fill in the request forms correctly to get items on the agendas, and finished by saying, "I have not put things on the agenda that were not board business."
The question of Marrone's California Valley residency is not a new one.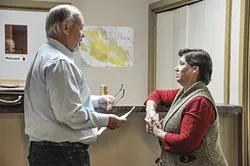 PHOTO BY CAMILLIA LANHAM
RESIDENT?: The SLO County District Attorney's Office has filed several felony voter fraud charges against Cal Valley CSD Board President Lisa Marrone, pictured here discussing things with her lawyer Barry Kinman before the Oct. 4 board meeting.
Several California Valley residents told New Times that they have believed for years that Marrone doesn't really live in the area. In fact, fellow director Webb openly accused her of the same thing four years ago. Marrone was the captain at the Cal Fire substation in the valley from 1986 to 2001; she then moved to Visalia to serve as a fire captain until 2008. She now owns a mobile oil-change business in Paso Robles. Marrone said she often works and stays in Paso because she's so busy with clients.
According to the county auditor-controller's office, Marrone has served on the board since 2009 and also served a stint from 1987 to 1995.
"I've been harassed for 25 years and I didn't care, but this time, they've pushed it really far. And it's been inconvenient, to say the least and very expensive," Marrone said. "I would spend all my time here if I could."
But she doesn't spend all her time there, and if you speak to pissed-off residents such as Wilson, they say she lives in Paso Robles and only comes over to check on her rentals (one of which she says Director Lambert is living in, but, again, some residents say Lambert is not living there), and attend CSD board meetings.
"The law says you have to be a resident to be on the board," Wilson tells New Times from his front porch on Oct. 4. "She comes in for the meetings. That's about the only time she comes into the valley."
Home is where …
Barry Kinman, the lawyer defending Marrone against the DA's election fraud charges, said it makes sense that people like Wilson would think she's not a resident because they don't understand the law.
"The government doesn't tell you where you live," he said. "You can choose your domicile based on your own priorities and feelings, even if it conflicts with your everyday activities."
California Elections Code Section 349 defines "residence" for voting purposes as someone's domicile, which is "that place in which his or her habitation is fixed, wherein the person has the intention of remaining, and to which, whenever he or she is absent, the person has the intention of returning."
Kinman showed up at the Oct. 4 meeting, and addressed the board as well as 30 or so attendees during public comment, declaring that the voter fraud charges were government overreach. He said that the board needs to be the entity that decides whether Lambert and Marrone should be considered residents.
Frazier stood up as Kinman was speaking and said, "You can't bring your lawyer here", and a few other things, picked up his briefcase and walked out of the meeting.
In a declaration submitted to the Superior Court of SLO County and packets passed out at the Oct. 4 CSD meeting and an emergency meeting on Oct. 11, Marrone declares that she has considered herself a resident of California Valley for 30 years. She states that she purchased a house in Paso Robles prior to becoming the fire captain, she lived in a mobile home at the California Valley Cal Fire station while she was the fire captain, purchased a property on Belmont Trail before she took the job in Visalia, and occasionally stayed in a travel trailer on that property while she was building her home there. She states that she also owned a property on Del Rey Road in the valley, which she frequently stayed at also.
"Although my domicile remained in California Valley, I was frequently absent," she states in the document. "My home was never in Visalia during those years, rather, my home was in California Valley."
Kinman argues that because Marrone feels like her home is in the valley, it should be considered where she resides regardless of how much time she actually spends there. He said it seems like the felony voter fraud charges brought against her are politically motivated.
"This has all the earmarks of a case that has an agenda," Kinman told New Times. "I have no idea what that is—I'm not even saying there is one."
SLO County Deputy District Attorney Lee Cunningham told New Times that there certainly is no agenda: "No. 1, it's not politically motivated. No. 2, it came from the county clerk, and No. 3, it's inappropriate for either him or I to comment" on an ongoing criminal case.
What Cunningham did say is that the two cases against Lambert and Marrone are the first voter fraud cases that the DA's Office has prosecuted in the 30 years he's been with the county.
Cunningham said it's totally legal for Lambert and Marrone to serve on the board and run for re-election. That will change only if they are found guilty of the charges levied against them.
Lambert and Marrone attempted to defend themselves in the emergency CSD meeting called for Oct. 11. They brought documentation to prove that they are indeed California Valley residents. Lambert said she owns property in the valley, where she keeps horses and all of her things.
Frazier's and Ayres' chairs sat empty, as both refused to attend. When asked what she'd hoped to accomplish with the meeting, Marrone said she wanted to dispel those rumors, which she believes are being spread around by the two men on the board—even though they didn't even bother to show up.
"The facts of such a meeting and its results would be inadmissible as evidence," Cunningham told New Times via email.
Sitting in the afternoon sun on Wilson's front porch, watching part of the California Valley move peacefully, it's hard to believe all the turmoil exists. He's frustrated with the board's inability to focus on the "people's business," the things it should be taking care—like roads. He's also sick of hearing all the rumors and lies that go along with the bickering between board members.
"I know them all. They're all my friends. I don't want any of them to go to jail," Wilson says. "I just want them to tell the truth."
Contact Editor Camillia Lanham at clanham@newtimesslo.com.