Lone Madrone winemaker Neil Collins samples a bottle of his 2015 grenache blanc. The liquid looks like summer in a glass. The sun, which has begun to set on this stretch of famed Adelaida Road, cascades through the tasting room window, spinning this rustic hangout into a particularly "Paso" shade of gold.
Photo By Hayley Thomas Cain
COME HANG Lone Madrone's seating area is where Sunday burger nights unfold each spring and summer.
The wine is juicy and bright, with balanced acidity.
"This comes from an amazing vineyard," he says, and you can tell his mind goes there, to that soil, those vines.
It's as if he's in the room but his feet are walking through the vines. This is a common occurrence.
When Collins sees bottles, he sees vineyards. And when he sees vineyards, he sees farmers, which he deems "the true badasses" behind it all.
These farmers are the winery's closest friends and collaborators—which is exactly why you'll find the source vineyard—and perhaps even the name of the family who tends it—displayed on the back of Collins' bottles.
Photo By Hayley Thomas Cain
WINE RUNS IN THE FAM Lone Madrone is a family affair. From left, burgeoning winemaker Jordan Collins, Lone Madrone tasting room manager Britta Ray, General Manager Jackie Meisinger, and winemaker Neil Collins. The brother and sister duo founded the winery in 1996, and now Jordan—Neil's son—is helping out the family business.
Since founding the Lone Madrone label in 1996 alongside sister and General Manager Jackie Meisinger, the goal has been simple: to make distinctive wines exclusively from vineyards tucked away in the rugged limestone hills of westside Paso Robles.
The vineyards Collins works with are largely dry farmed and head trained, which he feels bring out the best of Paso's terroir. Klau Mine, Osgood, Heaton, Bailey Ranch, Ambyth Martinelli, Old Oak, Glenrose—these are the plots of land that truly birth Lone Madrone wines, and the reason why the boutique operation has been able to showcase so many diverse offerings throughout the years.
How diverse? There's 100 percent picpoul blanc, zinfandel, syrah, grenache, as well as the distinctive blends the winemaker is famous for. Collins—who says he has "winemaking ADD"—is always getting his hands into something ripe (yes, he's the guy behind Bristols Hard Cider, too).
Today, Lone Madrone's humble tasting list stands at a whopping 26 offerings: everything from 100 percent nebbiolo to a sparkling chenin blanc.
"We're paring it back," Collins says, although that's a little hard to believe. "We're working with about four or five vineyards that we absolutely love, and our goal is to continue to work to do a few things very well. I have a very distinct idea of what I want to make, and it is not the big, typical Paso Robles wines that have become popular over the past 15 years. We want to offer something a little more graceful. We want to make what we, as a family, reach for when we sit down to have dinner."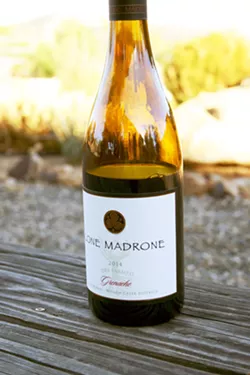 Photo By Hayley Thomas Cain
VINEYARD IN A BOTTLE Each bottle of limited production Lone Madrone Wine is made from a unique westside Paso Robles vineyard with an equally singular story to tell.
That family includes Neil's son, Jordan Collins, a rock climber and winemaker who has spent time in Chateauneuf-du-Pape, where he worked the 2014 vintage for Chateau de Beaucastel. The French winery is owned by Lone Madrone neighbor Tablas Creek, where Neil Collins has continued to work as a winemaker for the past 20 years.
Now, Jordan has been helping out the family business. He shares a similar philosophy to his father (i.e. "get out of your own way").
"Making wines the way we do is not anything new. People have been making wines this way—with minimal human impact, aged in neutral oak barrels or stainless steel, or now we're also using clay amphora—for hundreds of years," Jordan says. "It's about letting the vineyards speak for themselves."
To this end, all of Lone Madrone's wines are fermented with native yeasts and native malolactic bacteria. Even the tasting room itself—formerly located on Highway 46 West—echoes a sentiment of organic expression. Its rusted corrugated metal and weathered beams blend into rolling hills that smell of decomposing oak leaves and chalky earth. This is about as far from "Mediterranean-inspired villa" as you can get.
"This tasting room makes so much sense for us. I've been in this neighborhood a long, long time. I started across the street at Adelaia Winery in '92," Collins said. "Back then, there were horses living in this barn."
"This barn" is now completely converted into a modern tasting room with two tasting bars and a serene, shaded outdoor seating area surrounded by vines. Former horse stalls are now stocked with bottles and barrels. A rustic wood table adorned with a map of Collins' favorite vineyards offers an intimate space for private "pinnacle tastings," where you can taste through a lineup of selections alongside an educated tasting room attendant.
As Meisinger says, "These are 'fancy' wines, but we're not. We want to be accessible and affordable. What I hear the most in the tasting room is how elegant the wines are, and how every wine on the wine list—despite the large number of them—are made to such an incredibly high standard."
Surrounded by Paso Robles giants like Bordeaux houses Justin and Daou, pioneering zinfandel producer Peachy Canyon, and vast tasting rooms like Halter Ranch, Lone Madrone is a different kind of destination.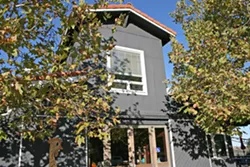 Photo By Hayley Thomas Cain
DISCERNING PALATE Visitors to the Adelaida Road tasting room are offered an expansive tasting list of elegant, balanced, vineyard-focused wines ranging from picpoul blanc to zinfandel to tannat.
At about 2,500 cases per year, these wines are totally handcrafted, boutique bottles, and they are made in only the way Collins could make them. If you ask me, they are best enjoyed in this cozy atmosphere, where dogs wag and burgers are served up hot on the old Santa Maria-style barbecue.
Ask about the famous show horse that's buried in the backyard and run your hands over the ancient farmhouse table. Look up and you'll see the lights above your head are fashioned out of reclaimed barbed wire. As it turns out, a bit of "old Paso" lives at Lone Madrone.
This stretch of Adelaida Road may have changed drastically since Collins started back in the '90s, when walnut and almond trees covered cow-studded hills.
But the vineyards and farmers? They haven't changed so much.
They're still at it, doing their thing, day in, day out. Hot days blend into cool nights. Grapes ripen with exceptional balance. Turkey vultures circle. Tarantulas search for a mate before the rains. This is how it's always been. And, it's safe to say that Collins will continue to be here, capturing it all, vintage by vintage. Δ
Hayley Thomas Cain thinks farmers are badasses, too. She can be reached at hthomas@newtimesslo.com.