PHOTO COURTESY OF THEATER MOGUL
PREHISTORIC PLAYER: Cody Lyman (pictured) has been performing in "Defending the Caveman" for the past 10 years.
Besides the perpetual battle between what is more attractive, Chris Pratt in a Speedo or a box of Thin Mint cookies, there has been one, consistent contest since the dawn of human history—men vs. women. Over the years, each side has volleyed their best offense.
Women are uptight and illogical, men will say; men are thoughtless and sloppy animals, women will say. Women gave humanity the computer algorithm, Monopoly, and the ice cream maker; men gave us the airplane, film, and possibly herpes. The list goes on. It's a topic that has been worn thin by writers, comedians, out-of-date radio hosts, and bad popsicle stick jokes alike. But, the subject endures, in much the same way as Defending the Caveman, a one-man show about this gender matter that will be coming to the Clark Center for the Performing Arts in Arroyo Grande.
For more than 20 years, this part stand-up comedy routine and part informal lecture, has been a fixture on the American stage. In the early '90s, comedian and actor Rob Becker conceived of a solo performance, where he could address the many, various stereotypes that existed between men and women. Over the next four years, that show evolved, and eventually made its way to Broadway, where it soon became the longest-running one-man show in history. It now boasts an impressive record of being performed in 45 countries, and translated into some 18 languages. Actor Cody Lyman has been with the show for nearly 10 years now.
"I was working as an actor in Chicago," Lyman said over the phone. "And, I didn't know much about the show. But, this was back in the Neolithic era. I had the opportunity to go see Rob Becker do it, and what appealed to me about it then and stuck throughout was that it was such a simple show that hits people so deeply. I love seeing couples come to the show, laughing for two hours, and then leaving hand in hand. It reminds people that they love each other."
When Lyman describes the show as simple, he isn't underestimating. The set is a bare bones ensemble, with only the most essential furniture fixings (couch, lamp, table, television) present, all done up in a very primitive, Flintstones style. It's the appropriate setting for a performance whose premise goes back to the basics, framing men and women as their Paleolithic personas—the hunter (men) and the gatherer (women). I know. This all sounds possibly problematic given the gender role assigning and the title, Defending the Caveman. But, the material doesn't so much defend as attempt to explain and lightly provoke.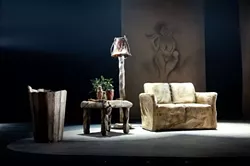 PHOTO COURTESY OF THEATER MOGUL
THE SET-UP: Part stand-up routine, part pseudo-anthropology, this one-man show boasts a bare bones stage, with Flintstones-style décor.
As Lyman remarks, "The show's very even handed. It pokes fun at both sides, and throughout the course of the show, there are definitely some elbows thrown. But, by the end, it's all balanced. For a decade [performing], it still has the possibility for me to glean something new from it. I do really love doing the show. As simple and pleasant as it is, it does have a great impact."
For couples, especially of a certain age, the appeal is evident. Most of the show's jokes have the same kind of set-up and subject that you'd find in an episode of Mad About You. Women talk too much; men talk too little. Men watch too much television; women are good at multi-tasking. In clips and critical reviews, the show can appear to be as antiquated as its title and premise suggest. Its attempt is to navigate the battle of the sexes with a mix of popular science and stand-up, but can this brand of gender typing and sitcom-style punch lines hold up? Is it a relic of an older, Archie Bunker age, or a reflection of an eternal impasse between the sexes? In an era of Liz Lemon, dead laugh tracks, and feminist resurgence, can this kind of show still stand? Lyman insists it can.
"We've updated some of the lingo," he explained. "It's funny though, because things have changed since Rob started, but the fundamental differences haven't changed since prehistoric times. The language has changed, about how we communicate the differences. How we communicate has changed in general, but to some degree it hasn't. Prehistoric men communicated through action, and I still see that happening today. There are long stretches between shows, and I often wonder, "How much longer can this show go on?" I think, as long as people love each other enough to be frustrated by each other, then this can work."
Jessica Peña doesn't defend caveman, as much as eat them, in the form of Flintstones vitamins. You can contact her at jpena@newtimesslo.com.