After more than 32 years, the SLO County District Attorney Office's second in command has announced his plans to retire.
Assistant District Attorney Lee Cunningham confirmed Nov. 7 that he plans to retire from his post effective Dec. 30.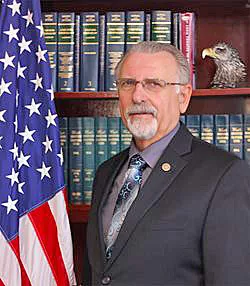 Photo Courtesy Of SLO County
CUNNINGHAM RETIRES After more than 32-years with the SLO County District Attorney's Office, Assistant District Attorney Lee Cunningham will retire at the end of December.
"The decision to retire has been a very difficult one for me, due to the fact that I truly love this job," Cunningham wrote in a memo to the district attorney's staff. "It has been a great pleasure to work with every one of you, to see you work every day, and to share the common goal of 'truth and justice.'"
Cunningham spent three years as SLO County District Attorney Dan Dow's second in command, and had a lengthy career in local law enforcement and criminal justice in the county. It began in 1971, when he worked as a correctional officer at the California Men's Colony state prison. He became a police officer with the SLO Police Department in 1973. During his time with the department, Cunningham also attended law school and passed the California Bar exam. He joined the SLO County District Attorney's Office in 1985 after serving as a private attorney for six years.
In a written statement, Dow praised Cunningham for his work and its impact on the citizens of SLO County.
"I am very grateful to Lee for his genuine friendship, his trusted advice, and his excellent service to this office and our community," Dow wrote.
Cunningham is also the father of state Assemblyman Jordan Cunningham, who was elected to represent the 35th Assembly District in 2016.
"I've always been proud of my father's 40-plus-year career in public safety in our county, from correctional officer to police officer to prosecutor," the assemblyman said in a written statement to New Times. "He is going to enjoy a well-earned retirement. Personally, I look forward to him having more time to be the world's best grandpa."
As Cunningham prepares to end his 32-year career, the D.A.'s office will begin searching for his replacement.
"We will be announcing the position and recruiting both inside and outside of the office," Cunningham wrote in an email to New Times.