Longoria 2012 Pinot Grigio Santa Barbara County
LONGORIA 2012 PINOT GRIGIO SANTA BARBARA COUNTY:
This vintage of pinot gris is one winemaker Rick Longoria believes is his best for this variety yet, and I agree. The grapes, grown in Santa Barbara County's Alisos and Clover Creek vineyards, were whole-cluster pressed and fermented for 14 days. That preserved the elegant fruit flavors until the individual lots were blended to age several months before bottling. It's quite drinkable alone and fabulous with food. I loved its apple and ripe pear flavors nicely nuanced with notes of citrus and spice, which all linger long on the palate. Rick recommends it with white fish, salads, or roast chicken. It's a very good value among its peers, available at the Los Olivos tasting room for $19 retail.
Longoria 2012 Rosé June Cuvée Santa Barbara County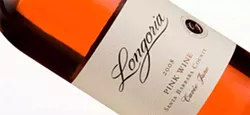 LONGORIA 2012 ROSÉ JUNE CUVÉE SANTA BARBARA COUNTY :
This pretty pink wine consistently rates as one of my favorite Central Coast rosés. Winemaker Rick Longoria said he's inspired by the rosés from the Provence region in France. He makes it from a blend of grenache and syrah. Named for his granddaughter, June, it has been so popular he produces it annually. I love its bright red aromas and flavors of strawberries, cranberries, and raspberries with highlights of flowers and spice. It's as good alone as it is with food, so if you love rosé like I do, you'll love this one too. Longoria recommends serving it with scampi or prosciutto-wrapped cantaloupe; I recommend pairing it with fish tacos. It's a good buy at $18 at the tasting room in Los Olivos.